Spotting a traffic drop is a scary thing to see. Especially as a marketer. One of your key KPIs (Key Performance Indicators) is your website traffic. In this article, we will go through the different types of traffic drops you are likely to see on a website. We will also talk you through how to diagnose these traffic drops using SEOTesting.
Types of Traffic Drops
There are a number of different types of traffic drops, some could be caused by issues on your website and others could be caused by changes to the Google search algorithm.
Technical Issues (Site-Level)
There are a number of technical issues your site could have, on the site level, that stops Google and other search engines crawling your website (or certain pages on your website) entirely.
Technical Issues (Page-Level)
Whilst similar to site-level technical issues, page-level technical issues are only found on certain pages of your website, meaning your traffic drop is simply down to an issue with some of your pages.
Core Algorithm Updates
When we exclude any technical issues, Google Core Algorithm Updates (sometimes simply referred to as core updates) are often the leading cause of organic traffic drops.
Seasonality Trends
Seasonality is a big reason for traffic drops in a lot of industries, especially those working in B2C sectors and D2C sectors. Holidays such as Christmas, New Year, Easter and the like could be the cause of your website traffic drop.
Reporting Glitches
Sometimes, although not often, your traffic drop could be caused due to Google having an issue collecting data.
Make Spotting Traffic Drops Easier with SEOTesting View Filters
You can use the main dashboard on your SEOTesting account to make it easier to spot drops in your traffic. Just as we found here:

By default, Google Search Console only shows your data in "Clicks Per Day" format. With SEOTesting you can filter your dashboard to show you data by:
Daily Clicks
Weekly Clicks
Monthly Clicks
This will make it easier to spot traffic drops, whether it's a short term drop in traffic caused by a technical issue on some of your pages, or a longer term drop in traffic caused by a Google Core Algorithm Update, for example.
Automatic Google Core Update Annotations
With so many Google Core Updates being released over the past couple of years, it can be incredibly hard to tell if a certain update has caused your traffic drop. Within your SEOTesting account, you have the option to automatically annotate Google Core Updates on your dashboard, making it incredibly easy to determine if your website has been impacted by one of these updates.
In this example, here, you can see that our site was impacted by the Helpful Content Update in December 2022: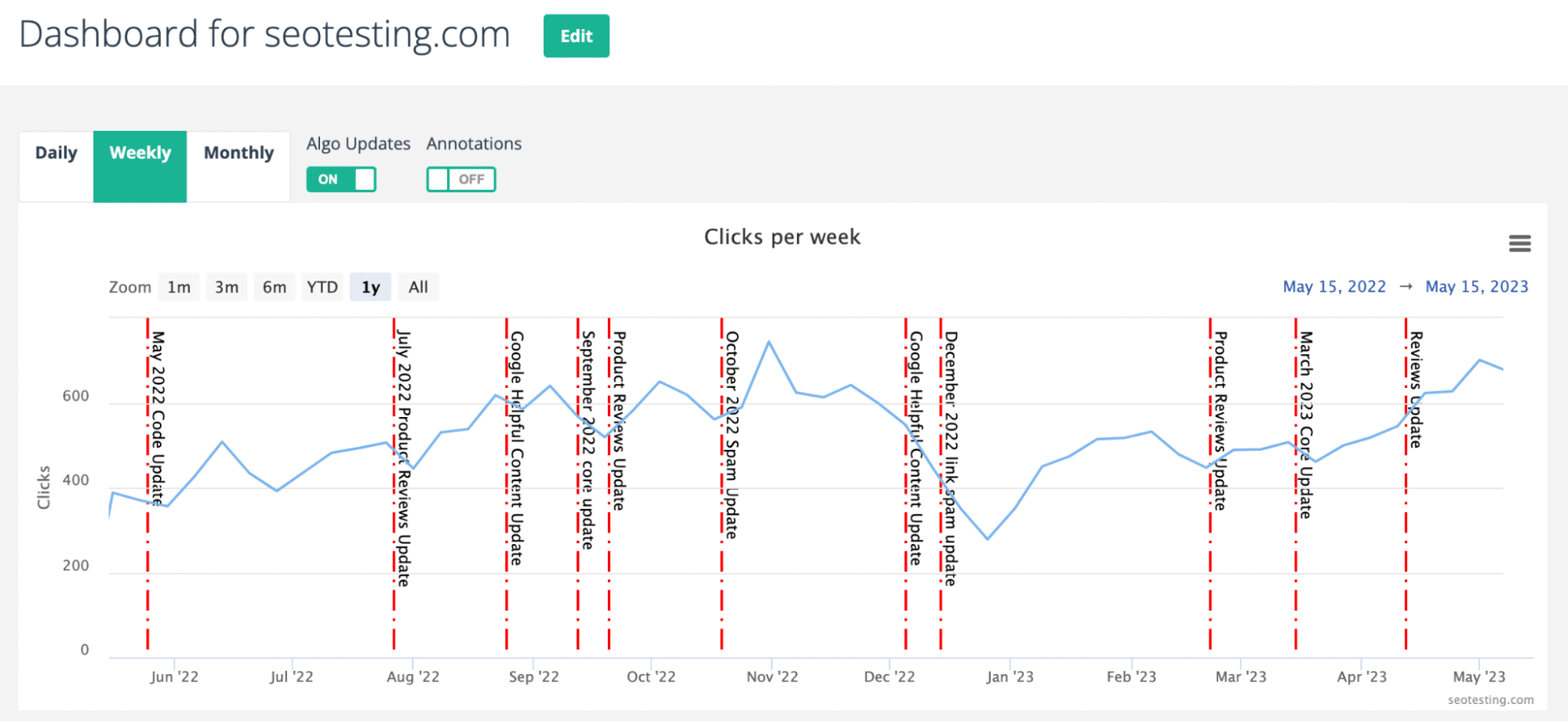 Thankfully, we have since recovered from the drop we saw from this update and it looks like subsequent updates have been kind to our website. But the annotations feature made it easy for us to look at our data and come to the decision that we had been impacted by the Helpful Content Update.
Detailed, Automatic Information on Click Gains & Drops Following Updates
Looked at your data in SEOTesting and come to the conclusion that your website has been impacted by an update, just like ours was during the Helpful Content Update?
Click on the algorithm update and you will be taken to the "Compare Periods Page Report" that has been pre-configured to compare the data a week before the algorithm update, to a week after the algorithm update.
This makes it very easy to see which pages have lost clicks, impressions, click through rate and position, so you know the pages that you need to work on as soon as possible.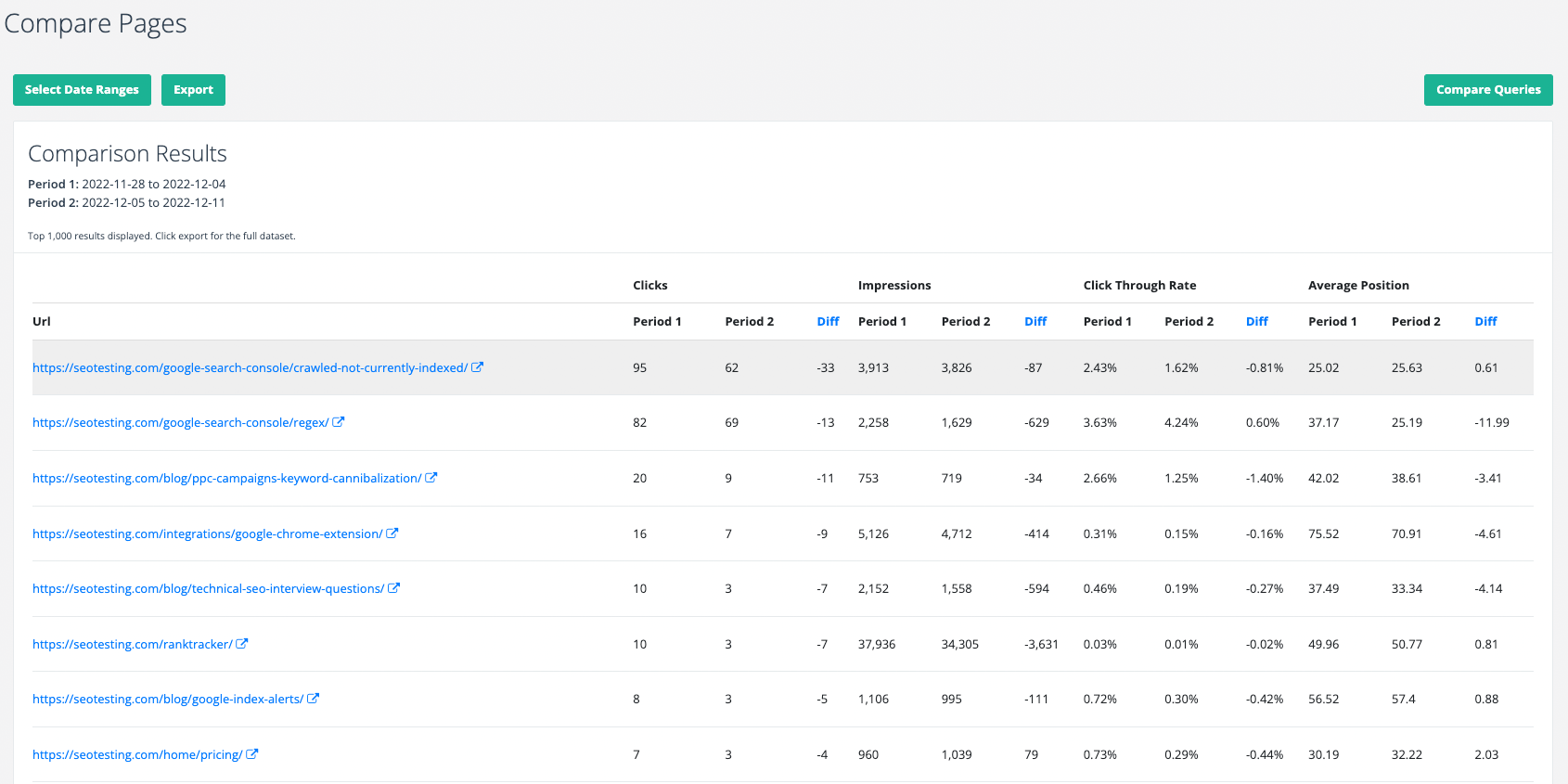 If you have found pages that have lost traffic within the report above, you can click directly into these URLs. This will take you to a new dashboard showing the clicks this page has, filtered out from the rest of your website.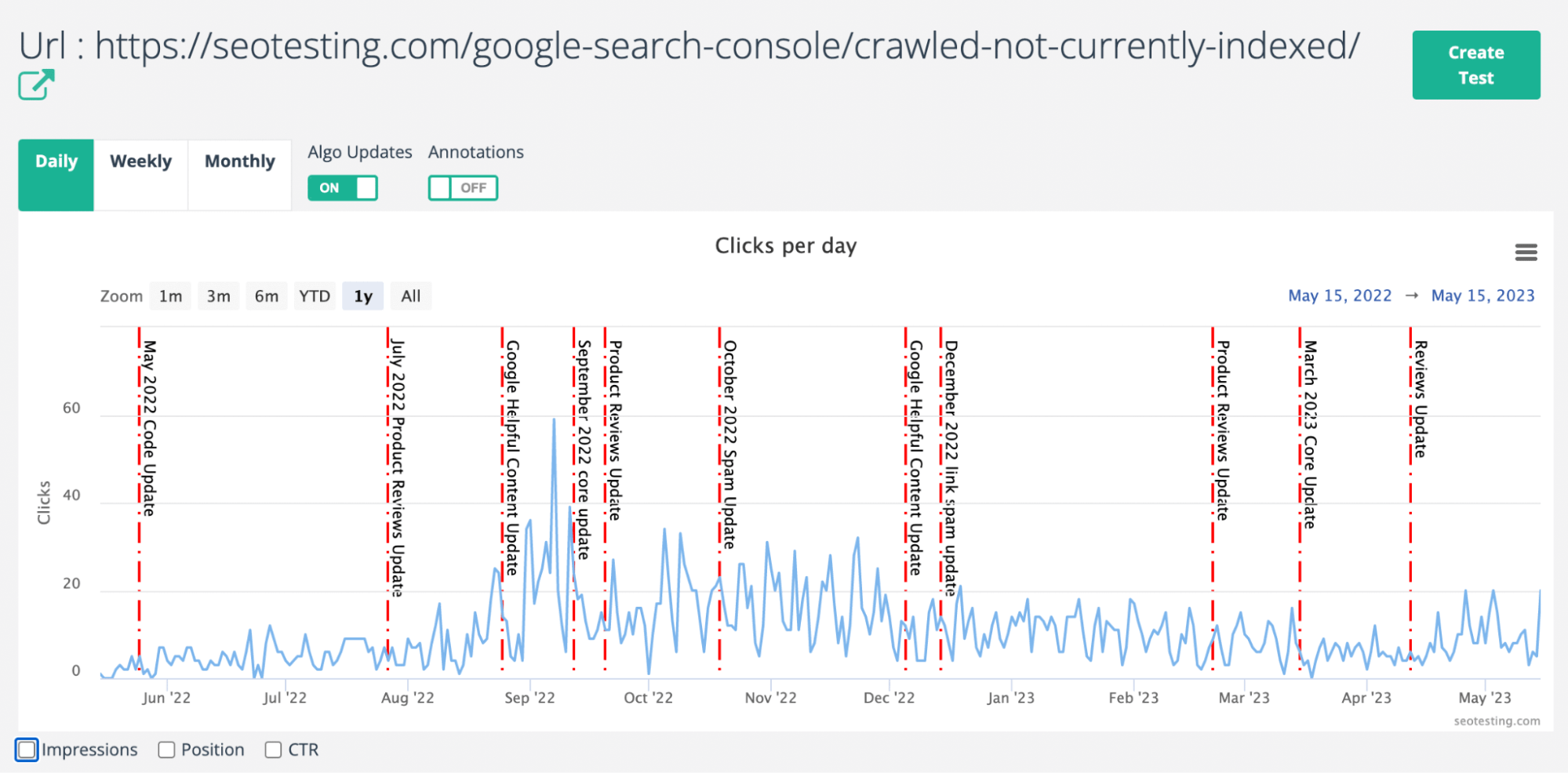 You can also use the click boxes underneath the click graph to see the impressions, CTR and average position for this page.
Below this graph, you can also see the queries that this particular page ranks for: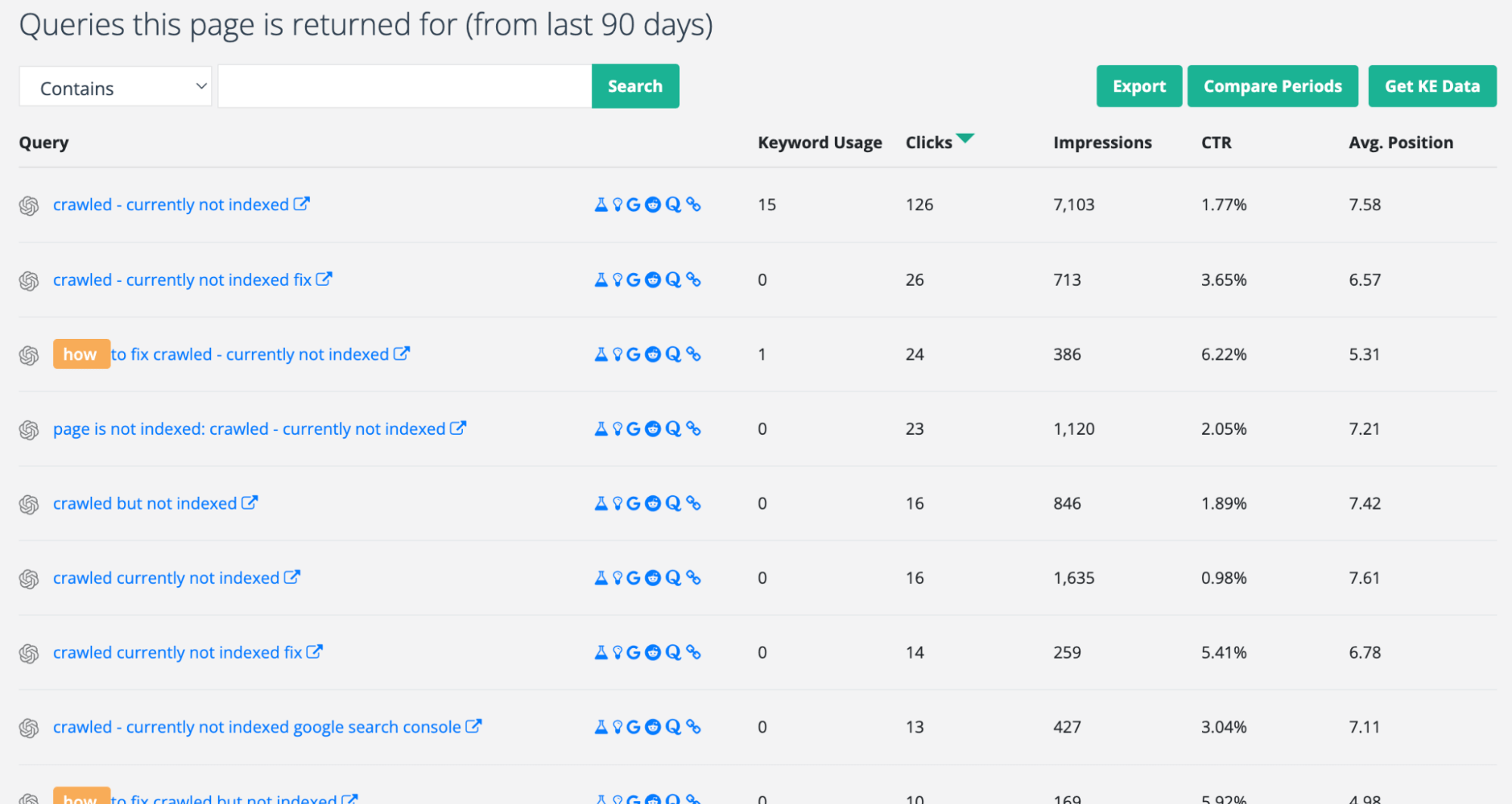 This may help you diagnose reasons for the traffic drop. You will be able to see the queries that have lost impressions and clicks over the period of the update, meaning you can work on creating new content to fill any new gaps that have appeared following the update.
We often find pages losing out to competing pages during Google Core Updates for two common reasons:
The search intent has changed.
New pages from competitors are better suited to the query.
With this report, you'll be able to diagnose these reasons and work on fixes right away.
Are your Losses Brand or Non-Brand Queries?
One thing that is crucial for you to understand when diagnosing a traffic drop is if the drop has come from your brand terms or search terms not related to your brand. This will help you establish whether this is a search / SEO problem or another problem entirely.
The "Brand vs Non-Brand Report" from SEOTesting will automatically filter and split your brand and non-brand traffic and place this into a graph for you, so it is easy to see straight off the bat: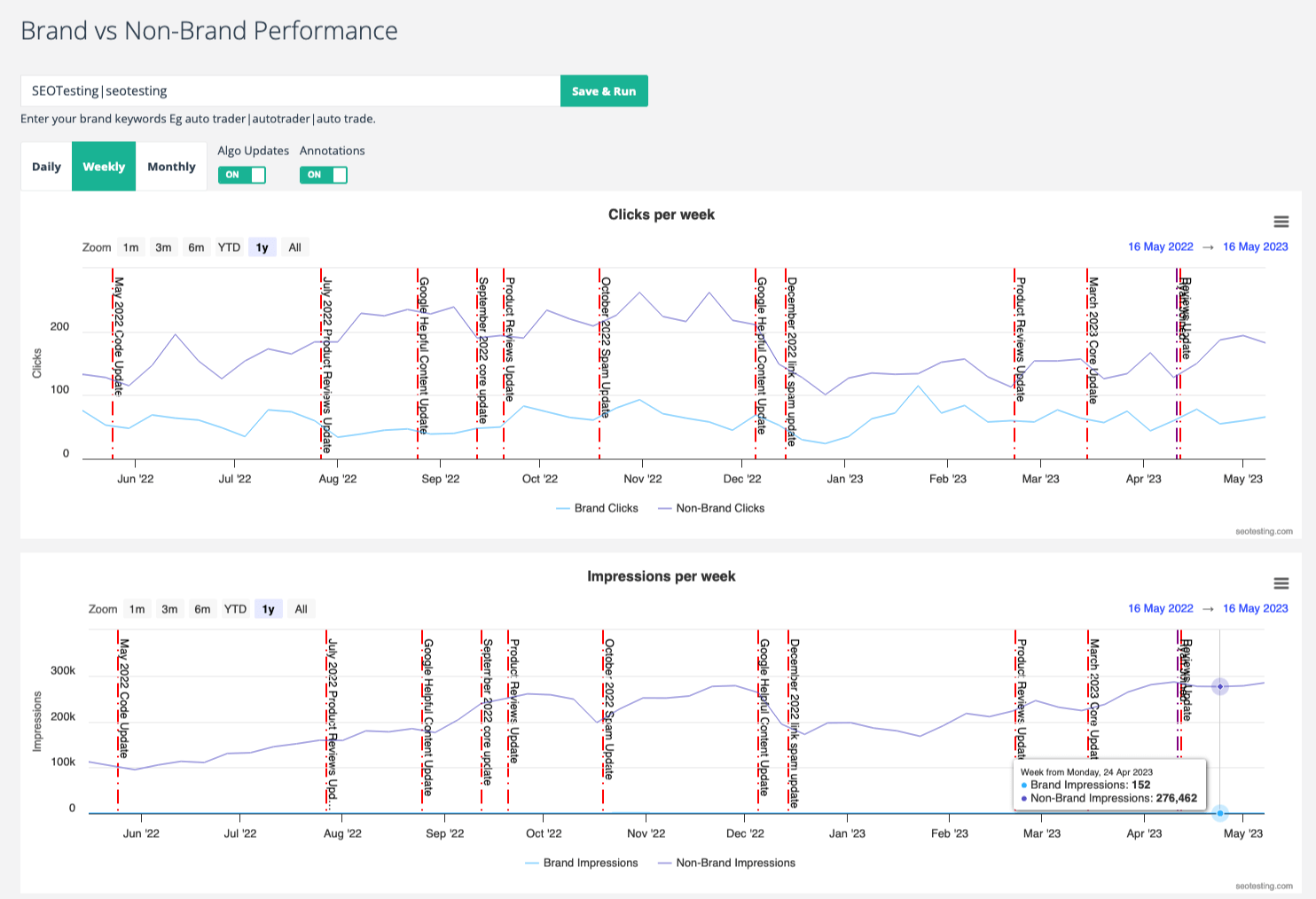 The blue line on this graph denotes brand clicks and the purple line denotes non-brand clicks. When looking at this graph, you will be able to see if a drop is coming from a brand drop, search drop or both.
If you find that the drop is coming from your brand, there are certain things you should check right away. Are people bidding on your brand name/s? If so, your potential audience could be clicking on these ads instead of your brand's appearance in search. Have search features from Google appeared above your brand search listing? This is another thing to check straight away.
SEOTesting makes diagnosing a traffic drop easy. With a few clicks you will be able to establish whether it is a Google Core Update that has caused the drop, whether it is a sitewide drop or a drop on one or a few pages, or whether the drop has come from your brand queries.
This means you are, ultimately, going to spend less time analysing the drop and more time fixing it.