The Brand vs Non-Brand report in SEOTesting will give you an overview of how your site is performing in the Google search results from a Brand and Non-Brand query perspective. The data for this report is pulled from Google Search Console.
This report will give you insights into how PR-related activity is impacting brand awareness and how non-brand related keywords are performing.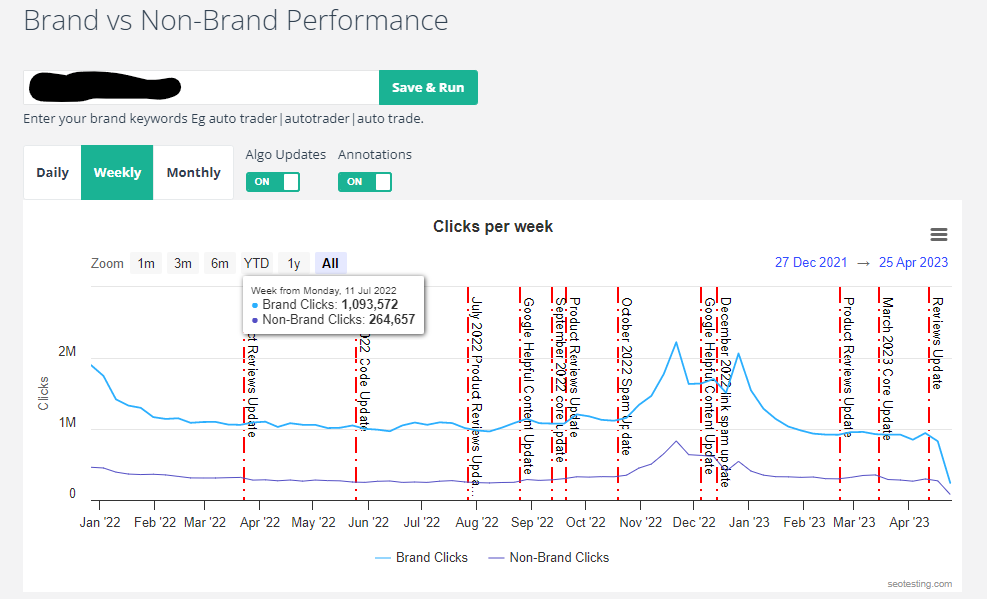 Uses for the Report
There are two instances where you will find this report incredibly useful within your day-to-day work.
1. Analysing the Impact of PR Campaigns
The Brand vs Non-Brand Report will make it easier for analysing the results from PR campaigns.
Agencies
This is useful for PR agencies who want to show clients the impact of their work when they have been tasked with growing brand awareness. Specific dates can be marked on these graphs using annotations to indicate when PR-related activity took place.
If you are a digital agency and you are working on projects other than PR, noticing brand-related traffic dropping could give you an opportunity to pitch for some brand awareness work.
In-House
If you are an in-house SEO and you want to keep track of how your PR agency is impacting brand awareness and traffic - this report will give you the answers.
If you notice brand traffic dropping - maybe it's time to start investing in some PR work and brand awareness. Brand-based traffic is a leading indicator for future sales/transactions/conversions.
2. Analysing the Impact of Google Core Updates
Whether your site has seen an improvement or a decline following a Google Algorithm Update, the Brand vs Non-Brand Report will make it easier for you and your team to analyse the impact these updates have had on your organic traffic.

As you can see in the screenshot above, this site seems to have taken a small hit following the Google Helpful Content Update around December 2022. You can identify this because the non-brand traffic has dropped, whilst the brand clicks have stayed relatively consistent over time and even improved coming into January 2023.
This tells me, as an SEO, that Google sees some of this site's content as unhelpful, meaning there is work to be done on this end.
How the Report Works
The report will have one text box where your brand keywords, all of your brand keywords, can be entered.
For example, you might enter the following brand keywords if you worked for AutoTrader.
AutoTrader|Auto Trader|AutoTrade|Auto Trade
The report will then complete two Search Console data requests. One request with a REGEX "including" filter to get the data for your brand keywords and one request with a REGEX "excluding" filter which will fetch all of your non-brand data.
Once SEOTesting has completed the two Search Console data requests, 4 graphs will be plotted within your report.
Clicks
Impressions
CTR
Average Position
On each graph, it will plot your brand clicks and your non-brand clicks. Your brand clicks will be displayed as a blue line on all your graphs, and your non-brand clicks will be shown as a purple line.
This report comes with the functionality of other SEOTesting reports, including the ability to see your graphs over different periods:
1 Month
3 Months
6 Months
Year to Date
All Data
You will also be able to see your graphs in a daily view, weekly view, and monthly view. This will make it easy for you to see and analyse data, no matter the size of your website.