If you are looking for a quick and easy way to improve the CTR (Click Through Rate) you are getting from your listings in the SERPs to your website, you should be making sure your top query (based on impressions) is included within your:
Page Title
Meta Description
H1
H2
H3
Paragraphs
Doing this, you may find that your average position goes up which is great as it should lead to more clicks to your website. But you may also find that Google highlights your keyword within your SERP listing too, which can also have a positive impact on your CTR. This could look something like this:

How to Find a Page's Top Queries Manually
The downside to doing this is that it is incredibly time consuming. You will need to run a crawl of your website using a tool like ScreamingFrog or Sitebulb. You will then need to ensure that crawl includes your page titles, meta descriptions and all of your text elements such as your H1 tags and P tags. That crawl would look something like this: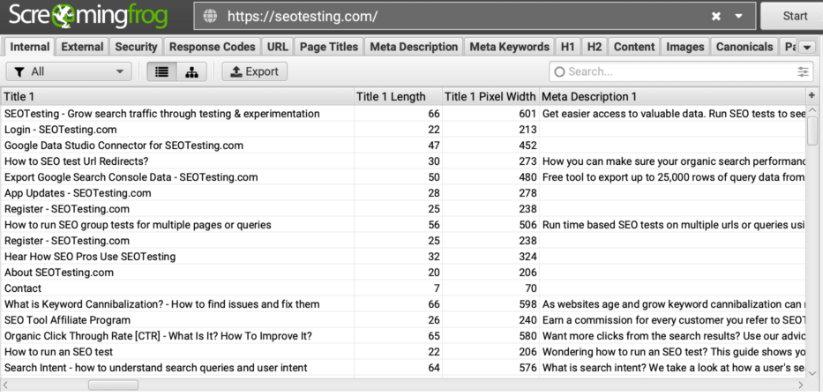 This would then be exported into a spreadsheet via Google Sheets or Microsoft Excel.
From there, you'd need to establish the highest impression keyword for each page (via Google Search Console) and check, manually, if this is included in all the text elements for each of your pages.
This is an incredibly time consuming process whether you work agency-side or in-house. Doing this for a client is going to eat up too many billable hours and not show an amazing return for your client for that month. Doing it in-house is going to take your time away from too many projects that could have a bigger impact.
Using the Top Query Per Page Report in SEOTesting
The Top Query Per Page report from SEOTesting is a way to make this process incredibly quick and simple.
Head into your Reports section within SEOTesting and click on the Top Query Per Page report within the Find Click Through Rate Opportunities section:

This will leave you with a page where you can choose from an existing report or run a new report. The page will look like this:
To run a new report, click on the Request Report button and you can choose the parameters you can work with. You can choose for the report to run on just the top query your pages are being returned for, the top 5 queries or the top 10 queries. You can also choose the number of pages for the report to run for and the date range. You can then choose to order the report by clicks or impressions and set parameters for GSC URL filters and whether to ignore diacritics or not.
Once you have run the report, you will be given a report looking like this:

This will show you the URL, the top query and (as this particular report has been ordered by impressions) the number of impressions this page is getting from this query. You are then given a traffic light system which shows whether this top query is included in your:
Page Title
Meta Description
H1
H2
H3
P
As we can see from the example report above, the top query for our page on Premier Inn is "Premier Inn Saver". The page is receiving 601 impressions from that query, yet we do not have the query included in the bulk of our text tags.
If I was looking at this from an SEOs perspective, which I am, then I would add in the top query into this page and run an SEO test to see whether the CTR is improved, which would lead to more clicks to your website.
If you click into an individual URL, you will be taken to a new page within the report that allows you to see the top 10 queries that the URL ranks for. Let's use an example from a previous report I have run:
Here we have clicked on the URL, https://seotesting.com/google-search-console/crawled-not-currently-indexed/.
We can now see the top 10 queries that this URL is ranking for. We also see the same traffic light system that shows whether these queries are used in the page title, meta description, H1, H2 and H3 tags. This gives us even more opportunity to optimise these pages for better CTR, average position and clicks.
We can also see, to the left of each query, a ChatGPT icon. Clicking on this will generate a new page title, meta description and H1 tag that contains the query.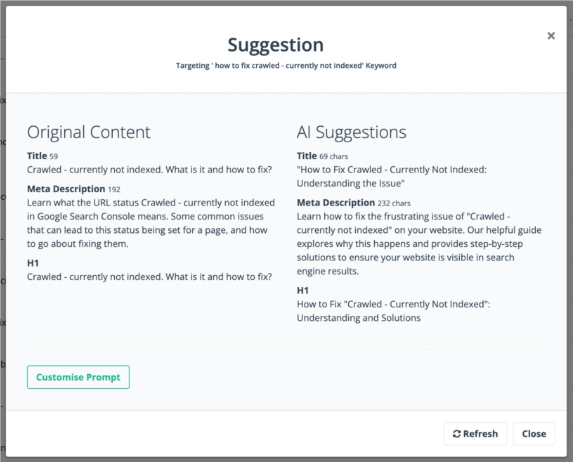 This gives you a lot of inspiration for you to write new tags and optimise your page. You can also amend the ChatGPT prompt to change the length of each section and include different keywords, for example.
One final thing to point out, using the same example as the above, is the refresh button to the right-hand side of each query within the report. Once we have changed a page's elements to include a query, we can click this refresh button and you can see, in real time, the traffic lights change to green as SEOTesting finds each query within your page.