For agencies, getting client reporting right is absolutely crucial. In fact it can often be the difference between a client staying as a happy customer, or churning and cancelling their retainer.

Not being able to tie an agencies efforts to specific results or impact, or a lack of communication, is often the reason for clients cancelling agency contracts.
Putting together client reports on a weekly or monthly basis can be a time consuming task, but as highlighted it is something that is worth getting right.
To that end, we have come up with what we believe is the quintessential list of SEO reporting tools, and in this article, we'll go through each one to save you time doing the research yourselves.
Organic Performance
If you run an agency that specialises in SEO, reporting on organic performance for your clients is key. This list will take you through what we believe to be the best tools out there for reporting on your client's organic performance. Whether that's week on week, month on month or over longer time periods.
Google Analytics
Google Analytics is, most likely, the most widely used SEO reporting tool on the market today. Not only is it completely free to use, but it comes with one of the most comprehensive tool sets out there too for monitoring organic performance. It's also incredibly easy to install, simply add the tracking code into the '<head>' section of your website, or install it via GTM (Google Tag Manager) and you are good to go!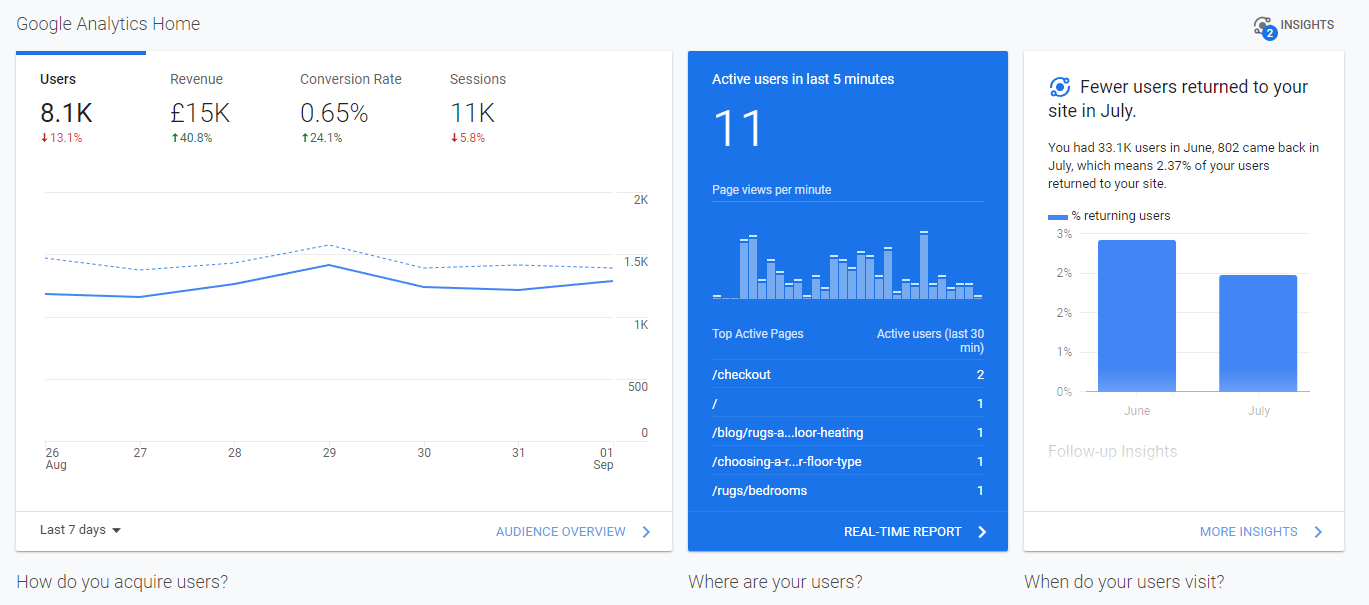 Within Google Analytics, agency owners can see which of their client's pages are driving the most traffic and which pages have the best conversion rate. Alongside these crucial metrics, you can also find out how long users are spending on each page, where your users come from (organic search, PPC advertising etc) as well as finding out what device is most commonly used to access the website.
Whilst Google Analytics is one of the most used tools out there, in strict terms of SEO reporting, it does not allow you to create reports directly within the app. This means you, as an agency, will have to create reports manually for each and every single one of your clients. If you have a lot of clients on your roster, this is going to become a very time-consuming process at the end of each month.
Google Search Console
Another Google tool, and one that is commonly used to monitor organic search performance, is Google Search Console (GSC). It has become invaluable to a lot of agencies out there today who specialise in SEO.

Much like Google Analytics, you can see which client pages are driving the most clicks, and you can also see the number of impressions each URL gets as well as the CTR (click-through rate) of each URL too. This allows you to pair your reporting with a comprehensive testing program to improve CTR and, therefore, improve traffic numbers too.
Considering this tool is also completely free to use, agencies certainly have it good.
Whilst this is a completely free tool, much like Google Analytics, you do not have the functionality within the app itself to create client reports, so you are going to have to use another tool like Google Slides, Microsoft PowerPoint, or Apple Pages to create each report for each client. Again, an incredibly time-consuming process.
One final thing to mention when it comes to GSC is the fact that you also need to ensure you have access given to you by all of your clients. If you have a lot of clients on your roster, this can become very difficult to manage, so you would probably also need to pair this with a project management tool like Asana, Trello, or Monday.
SEOTesting
SEOTesting is a brilliant tool for monitoring organic performance for your own website as well as all of your client websites.

It pairs directly with Google Search Console, meaning there is no additional code to add that will slow your website down. Brilliant for client websites that rely on having high page speed scores, which you should be focussing on anyway given the importance Google places on page speed!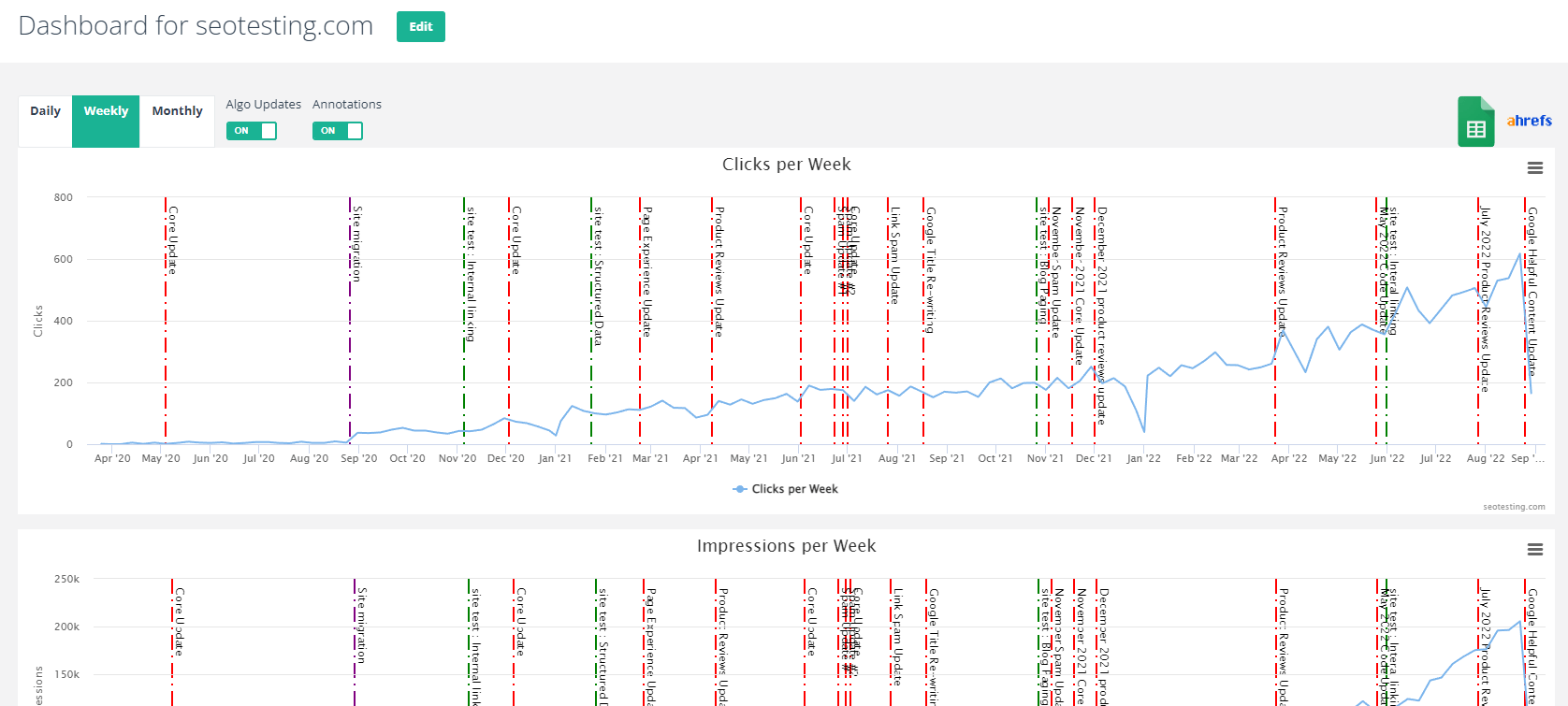 Once you have connected your client's Google Search Console site property with SEOTesting, you have a wealth of functionality right at your fingertips. You can easily report on overall organic search performance for the site by summarising data by week or month. Setting up SEO tests within the tool allows you to track the performance on a page (URL) level and report on this, too! This is also incredibly useful for helping to identify drops in Google search traffic.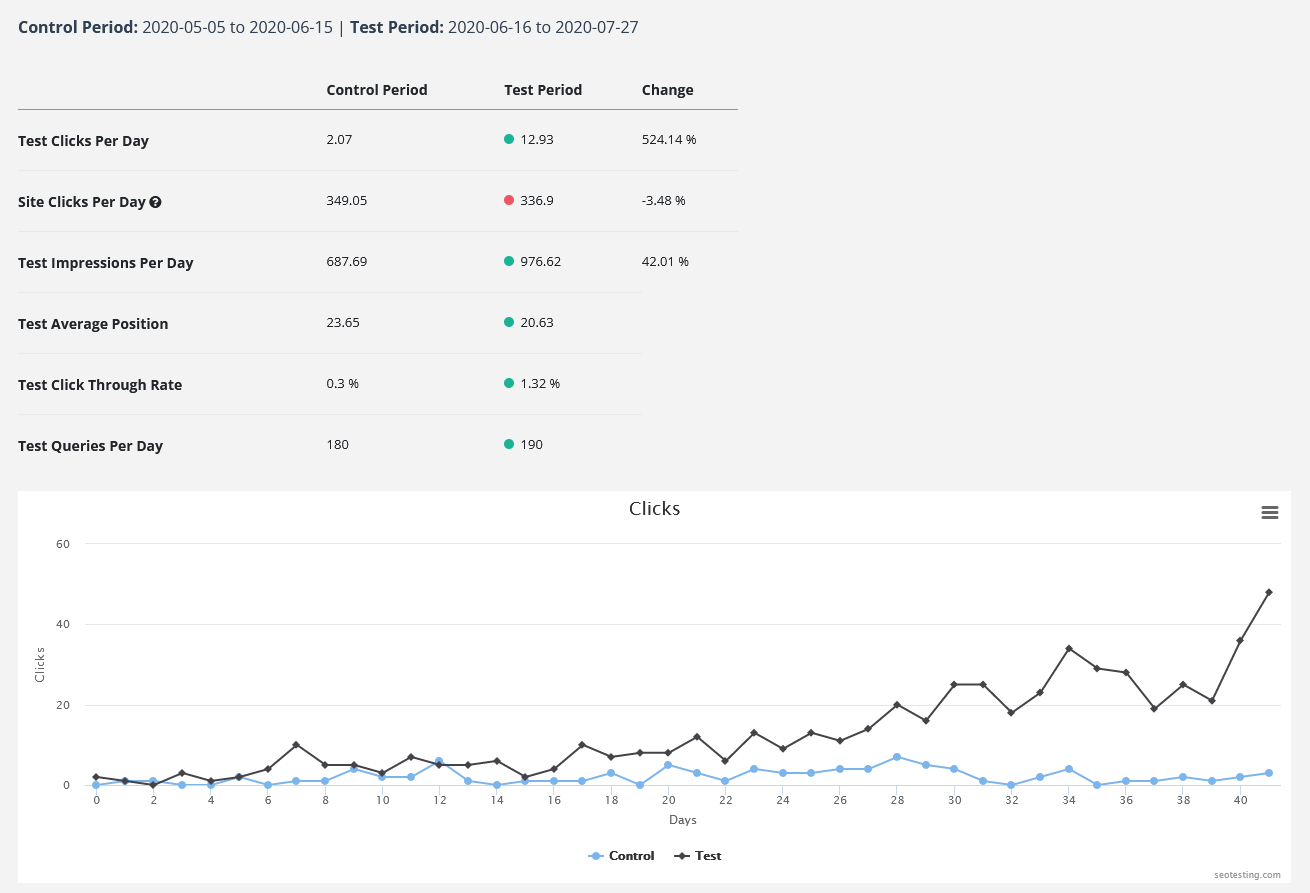 This means you can easily show your client the impact your work is having on specific pages they've asked you to work on.
One thing, in particular, which separates SEOTesting from Google Search Console is the fact that SEOTesting allows you to download screenshots of performance graphs in-app, making it incredibly easy for these to be downloaded and placed into client reports. Speedy, for sure.
Starting from $40 for one website, it's very cost-effective. If you're interested in testing it for your agency, you can sign up now for a 14-day free trial with no credit card required.
Ahrefs
Ask most agency owners about Ahrefs, and many of them will tell you they use it within their agencies, and most (if not all of them) will tell you that they have heard of it.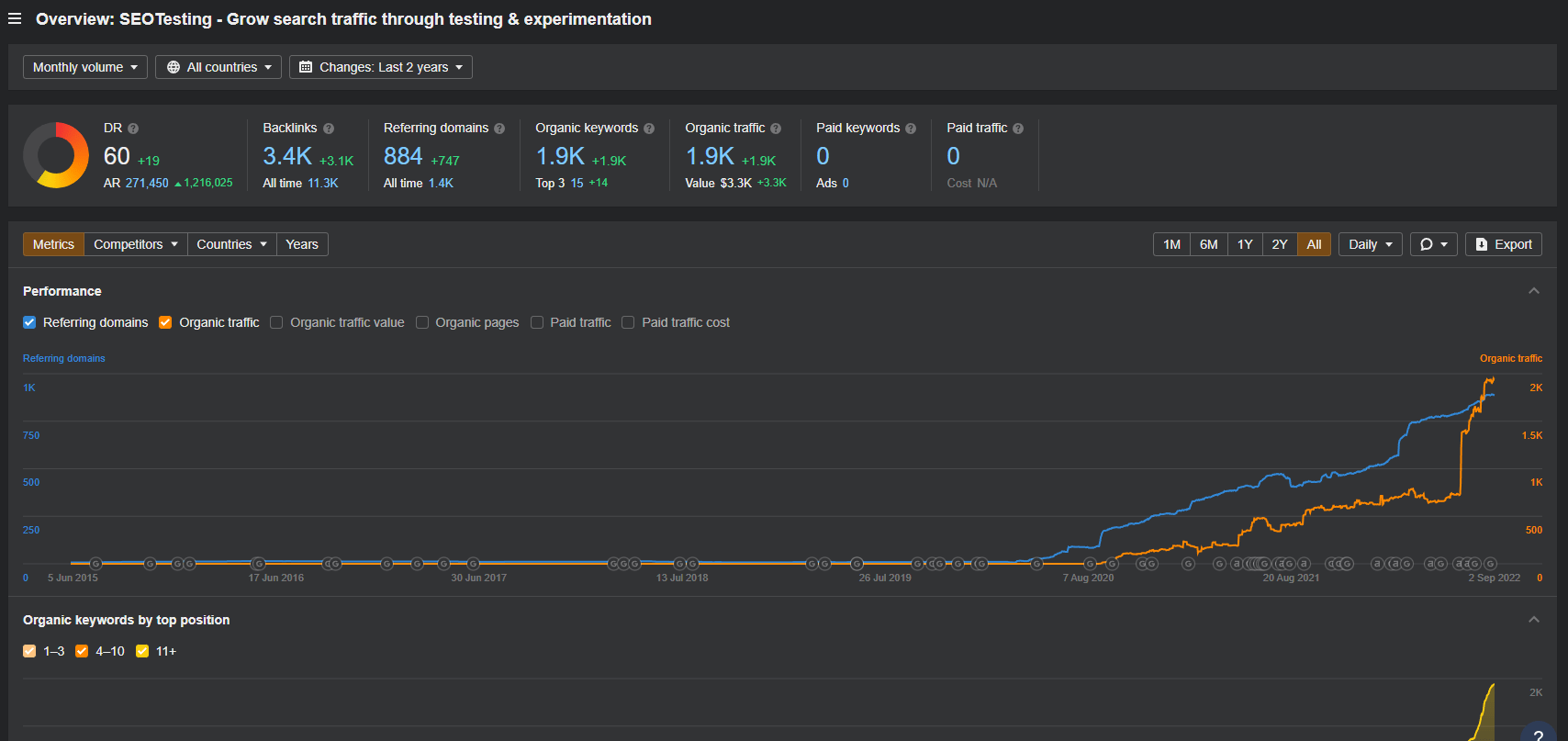 For good reason, Ahrefs is perhaps the best 'all-round' SEO reporting tool out there. You're able to track most keywords your website ranks for (thanks to Ahrefs' incredible database of over 10,000,000,000 queries), and you're also able to track a limited number of keywords on a daily update frequency. On top of all this, you're able to monitor the backlinks client websites are generating on a daily basis.
Whilst it *may* be the best tool out there for SEO reporting, it certainly isn't the most cost-effective. Starting at $99 per month for their 'Lite' subscription. As an agency, however, you will find you probably need to go for their 'Advanced' plan which starts at $399 per calendar month. Larger agencies will find themselves spending $999 per month for their 'Enterprise' subscription.
On top of the pricing issue, again, Ahrefs doesn't have in-built reporting functionality. The best you can do is export data to add to your reports. It does, however, have a Google Data Studio integration built in, which is a bonus compared to Google Analytics and Google Search Console.
Semrush
A very similar tool to Ahrefs, Semrush is, again, one of the tools within the SEO industry that most people will have heard of. It currently has an index of over 21.1 Billion keywords, 808 Million domains and 500TB of raw traffic data.
Semrush is a great tool for reporting on organic traffic performance. If you have a "Business" subscription with them, you're able to list 40 projects under one account, track up to 5,000 keywords per project and you're entitled to 50,000 results per report. It's safe to say if you're an agency choosing Semrush, you're in good hands.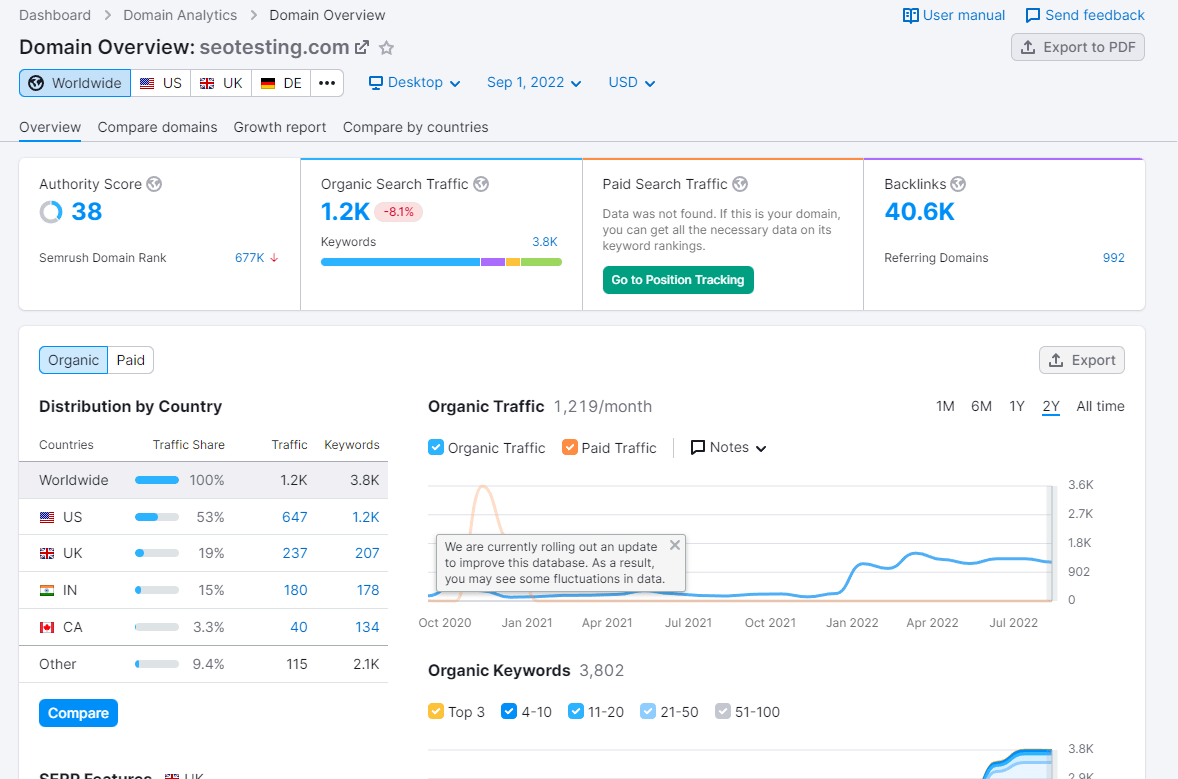 Whilst it is more cost-effective than Ahrefs for most agencies, it is harder to navigate. Beginners within your team will (probably) have a harder time navigating Semrush than they do Ahrefs, so this could lead to time-based reporting issues.
One advantage Semrush does have over Ahrefs is its ability to export results as PDFs. This means you can either send these PDF files to your clients as reports themselves or easily add them to your existing report template.
Link Building
We're going to talk about link building for a little while now, because of course we are. If you are an agency that lists SEO as a service, you are going to have a number of clients you complete link-building work for.
With this comes separate reports. Some clients will solely use your link building service whilst other clients will have link building included as part of a larger package. The reporting looks completely different than reporting on organic performance alone.
Here are the tools we think are best for link-building reporting.
Linkody
Linkody is one of the most cost-effective backlink monitoring tools out there, so it's easy to see why small and large agencies alike use it as one method for client reporting.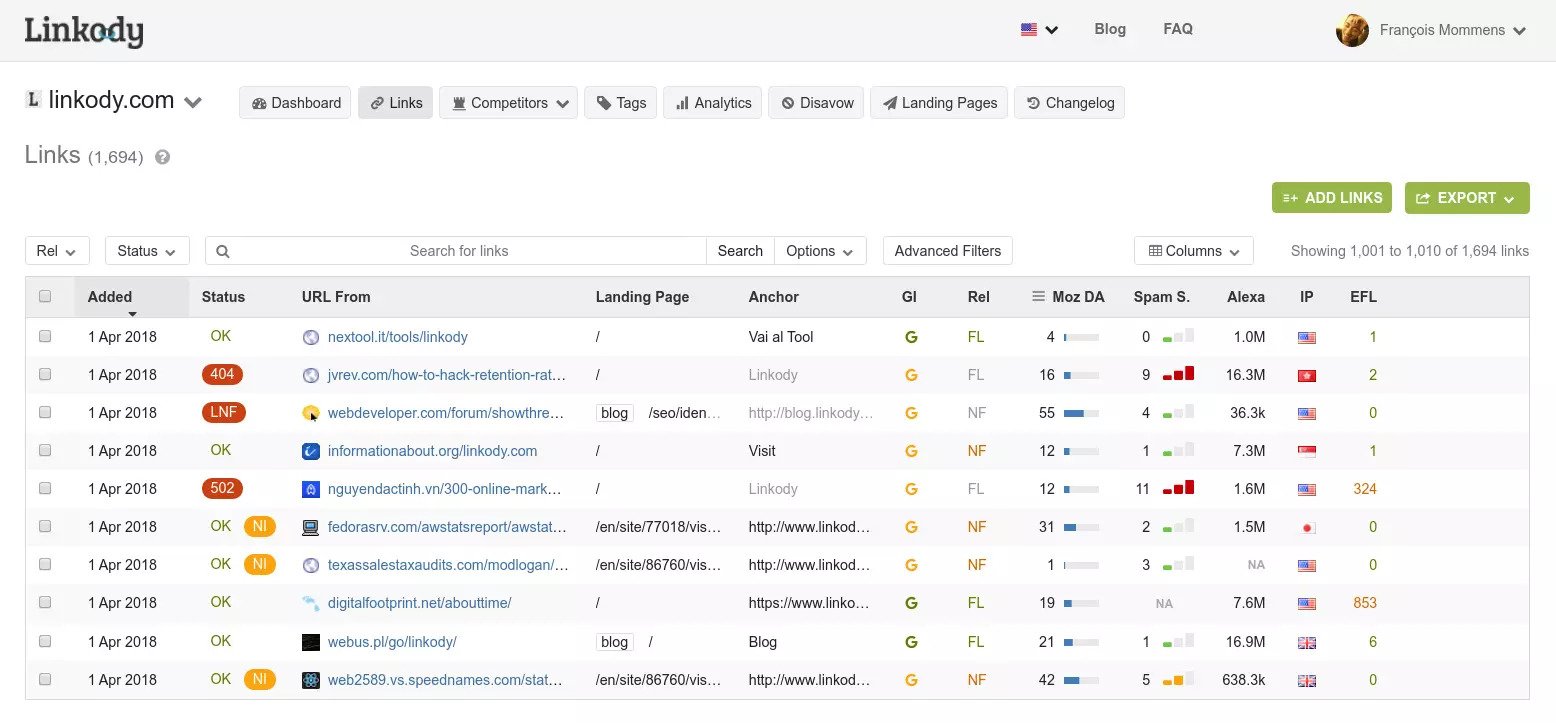 One of the key features within Linkody, one that you'll also see within Ahrefs and Semrush, is the "Top Pages" feature. With this feature, you're able to see exactly which page on your client's website has the most amount of backlinks.

Whether that's the Homepage, a landing page for a successful digital PR campaign, or even a product landing page. This allows you to, over time, see insights as to which pages have the most success generating backlinks, so you're able to improve your work across the duration of the contract with your client.
Whilst its index is not as large as the 'big players' like Ahrefs, Moz, and Majestic, it is one of the best tools for agencies to report on link-building success with clients.
BuzStream
Stick with us here, because we know what you're going to say. Yes, BuzzStream is primarily a tool used by agencies to control outreach and actively build links to client websites.
But did you know it has an in-built reporting feature? Within BuzzStream's reporting feature, you're able to look into lots of data, including the number of links built per project for that month, which outreach emails have been the most successful, and you can even find out which team members have been the most productive!
Not only this, but you can also customise reports within BuzzStream too, ensuring only data that is relevant to your client is included. You can also customise the look and feel of reporting too.
It really is the perfect all-round link-building reporting tool for an agency, whether that agency is large or small.
The one disadvantage with BuzzStream, especially for large agencies, is you will find that it can become difficult to manage if you have lots of clients. It's best to actively monitor the tool to ensure clients are not being left in the tool and contacts that have not responded to any outreach are removed.
Pitchbox
Pitchbox, again very similar to BuzzStream, is a tool that is primarily used by agencies to keep track of outreach and monitor replies. It is extremely helpful as an active link-building tool.

Not only this, but it is also extremely useful as a reporting tool as well, especially since they have their own in-built reporting tool called your "Campaign Performance Report" within your account. With this report, you're able to see:
Number of Active Campaigns
Number of Opportunities Emailed
Number of Opportunities Won (Links Built)
On top of this, you will also be able to see metrics like your response rate and win rate within this report, great metrics to be confirming to clients.
All these benefits do come at a cost, and that is one thing to keep in mind when deciding which backlink monitoring and reporting tool is going to be right for your agency. Pitchbox are not the most open about their pricing, and you have to request a demo to be given the pricing structure. On top of the expense, it is worth noting that to get the best out of your reporting system within Pitchbox, you will need to export the data from Pitchbox and add it to your agency's chosen reporting tool of choice.
Monitor Backlinks
More than just a backlink analysis tool, Monitor Backlinks also allows you to keep an eye on your organic traffic, backlinks and keyword rankings all in one place. Whilst this tool is a great all-rounder, we do recommend it as a tool for agencies to monitor their backlinks specifically.
Whilst, within the tool, you are able to monitor all of your backlinks, you're able to monitor your competitor's backlinks too! Great for any SEO agency that has clients on a link-building retainer as you are able to see straight away which backlinks it is you are missing and focus on building these to close the gap between your clients and their competitors.
Starting at $47.40 for their "Plus" plan, it is also one of the most cost-effective tools on the market today, which makes it a perfect option for smaller agencies with more restrictive budgets!
Auditing
The final "key pillar" for SEO agencies to be focussed on when it comes to reporting, aside from revenue of course, is auditing. We know, as SEOs ourselves, it's crucial for us to audit a client website at the beginning of the contract and then at regularly scheduled intervals during the contract length.
As such, it is crucial for you as an agency to have the right auditing tool for your business. In this section, we'll go through some of the main ones and why they could potentially be the option for you.
ScreamingFrog
With a free version and a paid version at just $209 per calendar year, ScreamingFrog is by far the most cost-effective tool on this list.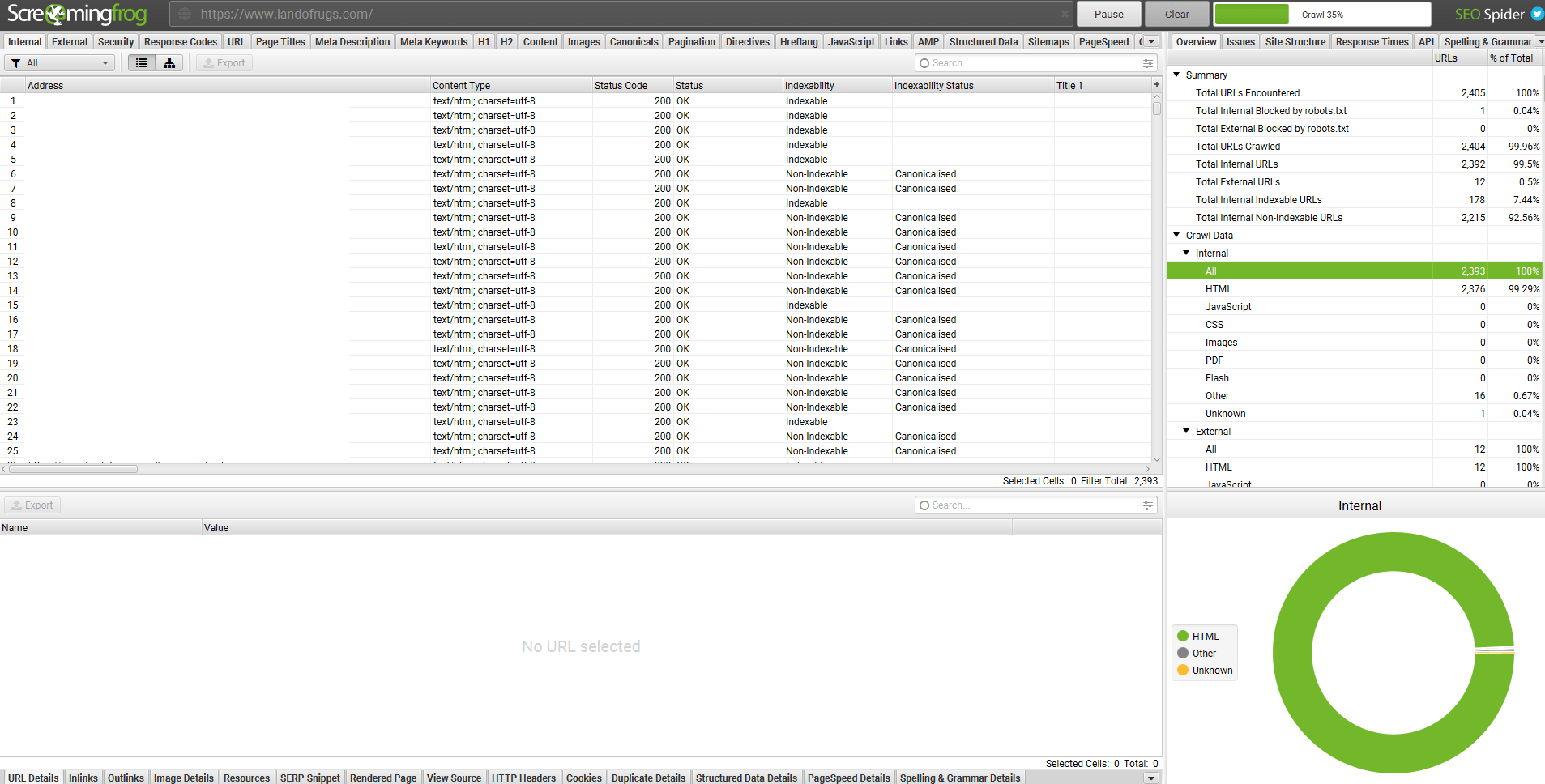 It's also one of the most well-known and widely used tools available, with many agencies, in-house staff, and freelancers choosing to use it as their tool of choice.
Once you have completed a crawl of your site, you're able to export all the URLs or other information needed so it can be added into your reporting tool of choice. Whether it's adding a list of URLs into Microsoft Word, Google Docs, Excel, or slides.
As for some disadvantages, whilst the cost of the tool is incredibly fair, it is not the easiest to navigate, and you may find inexperienced members of your team struggling to configure a crawl properly or find different information for your clients. On top of that, it does not have an in-built reporting system.
Sitebulb
Whilst slightly more expensive than ScreamingFrog, Sitebulb does have some advantages when compared directly with ScreamingFrog.

For one, it is a lot easier to navigate for someone even at the very beginning of their SEO career, meaning you as an agency owner can have more confidence passing an auditing task to a junior SEO, and they'd be able to complete the task with minimal help. Saving the time of your more experienced staff.
Another advantage is Sitebulb's in-built reporting tool, meaning you can send PDF reports of crawls directly to clients and their development teams in order to get issues solved relatively quickly. This ensures there is a better chance of getting development changes completed quicker.
Botify
Botify is primarily designed as an enterprise auditing tool, so perfectly suitable for large agencies with large clients. Smaller agencies may also find it a better option to choose, as it is a slightly easier tool to use than ScreamingFrog or Sitebulb whilst they build up their client base.
One of the best Botify features, and why it makes a great auditing reporting tool, is their "Custom Reports" feature. Within this section of their application, you can design custom reports directly within Botify and send these to clients straight away.
This feature within Botify also allows you to compare crawls over time, so you can see how development changes have impacted the site's crawlability.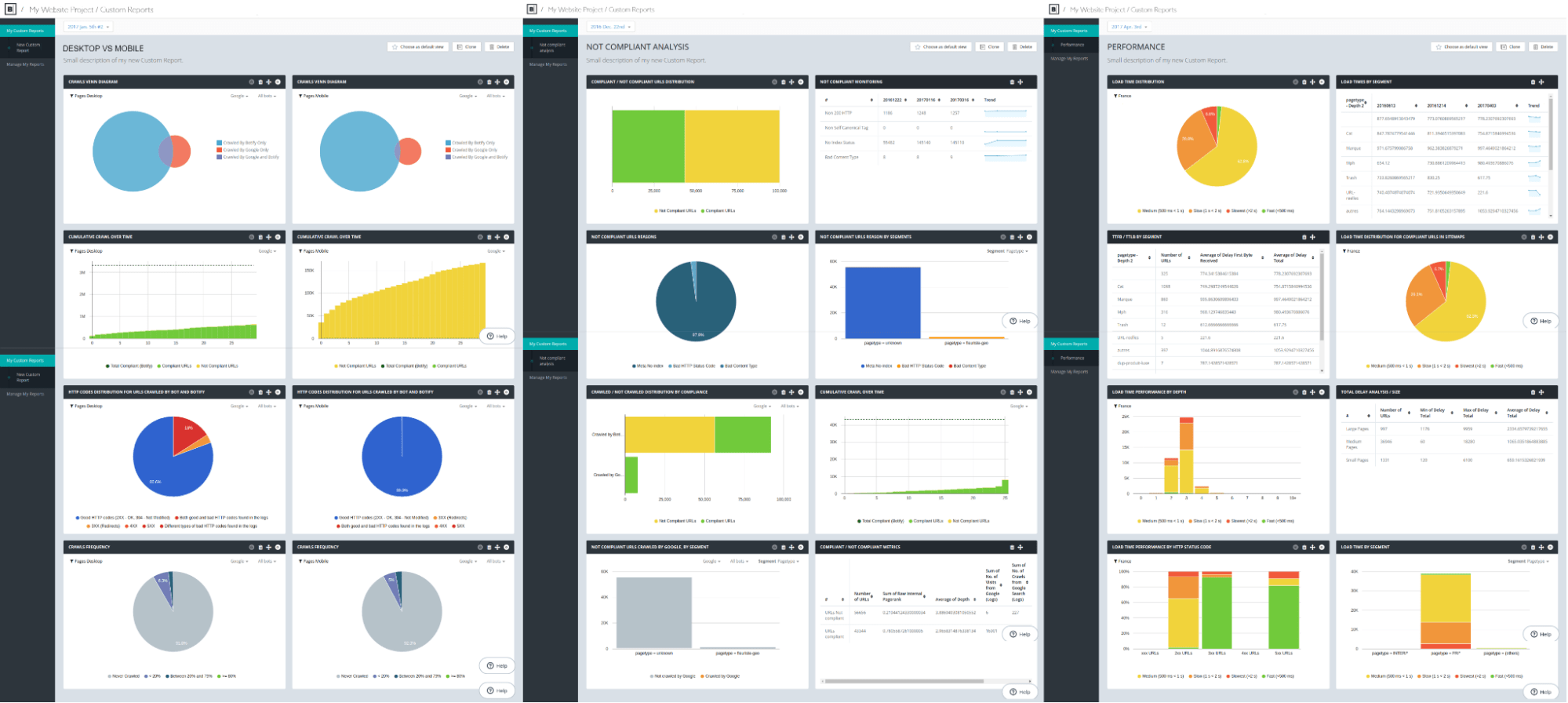 Deepcrawl (now called Lumar)
Also designed as an enterprise auditing tool, Deepcrawl is best for large enterprise websites with lots of pages. Although it comes with similar "out of the box" features to Botify, it is more expensive so may only be suitable for agencies with a larger budget.
One big advantage to Deepcrawl is it does have a pre-built reporting function with a host of already designed report templates to cover subjects like 'Noindexed' pages, canonicalised pages and primary pages. This is incredibly helpful and means these reports can be downloaded and sent to clients straight away.
Whilst Deepcrawl does have an in-built reporting feature, it is worth noting that because these reports are templated, you may have to export data manually and import it into your own separate reporting tool if you have your own report designs that are sent to clients on a monthly basis.
Conclusion
So there you have it, a whole host of reporting tools for agencies (and others) to consider when next evaluating their tech stack.
Each tool has different pros and cons compared to other similar tools, so it is now just a case of sitting down with your operations team and finding which tool will work for you.

The majority of these tools also come with no obligation free trials to allow you to try the tool before you purchase!
If you're interested in finding out what SEOTesting can do for you and your agency, we offer a 14-day, no obligation free trial with no credit card required!

Check it out, use the whole two weeks and be sure to come back to us with any comments or questions, our friendly team can help you out.