Formally known as Webmaster Tools, Google Search Console (est. 2015) is a gateway into the world of your website(s) from the perspective of Google. It's free to use and is one of the go-to tools for SEOs, website managers, content creators and more. In this guide, I'm going to show you what's the purpose of the tool, what it can give you and what you can do with the information, to hopefully help you in your quest to drive more traffic to your website.
This article makes up part of our Google Search Console tutorials and training section, make sure to check the others out.
We believe we have the best Google Search Console alternative on the market today. Give it a try, making use of our free 14-day free trial, and let us know what you think.
What is Google Search Console?
Powered by Google, Search Console (once enabled) will give you endless amounts of data. It can show you:
What keywords/phrases/questions drive clicks to your website.
Where they rank (search position in Google).
What click-through rate (CTR) they achieve.
How your website appears in search.
Any problems Google has with pages and much more.
Look at it as a tool that speaks from the horse's mouth; Google. This first-party data isn't available anywhere else, including Google Analytics. Google was kind many years ago and provided some of the keyword data in Analytics, but now it's (Not provided) so Search Console is now your centre of truth.
So, let's break down the tool. There are 6 key areas to which I'd recommend paying close attention to:
Performance: See what keywords are driving traffic/clicks to your website, what the click-through rate is and more
Index: Analyse what pages are indexed, which are not.
Coverage: Inspect potential problems with pages on your website
Experience: Understand Page Experience performance; core web vitals & mobile usability
Messages from Google: Including any manual action penalties that have been implemented from your website.
Links: Seeing which links are coming to your site from other websites
Naturally, some of the areas in Search Console will be used much more than others, but before I dive into what they do, Search Console must be verified.
How do I set-up and verify my Google Search Console?
Search Console is a web-based platform meaning you don't need to download or install it on your device, but instead, you will need to add verification to your website which gives the signal to Search Console to start recording information.
You can verify your website at the domain or URL prefix level. At the domain level, Google will combine all versions of your domain it finds in results; subdomains, http, https etc. It's much more efficient if you can run a domain property as if you all of a sudden found a subdomain being indexed in Google (and it's not meant to be eg a staging/testing server), you would see it in the domain property and be able to see when it started ranking and also when/if it eventually disappears (after you've removed it from search). If you didn't have Search Console setup at domain level, in this scenario you would have to set up another property at the URL Prefix level and begin gathering data from that date onwards (no historic data is gathered unfortunately).
The choice is obviously yours, but I'd recommend trying to think long term and verify at the domain level.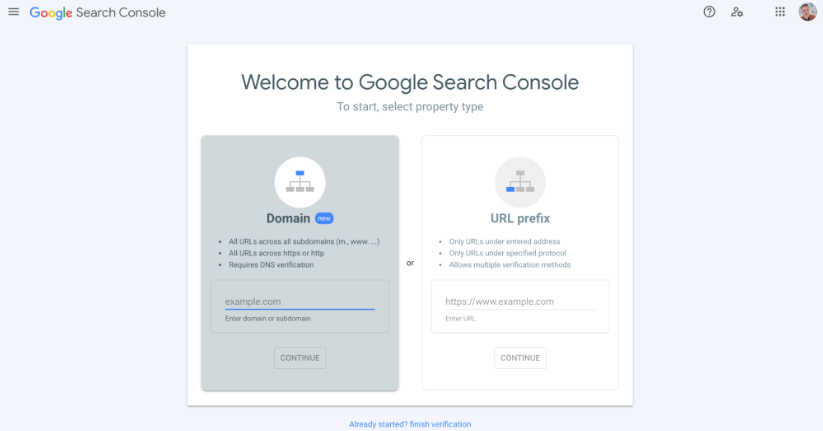 Verification methods:
Here are the ways in which you can verify your website:
HTML File
This requires access to the server where your website is hosted as you will need to upload a file downloaded from Search Console onto your website root.
HTML Tag
This requires the ability to edit the <head> section of your homepage.
Google Analytics
Google Analytics tracking code must already be on your website.
Google Tag Manager
Similar to the above, but with Google Tag Manager.
Domain Name Provider
Can be the most complicated way to verify as it can require DNS changes to be made. It is the only way to verify a domain property.
There are pros and cons for each method, so my advice is to verify your property with 2 types of verification if you're verifying at the URL-prefix level. That means if one fails, the other one will still work.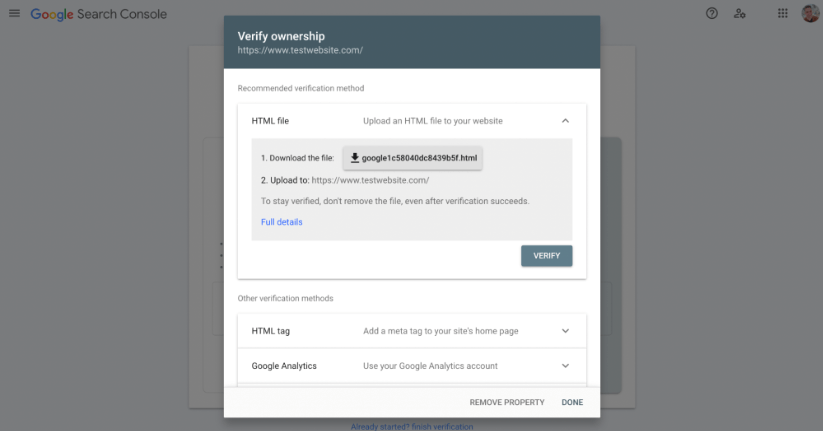 The instructions Search Console gives for verification are very clear and you shouldn't have any problems. But if you do run into any issues, be sure to read Google's help section on this topic.
Once you're verified, Search Console will confirm tracking is now working and the data will begin to gather. Let's move on to what you can do with the data.
How do you submit a sitemap to Google Search Console?
Submitting a sitemap to Google Search Console is, luckily, very easily to do. Once you are logged into your Google Search Console dashboard, you will see a screen looking similar to this: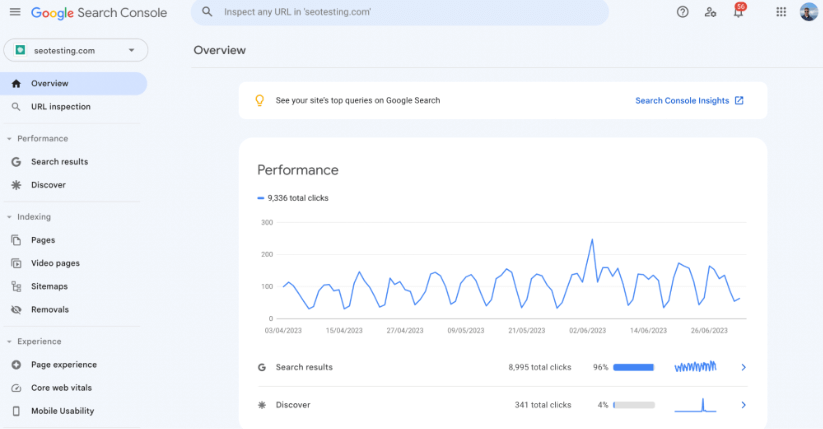 You can see, on the left-hand side of your screen the "Sitemaps" section listed under the "Indexing" dropdown. Click into this, and you will see all the sitemaps, if any, you have submitted to Google Search Console: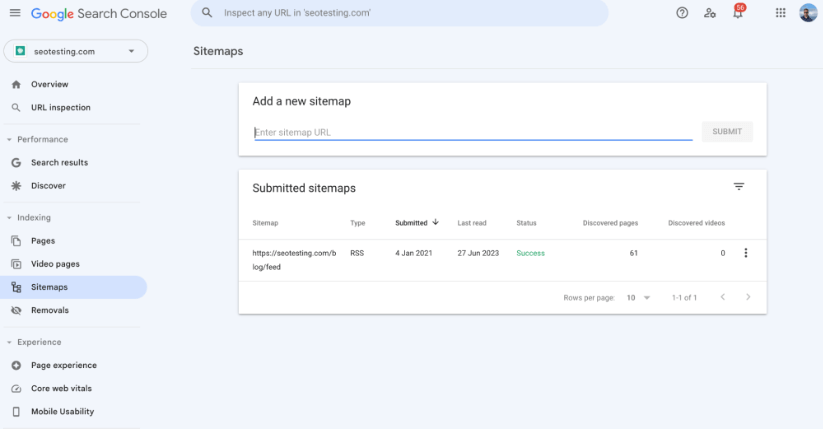 You can add a new sitemap by typing in the URL of the sitemap into the text box and clicking "Submit".
Advanced Google Search Console features
Google Search Console has several advanced tools available for SEOs and other digital marketers to use to improve results. This includes tools that let you analyse pages, URLs, the speed of your website and any problems with indexing.
Page Performance Report
When you log into Search Console, in the Overview area, you will be shown a top-level view of Performance. I like this as at a glance, you can spot trends, or any sudden drops in clicks, without yet diving into the detail.
For the purpose of this guide, I will be showing screenshots from SEOTesting's Search Console data.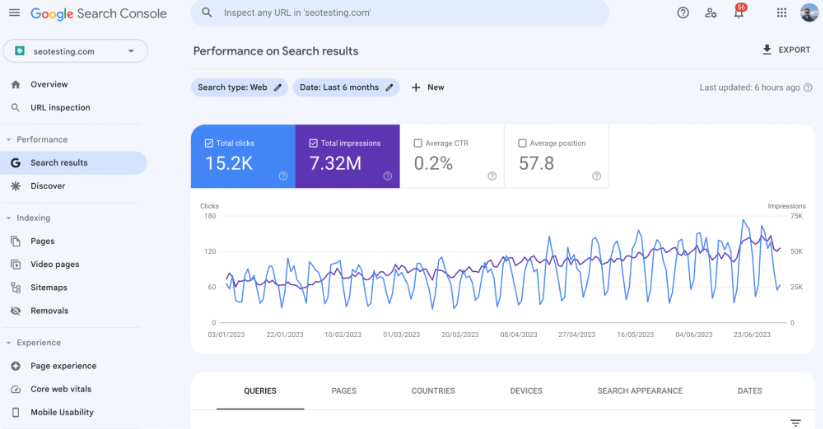 When you click into 'Performance' to dive into the detail, there are several things you now look at:
Type of search: Web, Image, Video or News.
Date: You can go back as long as tracking was enabled, to a maximum of 16 months.
Query: Filter to find queries (keywords), questions and more that are driving clicks to your website.
Pages: See how individual pages are ranking and how many impressions they are driving plus more.
Country: Specify what country you want to show data for.
Device: Narrow down by Desktop, Tablet or Mobile.
Let's look at some use cases for the Performance section and show you how you can answer specific questions with the data.
Case 1: "What keywords are driving clicks to my homepage from Google search?"
First, set your country. You'd be surprised how even if you have a .co.uk website, some keywords will rank in other countries. If you don't filter these out, they will alter your averages for Click Through Rate (CTR) and average position.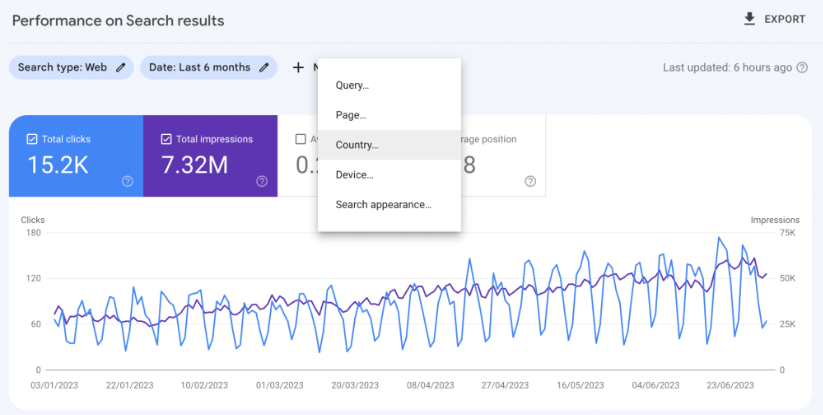 In the same area, select "Page" to define the homepage. Here make sure "Exact URL" is selected and type in your homepage: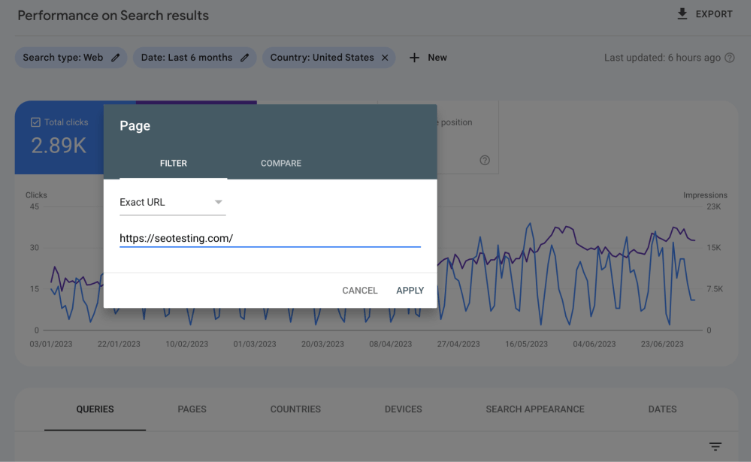 Now, Search Console will show you a list of keywords that are ranking for the homepage.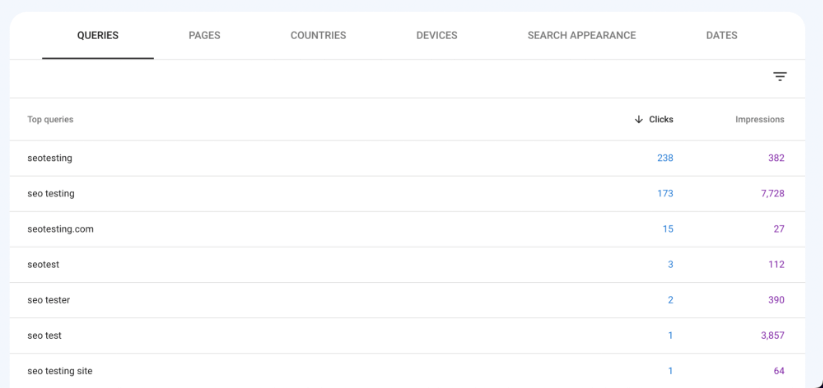 In the results, you can see that it also shows Clicks, Impressions, Click-Through Rate (CTR) and Position. Let's break down what they all mean:
Clicks: The number of clicks during the data period you have selected for a given page or query.
Impressions: The number of times a page on your website appears to a user (not clicked) in the search results.
CTR: The number of clicks a page/query has appeared for / the number of times the page has been seen in search results ((clicks / impressions) * 100).
Position: The average position for a given query or a page. If a query appears in position 5 and also position 3 the average position would be 4 ((5+3)/2).
Search Console gives you a lot of data and you have various ways in which you can dive into it. You might want to:
Look at the performance of a group of selected pages.
Compare 2 pages and/or terms against each (especially good for cannibalisation worries).
Find keywords/phrases containing a certain word, such as "what", "can" or a buying term.
See how your website ranks for non-branded keywords i.e. removing your brand name and seeing the rest of the keywords which come to your website.
Later in this guide I will be showing some other use cases. For now, let's move on to the next area of Search Console.
URL Inspection Tool
The URL inspection tool gives you an insight into a URL whether it's indexed in Google, or if it has any problems and Google has chosen not to index it. It will also show you any errors for your page if you are using any structured data. It's a really powerful tool and was a new addition to Search Console following its transformation from "Webmaster tools".
So how to use it and what the data will tell you?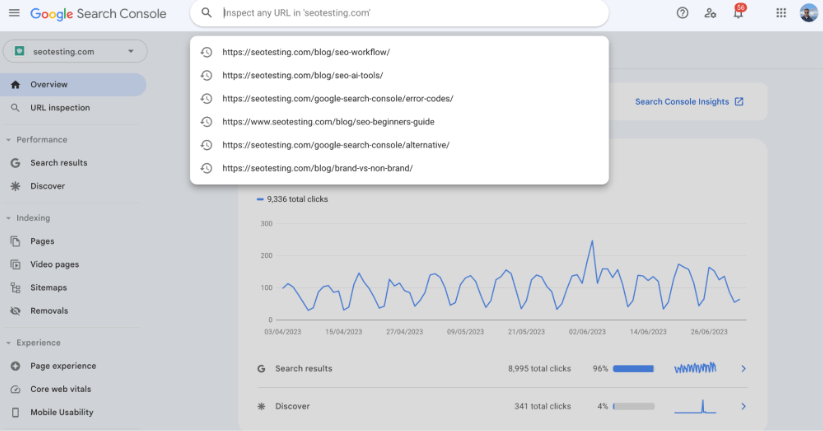 Right at the top of the dashboard, you will see "Inspect any URL:..." and also "URL Inspection" on the left-hand navigation. You can access it through either. Simply write the exact URL you would like to check the status of. Let's take an example of the homepage for SEOTesting.com, so the address would be "https://seotesting.com/"
Google will fetch the information from its index to give an update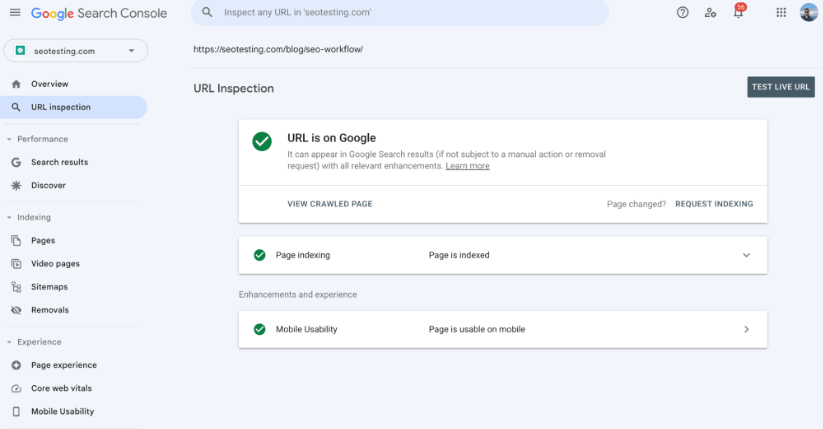 In this instance, Search Console has given a green tick, meaning the URL is in Google's Index, so it can be found through Google search. This of course is ideally what you want to see.
The results will give you an opportunity to find a bit more information, not just that the "URL is on Google"
View Crawled Page
You can find out so much information here, including the ability to see if Google is or isnt rendering your page correctly. It will show you exactly what Google has outputted following its crawl of your page in both a HTML output and also a visual output.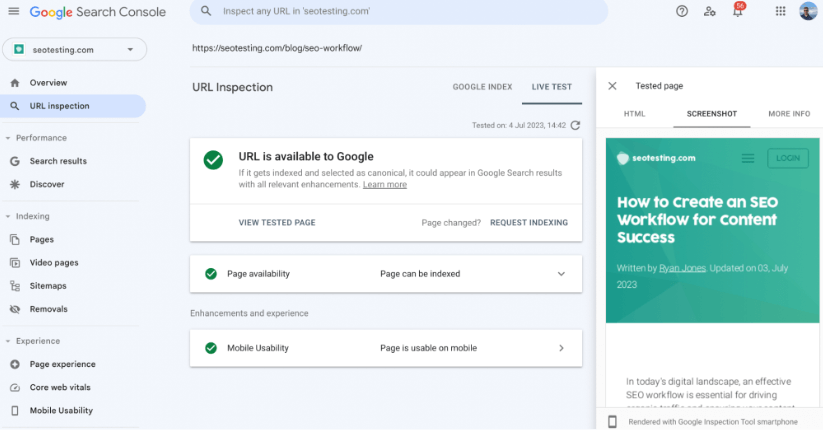 The above example shows a recent article we have published which has now been indexed by Google. We can see that Google has rendered it in a screenshot format, but we could also choose to view the HTML of a page.
And, if we click the "More Info" button, we will be able to see useful information such as:
What the content type is.
What the current HTTP response code is.
What page resources could not be rendered.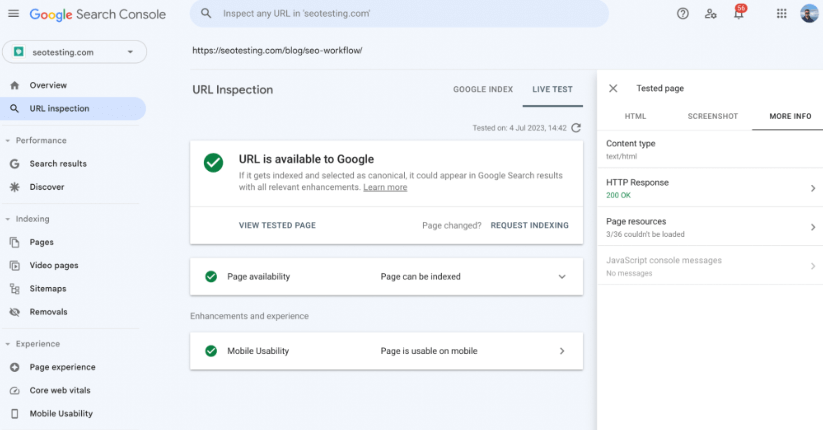 If you see the rendered output not showing how you anticipated it to, there might be a couple of reasons for it:
Some of the page's elements might be blocked from Googlebot.
Problems with javascript timeouts or errors.
If you made a page design change recently and are not seeing the change, there is a chance the page has not yet been re-crawled. To fix this use the "Request Indexing" link and your page will be sent to Google for it to be crawled. There is no time limit to this, so be patient and re-check the html and rendered output later.
Coverage
The coverage section will break down a few elements of a page. It will show you how the page was found (Discovery), Google bot's decision on indexing and some details around it (Crawl) and finally what has been indexed (Indexing)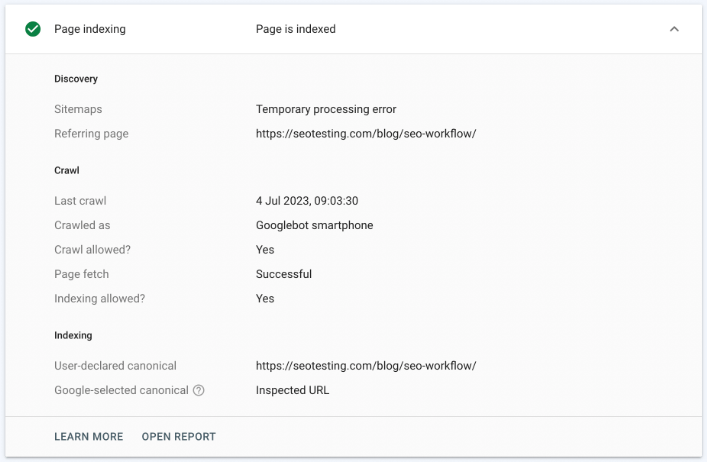 If you have noticed an issue with a page, perhaps not seen it appear in Google, this is a good place to start to investigate the possible reason(s) why. You might see a few different scenarios here:
Page not appearing, or has suddenly dropped out of the search results.
When a page was last crawled.
A different page ranking (Google chose a different canonical page).
If the page was found in sitemaps or not.
Some of the issues are very simple, but others will require a bit of a deep dive, but at least here, you will know first hand if there is an issue or not with a given page.
Page Indexing Report
The Page Indexing Report is a much broader view of your website showing all of the pages which Google has found, which have been indexed and ready for search results and which have been not. It's a really insightful section to help explain why Google has made certain decisions regarding your pages. Here is an example: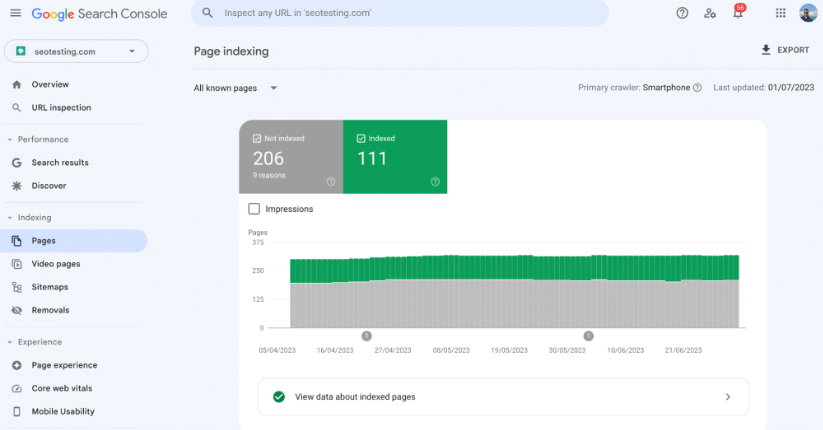 The above screenshot is the Page Indexing Report for SEOTesting. As you can see, the number of indexed pages and non-indexed pages have remained similar over the course of the last 2 months.
If we scroll down, underneath the chart, we can see reasons that different URLs have not been indexed: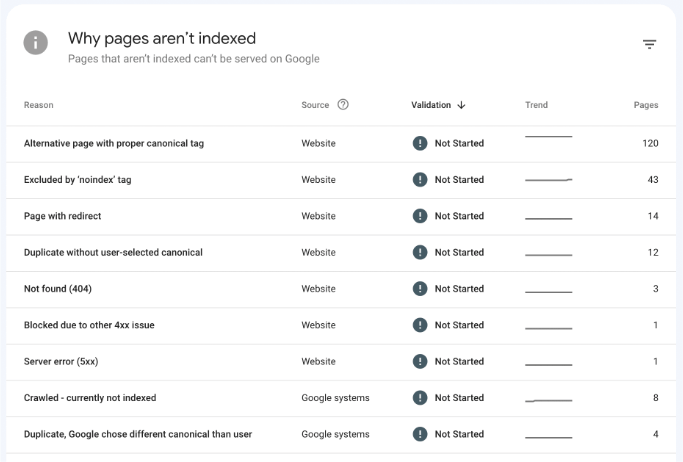 Some listings here are to be expected:
Excluded by 'Noindex' tag.
Page with redirect.
However, some issues require further investigation. Let's take a look at the "Crawled - currently not indexed" section: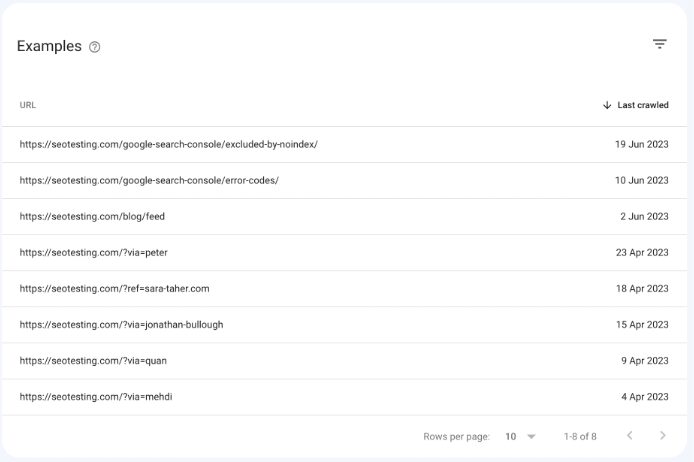 Here we can see the list of URLs that Google has crawled but chosen not to index. Most of the URLs here do not require any further work, but there are a couple of interesting URLs.
Our blog post on Google Search Console error codes.
Our blog post on Google Search Console's "Excluded by 'Noindex'" error code.
I will make a note of these and figure out why these pages have not yet been indexed.
I will be able to use the URL inspection tool we talked about earlier to do this. I can submit a request for Google to index both of these URLs.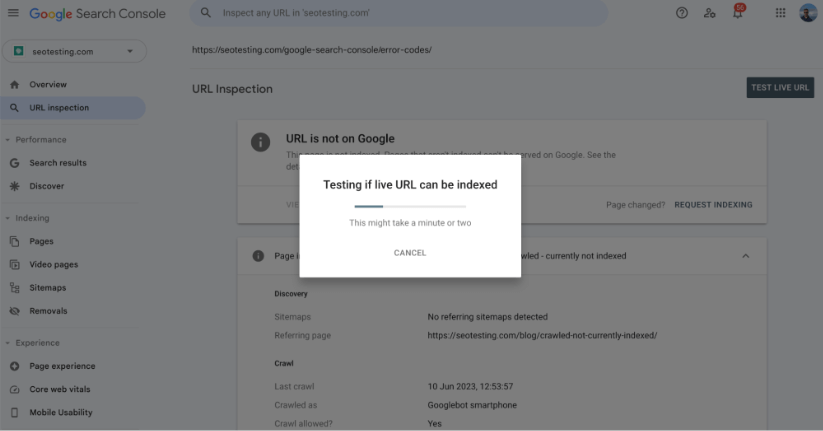 If this does not work, and these URLs are not indexed, then I will need to do some further investigation. You may be able to see in the screenshot above that the URL is not listed in our sitemap. If asking Google to index this content does not work, this would be the next step I take. I would submit the page to our sitemap and hope Google then sees it as important enough to index.
Page Experience Report
Core Web Vitals was one of the hottest topics of discussion of 2021, with big debates on how much influence it has on tangible ranking movements.
It has since been confirmed by Google that having a good page experience, and therefore good Core Web Vitals scores, is a ranking factor. We don't know the full weight that Google's algorithms places on CWV scores, but we know that it is something that needs to be kept in check.
My advice here is to look at it from a user's point of view; keep your website fast and loading correctly so users don't get frustrated. The performance section here will give you the information on where a page might be slow, and what's causing it to be slow and also if elements are loading incorrectly.
The dashboard will give you an overview of performance. Pay attention to anything which is not "good".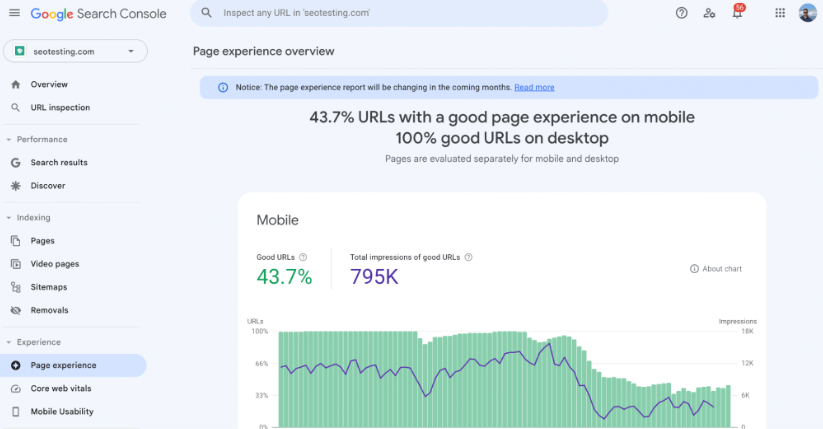 Search Console will show you what pages need improvements and why. Looking at the overall Page Experience report, we can see that we have had a drop in the number of good URLs on mobile, which has led to a drop in impressions also. This highlights the fact we need to do some work on our mobile site to get these issues fixed.
This is important. We can see, if we look at our Desktop Page Experience Report, that 100% of our URLs pass the Core Web Vitals test, which has led to steady increase of impressions, especially in recent months.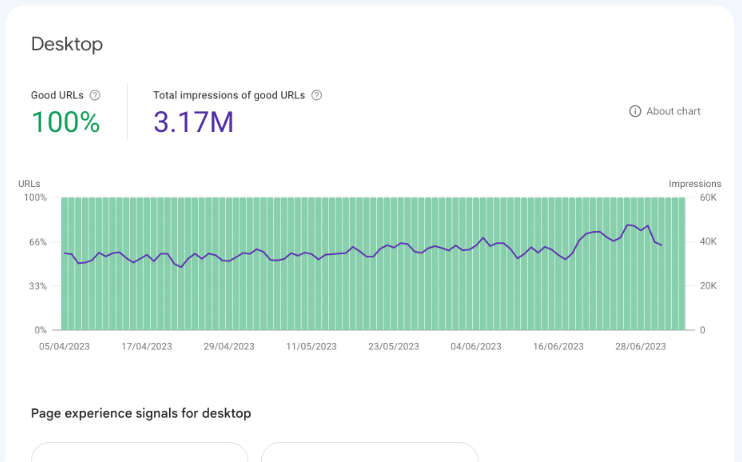 Jumping into our Page Experience Report (for mobile) a little further, we can see that 20 URLs are not currently passing the Core Web Vitals test: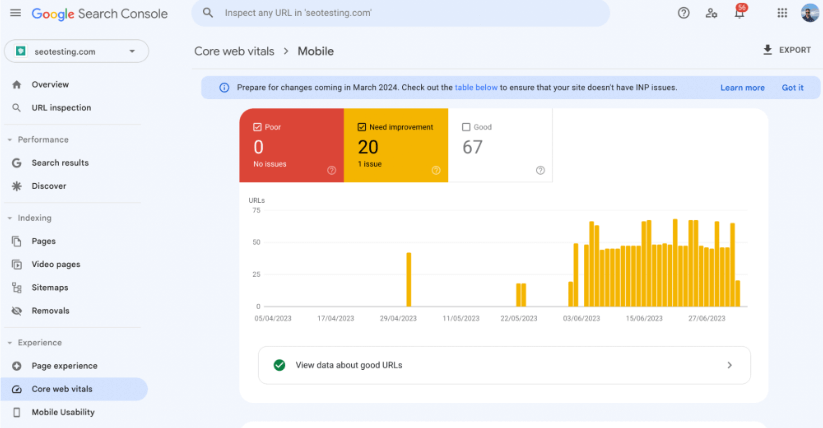 Digging into the issue a little further, we can see that it is down to a group of URLs in our Google Search Console content cluster failing the LCP test. Specifically, these URLs are taking longer than 2.5 seconds to load the largest contentful paint. Simplified, this means our pages are taking longer than 2.5 seconds to load the main content of their page.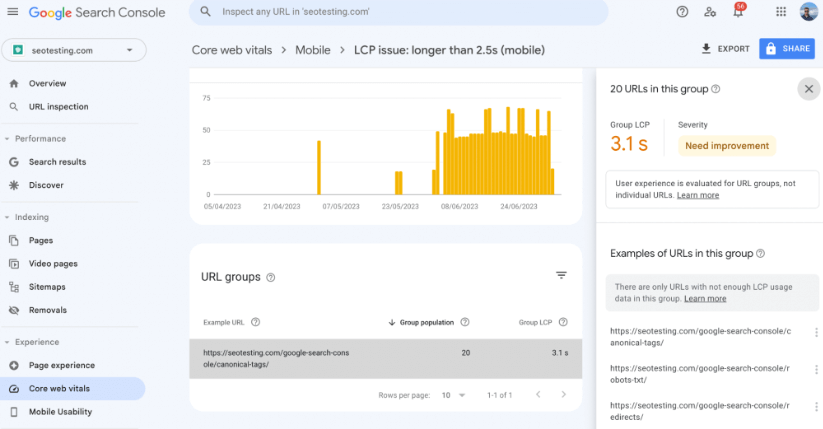 These URLs will now be passed to our development team, with the hope they can fix these issues and get our content ranking where it should be again!
There are a few good resources I'd recommend reading about core web vitals as it's not as straightforward as you'd imagine:
Enhancements Report
If you use any structured data, Google Search Console will show you if there are any issues with the way in which it's been implemented. Let's quickly discuss.
Structured data is another way in which you can explain elements of your pages to Google. For example, you might want to give company information, how-to steps for a recipe or even FAQs. These can all be shown to Google through your website through specific code, also known as schema which is often written in JSON. When this is in place, you have a chance in appearing for other elements of search e.g. your recipe might be shown in a recipe carousel at the top of Google search, or your page FAQs might appear underneath your organic listing. There are a lot of different opportunities here.
In a similar fashion to how Search Console shows errors in pages being indexed, when you click into the "enhancements" via the left hand navigation, Search Console will also show you if there are any issues with Schema across your website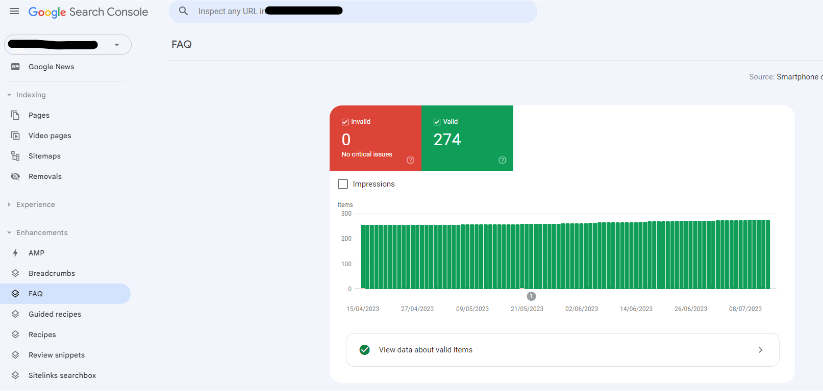 If there are issues, it will be displayed here. Don't forget, if you do use Schema, you can always validate your code through schema.org; https://validator.schema.org
Sitemaps Tool
The sitemaps area is where you can submit a sitemap and also see the index coverage of it specifically, so a bit like the coverage section above, but this hones in specifically on the URLS within a sitemap.
If you do have a sitemap, I highly recommend you submit it to Search Console as it gives a steer to Google to come and look at the pages you have supplied in it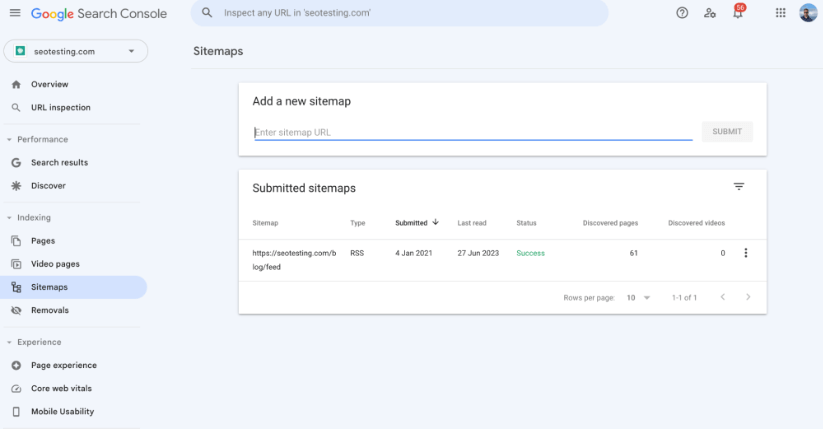 Once submitted, Google Search Console will then let you know once it's been successfully added.
It might be tempting to add your sitemap via this tool and forget about it. We'd recommend against this. There are several features within the Sitemap tool that Google Search Console has which can help you.
For starters, it allows you to see how well your sitemap has been handled by Google. You will be able to see:
The sitemap URL.
The type of sitemap (RSS, HTML etc).
When it was originally submitted to Google Search Console.
When it was last crawled by Google.
What the current status of the sitemap is.
The number of pages that have been discovered by the sitemap.
The number of videos that have been discovered by the sitempap.
It's also worth noting that you can submit more than one sitemap via Google Search Console. This is extremely useful, especially for large websites, as it will help you manage your crawl budget more effectively and better manage the efficiency of Google crawling your site. Some sites, for instance, will create a new sitemap for new sections of their website including topic clusters.
This is not needed for most sites, as crawl budget only really becomes an issue for websites with hundreds of thousands of URLs. But it is always handy to know the option is there.
It's also worth noting that you can add temporary sitemaps to your website via this Google Search Console tool.
This is extremely useful if you are looking to get pages re-indexed quickly after changes, for example, after running an SEO test. Or if you are looking to get brand new pages indexed quickly, using this method will (generally) get your URLs indexed quicker, rather than using the page submission tool.
Google sees URLs within the sitemap as extremely important, so adding URLs via a sitemap is sure to get them indexed faster, providing they are useful.
Page Removals Tool
Search Console gives you the ability to temporarily remove pages or directories from search results. This does not mean it's removed from Google index permanently but instead it becomes temporarily removed from results. In some situations, you might find a staging site indexed, or a page you didn't want live is showing in results. If you find these, this is the area to remove it temporarily, whilst then in the background, you can then put in the appropriate steps to remove it permanently (through no index tags etc.)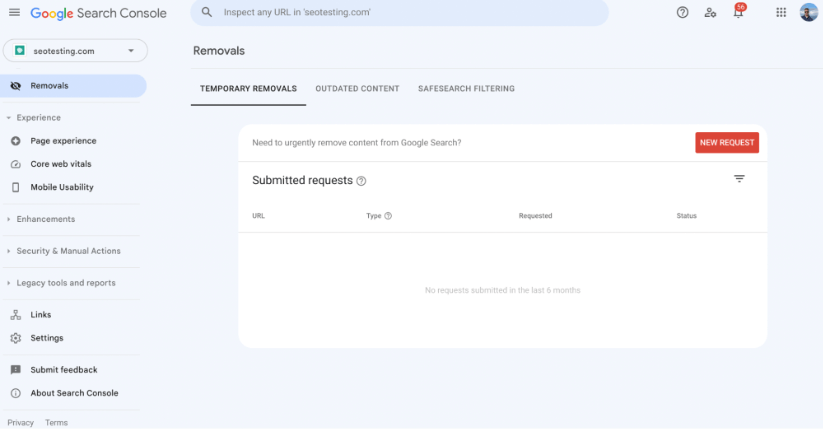 Google gives clear instructions on what to do here. The only thing I'd suggest is to treat this with caution, and only use it if absolutely needed.
Google Search Console FAQs
Hopefully, after reading the first part of this article, you will have less questions about Google Search Console, but if you still have some questions, this FAQ section should be useful. Here we'll go through some step-by-step instructions and tell you how to do some very cool things with Google Search Console.
How do I find the questions people are asking to find my content?
If you are looking for content ideas or looking to see if people have questions about your product or services, you can look in Search Console to find the questions that they are typing to reach your website.
Go to the performance section and set your date and country appropriately (at least 3 months of data). Click on "+ New" and select "Query". When the dialogue box opens up, you will need to make sure Custom (regex) is selected along with "Matches regex":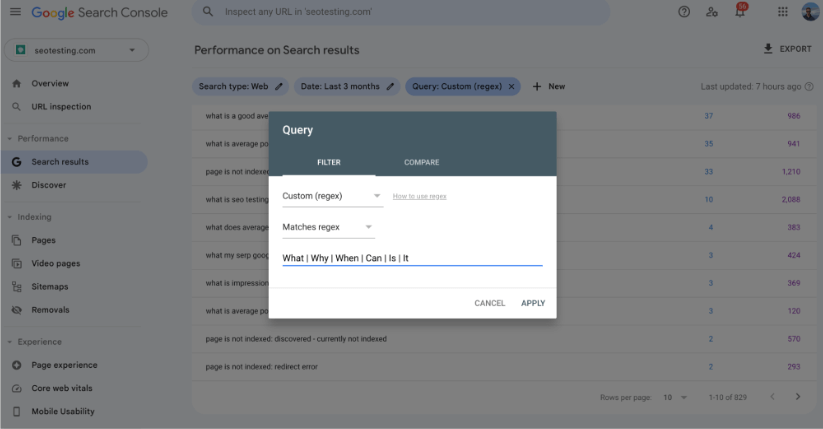 You are basically telling Search Console that you are going to use Regex language to find something and you'd like Search Console to show the results matching the query.
Now, think about how questions start. What, why, when, can, is it etc. These just need to be added, telling Google to search for either or of the variables. So the regex would look like:
What | Why | When | Can | Is | It
Here's an example doing this for SEOTesting: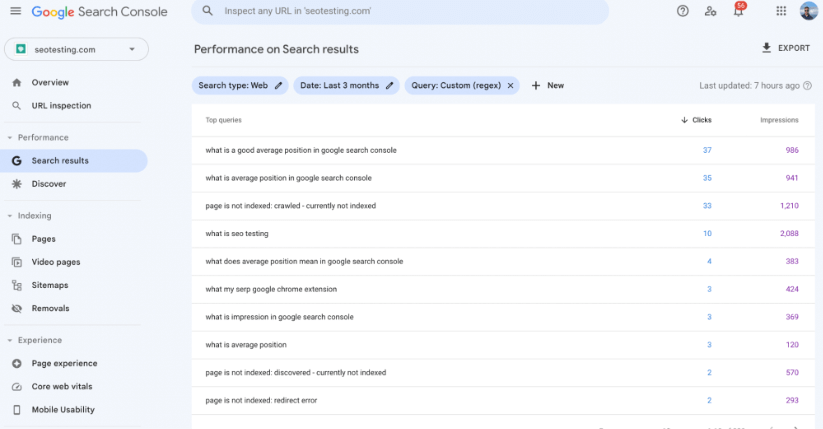 For more examples of regex searches to use in Google Search Console, check out our guide to using Regex in Search Console.
What does it mean if I see different pages appearing for the same search term?
You might hear the term "cannibalisation" flying around a lot amongst SEO's and generally, it mostly means that 2 (or more) pages are competing for the same term(s), often due to similar content appearing on both pages. So how do you find cannibalisation issues? It isn't quick, unfortunately, and it does take time in Search Console, as there is no "cannibalisation" section How do you know if you have cannibalisation issues for your website? Here are some typical circumstances which might provoke investigation:
Your site ranks really well generally, but some pages are not ranking great, despite them being published a long time ago.
You've googled your own keywords and see 2 pages appealing from your site for the same term.
You're using a keyword tracking tool which has reported multiple URLs for the same keyword, or URLs swapping in and out regularly for the same keyword.
If any of them relate to you, you might want to start looking for possible cannibalisation. One of the ways you can start is to type in the keyword into the query filter: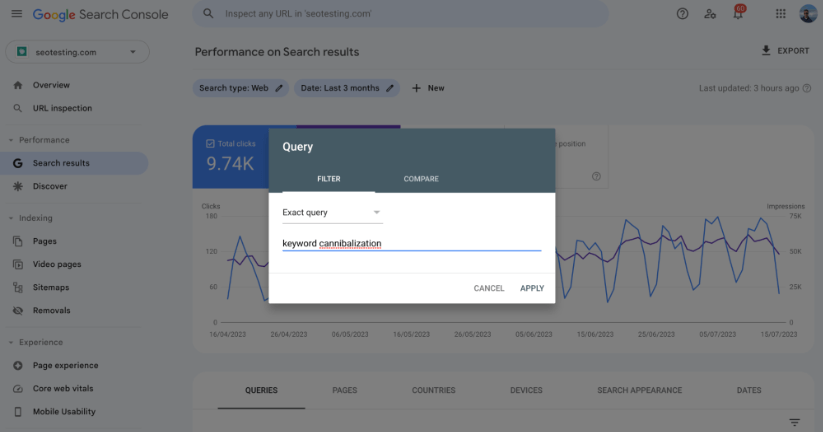 Once the results populate, click on the Pages filter to see a list of pages which the keyword ranks for: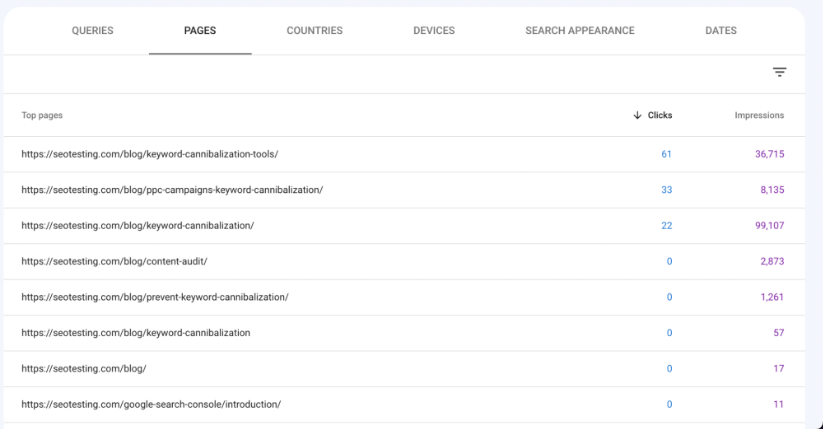 Looking at this, we can tell it requires further investigation. We can see three blog posts that are getting impressions and clicks:
Our blog post on keyword cannibalization tools.
Our blog post on keyword cannibalization and PPC campaigns.
Our blog post on keyword cannibalization.
This does not mean, necessarily, that these keywords are being cannibalized. Let's compare these three URLs, using Google Search Console, to see if we can see any cannibalization that has occurred.
As we can only compare two URLs within Google Search Console, we will compare our general article on keyword cannibalization and our article on keyword cannibalization tools.
Click on "+ New" and select "Page" and choose the compare option with the 2 culprit URLs. Make sure "Exact URL" is chosen.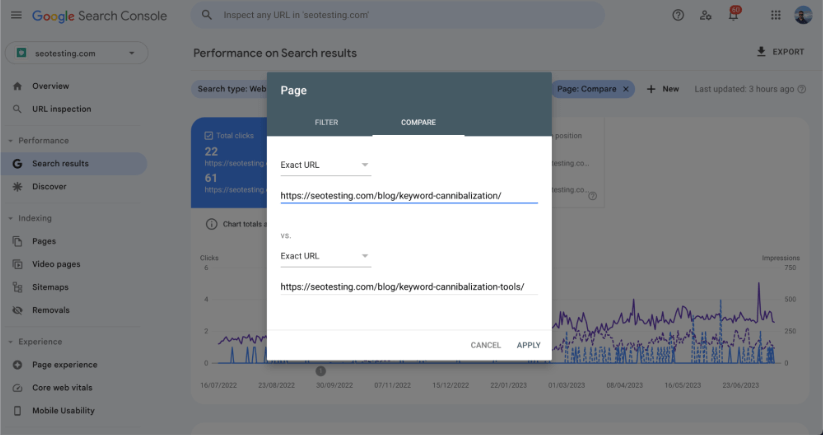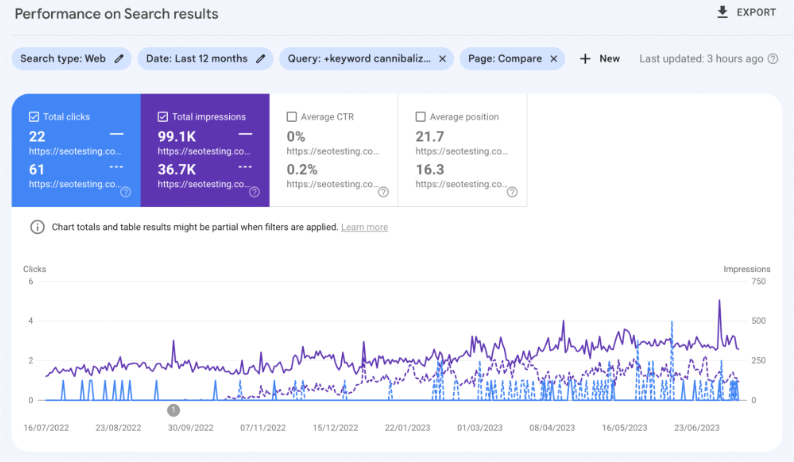 Looking at this more clearly, we can see both articles are getting impressions and, more importantly, clicks. This, to me, signifies that there is not a problem of keyword cannibalization appearing here.
If you compared two articles and found that only one article was getting meaningful impressions and clicks, especially if one article declined significantly as the other article was published, this would be a clear sign of keyword cannibalization.
We can do one more thing to ensure no articles here are cannibalized. We will search Google and look at the SERPs.
Here is a search for the keyword "keyword cannibalization" on Google: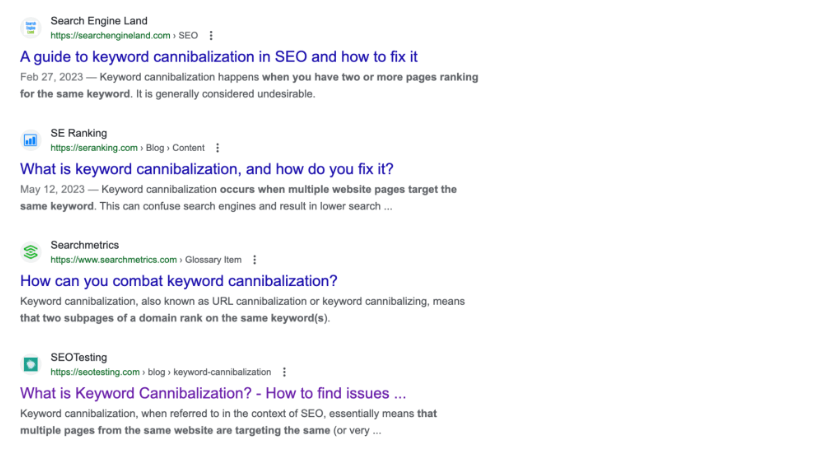 And here is a search for the keyword "keyword cannibalization tools" on Google: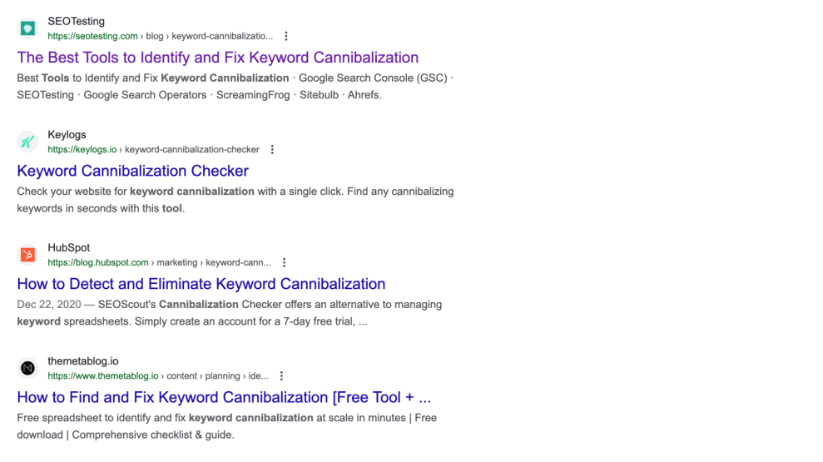 As you can see, there is no crossover between URLs in this section which means Google is treating them as different queries entirely, meaning that each query requires a different article and we have done the right thing.
We can also use the SERP Similarity tool from Keyword Insights to sense-check our findings.
Looking at these two queries, we can see there is a 31.6% similarity score and only three URLs are used in both SERPs. This is enough to signify that we'd need separate pages to have the best chance of ranking.
To be able to check for cannibalisation issues at scale using Search Console data, checkout the Keyword Cannibalization report in SEOTesting.
How do I check where I appear in search in different countries?
If you are a multinational website, Search Console can also let you know your website's performance in each country.
To get started, go into the performance section of Search Console and select "Countries" from the table filter: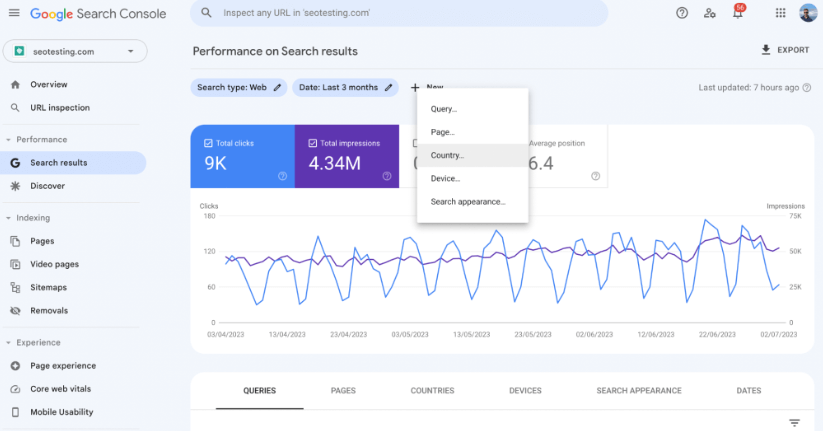 It's best to start here so you can see which country you'd like to deep-dive and find more information.
You will now see a list of countries: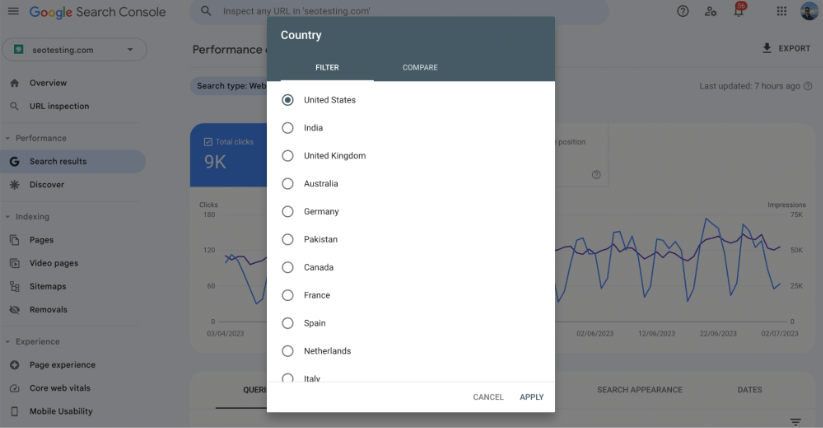 Now you can select a country from the table and Search Console will update to show all keywords and pages related to the country you have selected. You will notice the top filter will update to show the country which you have selected.
Is Google Search Console good for SEO?
Using Google Search Console in itself is not directly good for SEO. That being said, there are several great reports and features within Google Search Console that will help you rank higher and get more clicks to your websites.
By using Google Search Console, you will be better able to monitor the status of Google crawling, indexing and ranking your site. You will be able to manage issues with page speed and core web vitals on your website. And you will be able to more accurately keep track of keyword cannibalization issues.
The only problem with all of this. It takes a lot of time.
How SEOTesting can save you time.
SEOtesting has a range of reports that I find really useful, especially in some of the use cases I've mentioned above. It can take minutes to find issues.
In the reports section, SEOTesting has a range of predefined configurations which will show you various issues which might need investigating.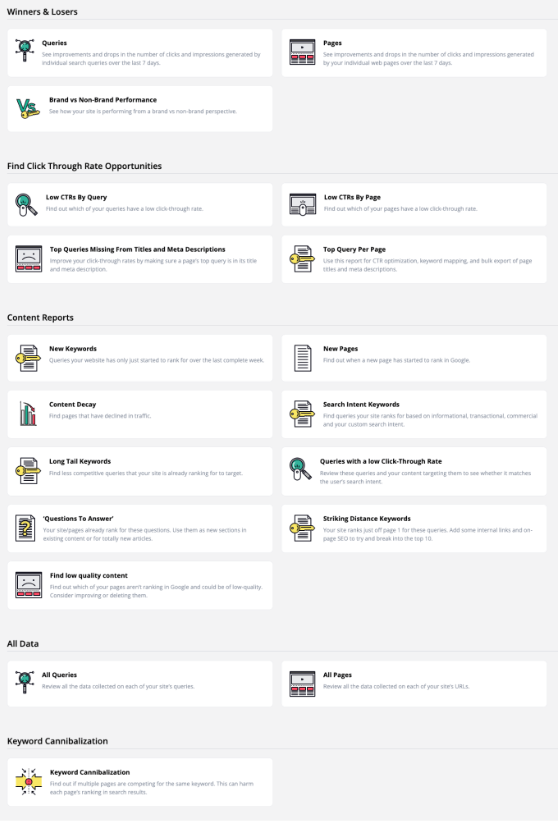 As you can see, there are reports for "Keyword Cannibization" and also "Questions To Answer" but we also have several reports that will help you better analyse your website and save you time including:
Winners and Losers - Pages report
Winners and Losers - Queries report
Brand vs Non-Brand performance report
Content Decay report
Striking Distance Keywords report.
I showed earlier how to manually find the data through Search Console and as you could see, it does take some time. Not with SEOTesting however.
When you click on the "Keyword Cannibalization" report, SEOTesting will show you which queries are competing across various different pages: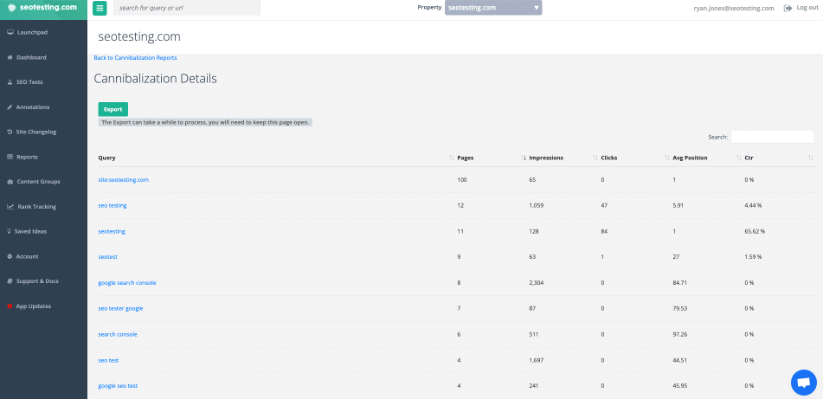 As you can see, the terms are showing the number of pages with which they are competing across. If you then click into a term, it will show you what pages and the number of impressions across each term. A lot of time saved!
The second example of time being saved is in the report "Questions to Answer". I showed earlier how through a regex function, you can find questions in Search Console which people are searching for and arriving on your website. Well instead of using regex and compiling queries, SEOTesting has this all covered! By clicking on the report, you will be shown everything.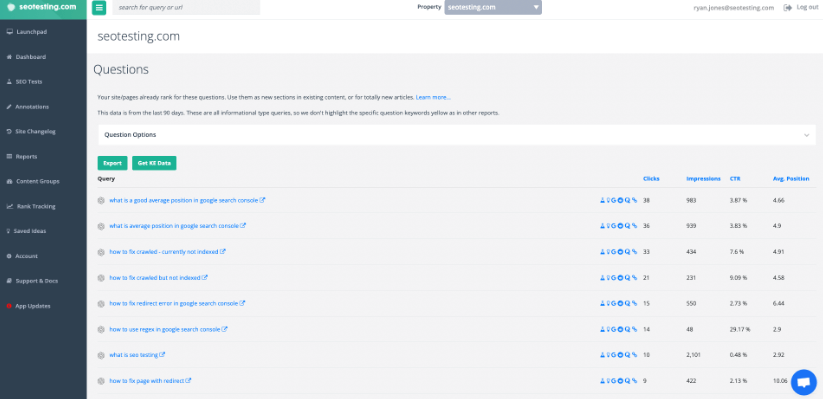 From the question, to the number of clicks, impressions, CTR and average position. You can then take the necessary steps to identify if you need to adapt or create a new piece of content.
The opportunities are endless in both Search Console and SEOTesting to improve your SEO efforts, and hopefully this guide will give you enough of a foundation to get your started.
If you are interested in supercharging your use of Google Search Console with SEOTesting, we have a 14-day free trial which you can sign-up to without using a credit card. Give us a try today.