What is one of the easiest and most cost effective ways of getting more clicks from organic search results?
Improve the click through rate for existing queries your site appears in the search results for!

If a query is giving your site 50 clicks a day with a click through rate of only 1%, if you can boost the CTR to 2% you'll be doubling your traffic for that query to 100 clicks a day! Do that for a few important queries your site targets and you'll be a hero!

So how do we find these low click through rate opportunities?

How to find low click through rate opportunities
We have two reports in SEOTesting.com that will help find low click through rate queries. These are both contained in the Reports section linked on the left hand side menu.
Low CTR By Query report.
The first report to checkout is the 'Low CTR By Query' report.

This report will display queries that have a CTR lower than what is selected in the drop down filter. To start with, to find the really low hanging fruit, I would suggest selecting this value to be 1 or 2%.

You should then order the results displayed by impressions, as this will give you the queries that get the most impressions and therefore the biggest return if you can raise the CTR by one or two percentage points.

Top Queries Missing From Titles and Meta Descriptions
The second report to checkout in SEOTesting.com is the 'Top Queries Missing From Titles and Meta Descriptions' report.

The name of the report doesn't exactly roll off the tongue, but it does exactly what it is called.
Firstly it grabs the top 5,000 urls from your site from the last 90 days.

It then goes through each url and grabs the top query for that url in terms of clicks from the last 90 days.

Finally it grabs the current page title and meta description for the page.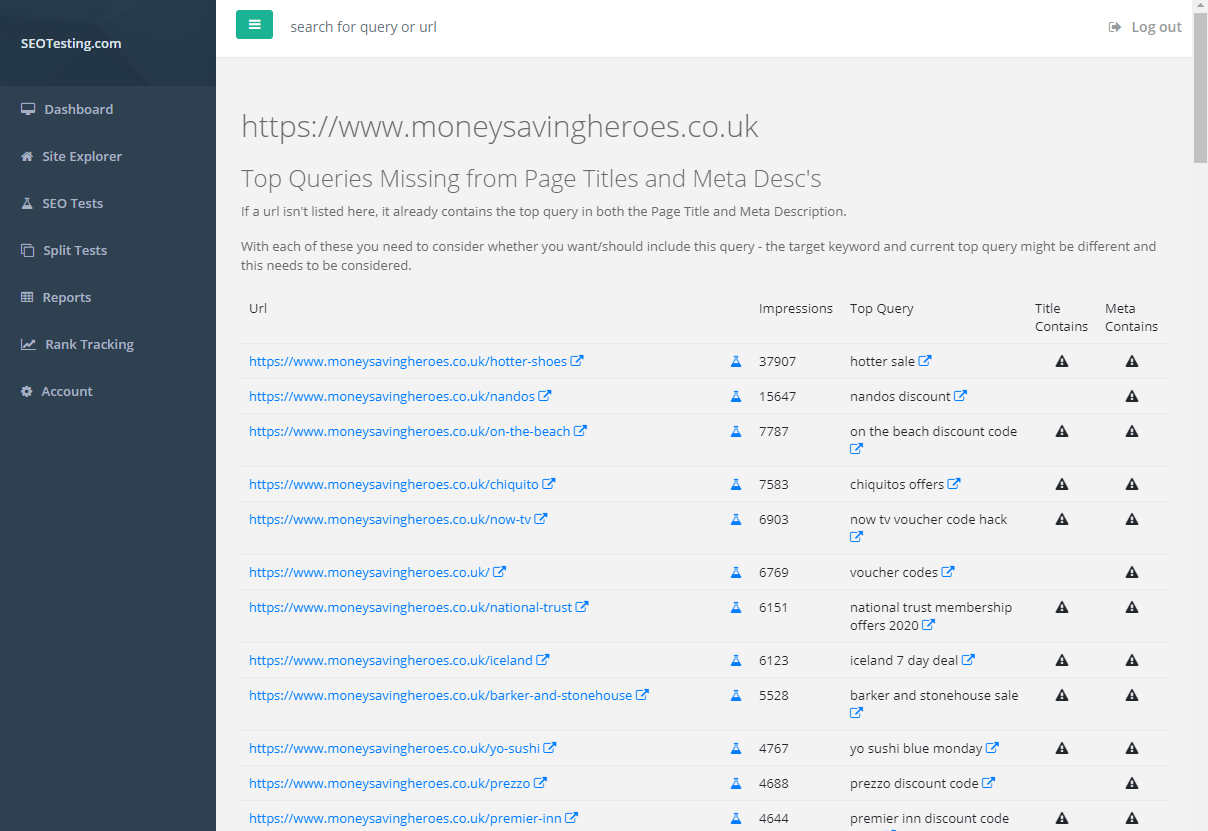 In the report that is output it then shows a warning icon if the top query in terms of impressions is not included in the page title and/or meta description.

Simply by including this top query in your page title and meta description could improve both position and appearance. Google often boldens the users search query if it appears in a sites title or meta description in the search result pages.

What is a click through rate in SEO?
In this article we are referring to clicks to your pages from organic search engine results pages (SERPS), as opposed to click through rates from pay per click (PPC) advertising.
The SEO click through rate for a query is how many clicks your site gets for a specific query, divided by how many times a query appears in the SERPS for a query (multiplied by 100 if you want it displayed as a nice percentage).
The formula to calculate the click through rate is really simple:
Click through rate = (number of clicks an organic search listing gets / number of impressions a page gets in Google) * 100
Is click through rate a ranking factor?
This is a long debated question!
Oddly I will start with a conclusion - whether CTR is a ranking factor or not is immaterial. Improving your click through rate will get you more clicks - so you should do it whether it is a ranking factor or not!
Until recently Google's official line was that user signals such as click through rate, time spent on page, and bounce rate did not have any effect on a page's ranking positions within the SERPs. However in the recent Congressional Hearings involving the big tech companies being investigated for anti-trust issues - Google did admit that user signals were used as part of calculating where pages rank within the search results.
But given the above - the advice remains the same. Improve your click through rates to get more clicks, and if your rankings improve as a byproduct of this - that is even better.
What is a good organic Click Through Rate?
Very good question. We recently did a study on how click through rates have changed over the past 12 months. This study will give you an idea of average click through rates for the top 10 positions in Google. An important point the study makes is higher search volume keywords have quite a difference to long tail keywords.

How to improve Click Through Rates
Work on page titles and meta descriptions
As we have seen from our two reports in SEOTesting.com, finding queries that have a low click through rate for your pages is really easy.

Investigating the top queries your page is appearing for, and trying to include them in the page title and meta description is an easy way to get more clicks. This can usually be done through your websites content management system and so involves no developer time or coding.

If it makes sense to, include the query with the most impressions in the page title. Then include that same keyword, and the second and third most popular ones (or shorter variants) in the meta description.

You can see the full list of keywords a page is ranking by either:

1, Clicking on the url itself in any SEOTesting.com reports takes you to the page details page..
2, If you are looking at a report that contains queries, click on the query itself to see the query details page. On the query details page you'll then see the urls that have ranked for that query over the past 7 days which you can click on to see all the other keywords the page ranks for.
3, You can also search for a specific url in SEOTesting via the search box at the top of the app. This will take you to the page details page.
Target less competitive keywords?
It's also worth considering how competitive the top keywords are that a page is trying to rank for.
If for example you are targeting the top query 'argos discount code', which is already in your page title and meta description and has the numbers:

Impressions : 6,000
Average position : 43.6
Click through rate : 0.05%
Clicks : 3
Your site is having a hard time ranking for this keyword as it only appears at position 43.6 on average.

But you look a little further down the list of queries and spot the query 'argos sale date'

Impressions : 1,000
Average position : 3.2
Click through rate : 1.0%
Clicks : 10
Although 'argos sale date' gets less impressions, you would get a better click through rate and more clicks if you were to target this less competitive keyword and include it in your page title and meta description.

Specific things to test with page titles and meta descriptions

Here are a few other things to consider and test when writing page titles and meta descriptions:

Ask a question
Include the current month and year
Include a number - especially if it is a list type article
Include [ ] and other punctuation that might make your result stand out
Make sure they are unique across your site
Include a call to action or verb
Check out the search result pages
One important thing to do, and this should be done before creating any new content as well as optimizing existing, just do a Google search for the query you are targeting and check the search results.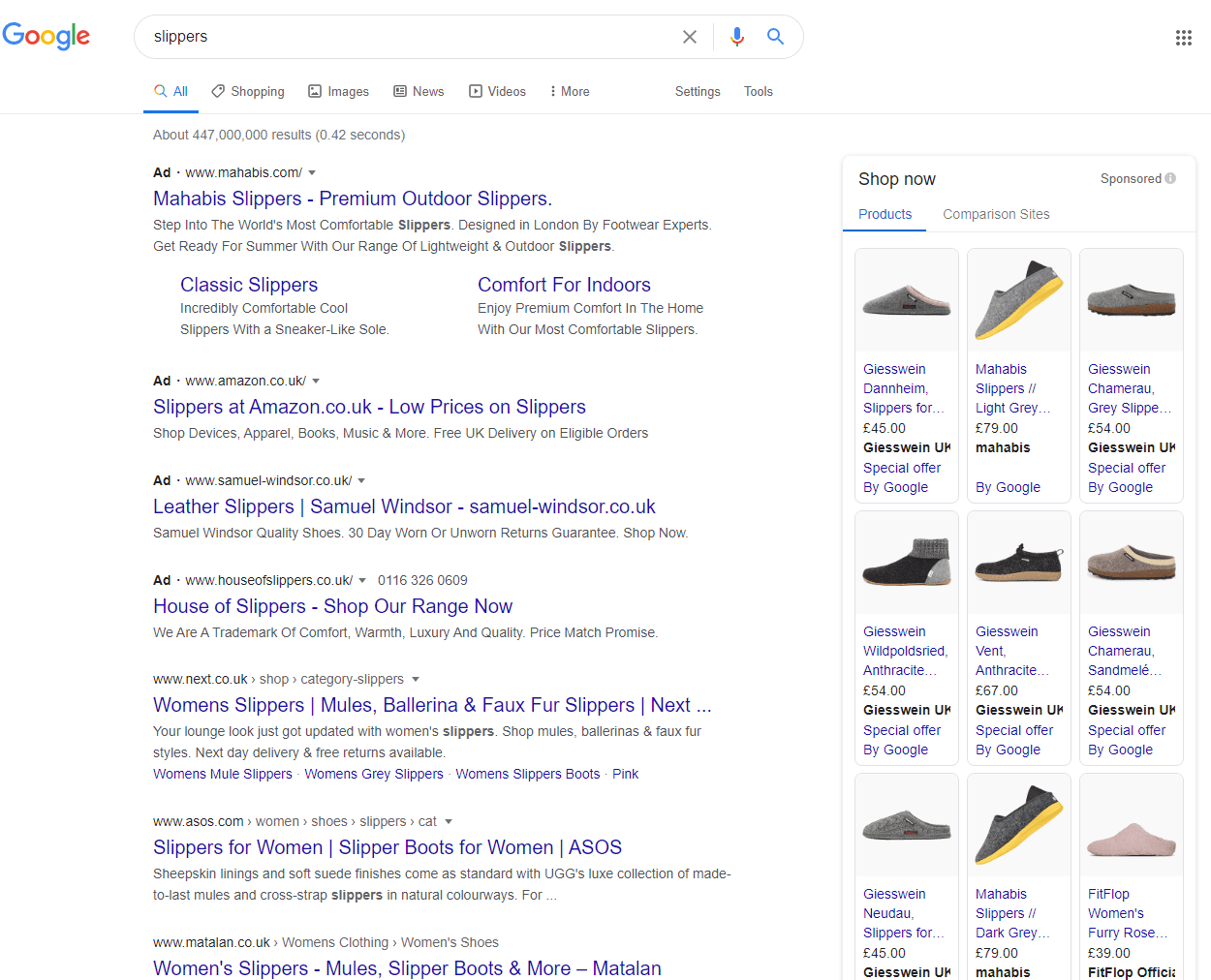 If the query you target lists a load of products and ecommerce stores, you are really going to struggle to get a blog post describing or reviewing a product to rank.

This is all down to user intent, and what Google judges the user to be searching for.

You need to be matching the type of content you are going to create, with the type of content that is currently ranking for that query if you want any chance of appearing in the search results.

It is also worth checking out what search result features and structured data is displayed in the search results. If search listings have structured data pulled out and displayed, I highly recommend that structured data in your page as it vastly improves the appearance of your listing in the search results.

If a video carousel is displayed at the top of the search listing, consider recording a YouTube video that will complement your content and have a chance of appearing. It probably won't directly affect the click through rate of the page on your site you are targeting for that query, but you'll be getting more eyeballs on your content and brand which will help in the long run.

Aways set up a test!
Whatever you plan to change on your page titles and meta descriptions, always set up and run an seo test to see how your changes impact clicks, position and click through rate. Google and users are very unpredictable, so even the best thought out plans can bring unpredictable results! Get the data you need to be able to make informed decisions about your site.