Google Search Console is one of the most widely used search tools on the planet. Whilst it is a tool in almost every marketer's stack nowadays, there are limits to its data and functionality. This means, in almost all cases, SEOs need to download and export the raw data into spreadsheets to use it properly. But there is an alternative. By using the Search Console API, SEOTesting can give you access to thousands of more queries and rows of data about your site.
In this article, I will talk through some of the reasons I believe SEOTesting is the best Google Search Console alternative.
TL;DR
What makes SEOTesting the best Google search console alternative?
Get access to up to 50,000 rows of query and URL data each calendar day for your site.
Make more of your GSC data with useful reports.
Automatic annotations of Google Core Updates.
Rank tracking functionality within SEOTesting.
Split your URLs into content groups.
Annotate your Google Search Console dashboard.
Keep track of website changes with SEOTesting's site changelog.
Limitations of Google Search Console
Perhaps the most common limit of Google Search Console is the 1,000 row limit you have placed on you when viewing the user interface or exporting data. Whilst this might not be a problem for brand new websites, you will find that once you start ranking for queries, you will hit the threshold of 1,000 incredibly quickly.
Another limit of Google Search Console is the fact that data returned in the user interface is always ordered by clicks and impressions. Any filtering done when the user interface has loaded is done via client-side JavaScript on the initial 1,000 rows of data. If you're working with a large site, you could be missing data if you want to sort by average position, for example.
There are more limitations when working with Google Search Console every day, including limited keyword data sampling, a limited data range (16 months), and geographical data limitations. Click here to learn more about Google Search Console's data limitations.
Make More of your Google Search Console Data with Useful Reports
With a wide range of reports available within SEOTesting, you can save a lot of time when working with GSC data. You don't need to export, filter, and merge your data into a Microsoft Excel or Google Sheets file before working with it, we have pre-configured reports ready to go within your SEOTesting account. Here are some of my favourites.
Find your Page's Top Ranking Queries, Easily
Perhaps my favourite report within the SEOTesting stack. The Top Query Per Page Report allows you to look at the query that your page is ranking for the most. It also allows you to see whether these top queries are used within the page title, meta description, H1, H2, H3 and main text of your page. If they are not, including them in a natural way (ie not keyword stuffing!), is a great idea for an SEO test for you to run.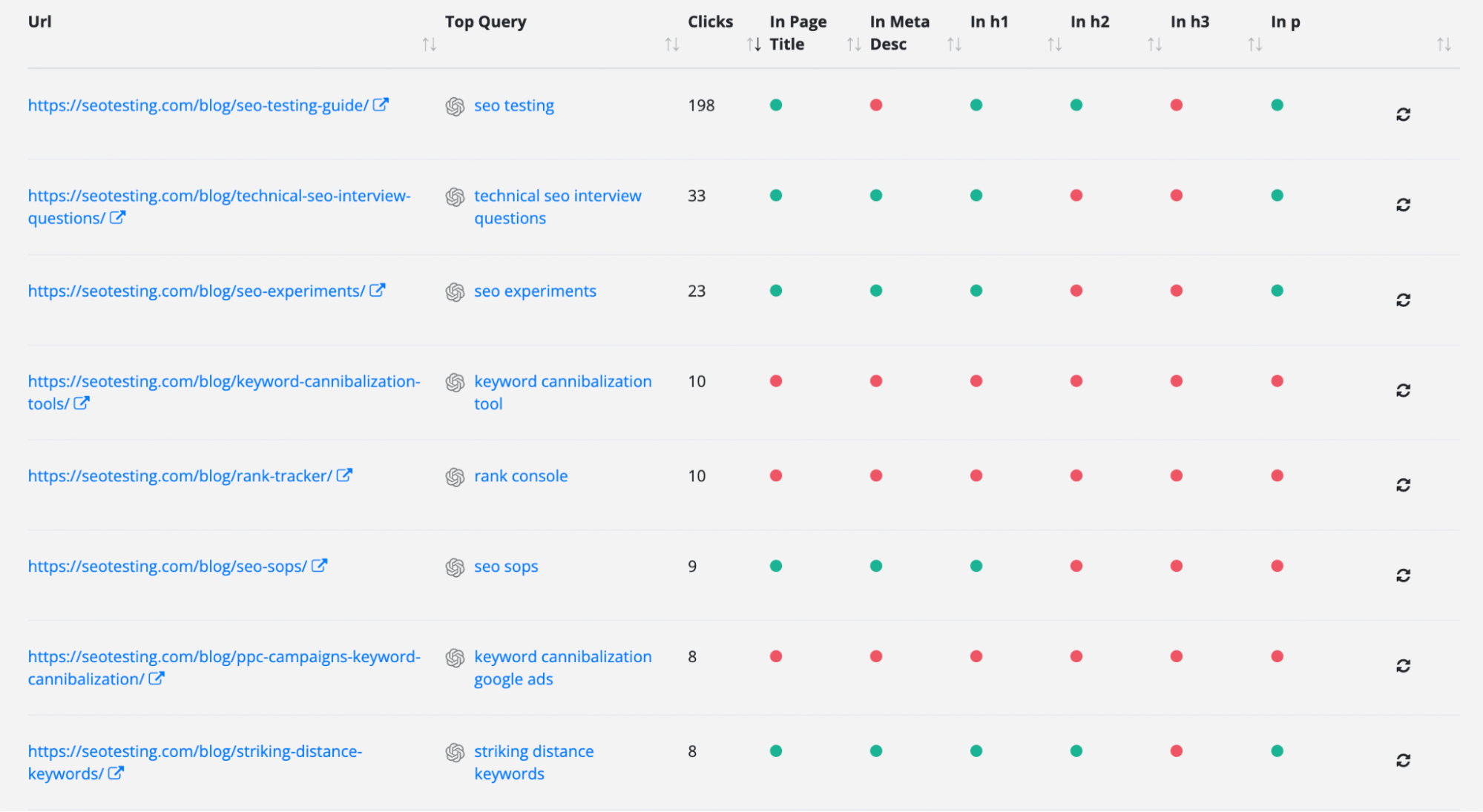 For example, you can see in the image above that our SEO Testing Guide's top query is "SEO Testing" but this is not used within the meta description or the H3 on the page. We could take this information and create an SEO test to see what impact adding this query into the meta description would have on the page's organic performance in Google
Easy to Read and Understand "Winners and Losers" Reports
Within SEOTesting, we have reports available for you to see which pages and queries have gained and lost clicks and impressions in the last week when compared to the week prior. Helpfully named the "Winners and Losers" reports, these reports will tell you which pages or search terms have seen a big change in clicks or impressions up or down over the last week, and therefore merit further investigation.
It's also worth noting that these reports can also be sent as email alerts within your SEOTesting account, giving you a bird's eye view of what needs to be worked on for that week.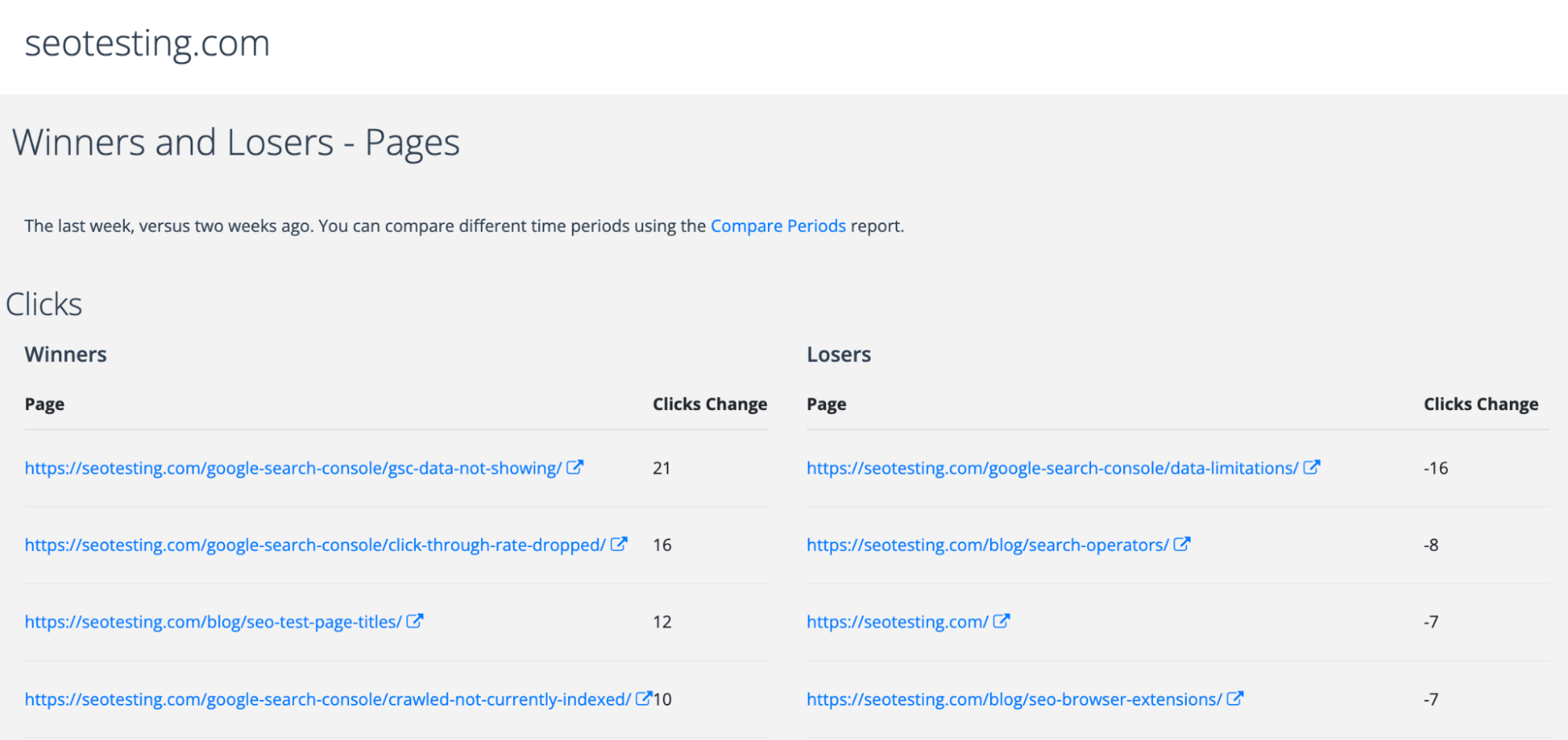 The screenshot above shows our Winners and Losers - Pages report. As you can see, our article on 'Google Search Console Not Showing Data' has improved 21 clicks whereas our article on the 'Google Search Console Data Limitations' has declined 16 clicks. This might tell us to refresh the Google Search Console Data Limitations article if it continues to decline.
Automatically Segment your Brand and Non-Brand Traffic
The Brand vs Non-Brand Report from SEOTesting allows you to add in your brand keywords and then, with no additional effort required, segment out your brand and non-brand traffic so it shows separately on a chart.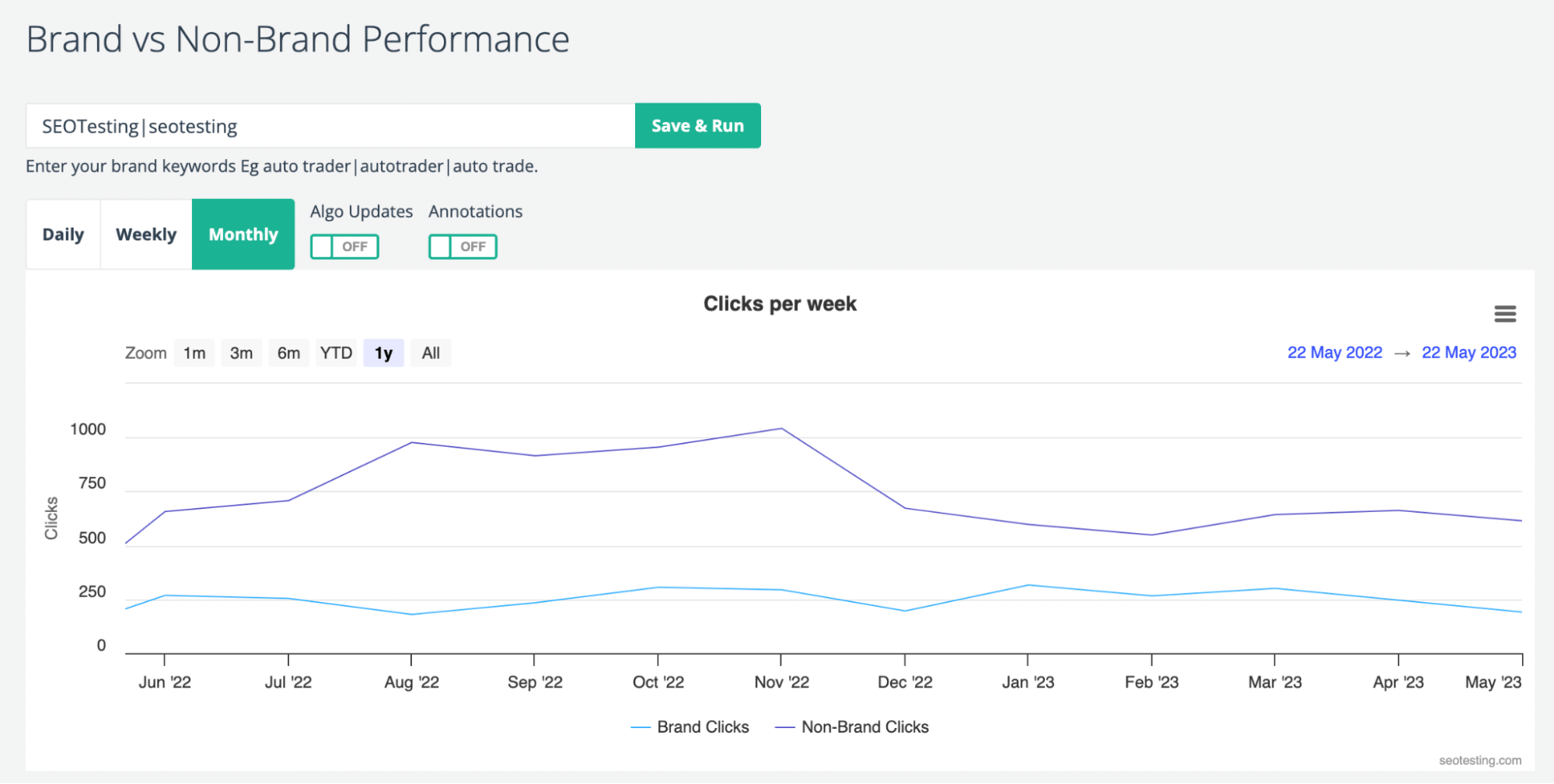 This allows you to do a few things:
See how your brand traffic is doing as its own separate metric.
See how your search traffic is doing as its own separate metric.
Make a more informed decision as to whether you have been impacted by a Google Core Update.

This is because Core Updates do not negatively impact your brand traffic.

See if a PR and brand awareness campaign you have run has worked and improved brand presence.
If you are regularly using GSC, you know you have to download all of your raw data and then, manually, segment your brand from non-brand traffic. This takes a lot of time. With the Brand vs Non-Brand Report, you simply click to load the report.
Instantly Find Pages that Need a Refresh with SEOTesting's Content Decay Report
Figuring out which of your pages needs to be placed in a refresh queue can often involve a lot of guesswork, or if you're anything like me prior to using SEOTesting, you have been doing it for years based on an arbitrary amount of time the article or content piece has been live.
With SEOTesting's Content Decay Report, you can see (in a helpful list format) the content that has been decaying on your site for a while, organised by the number of lost clicks automatically.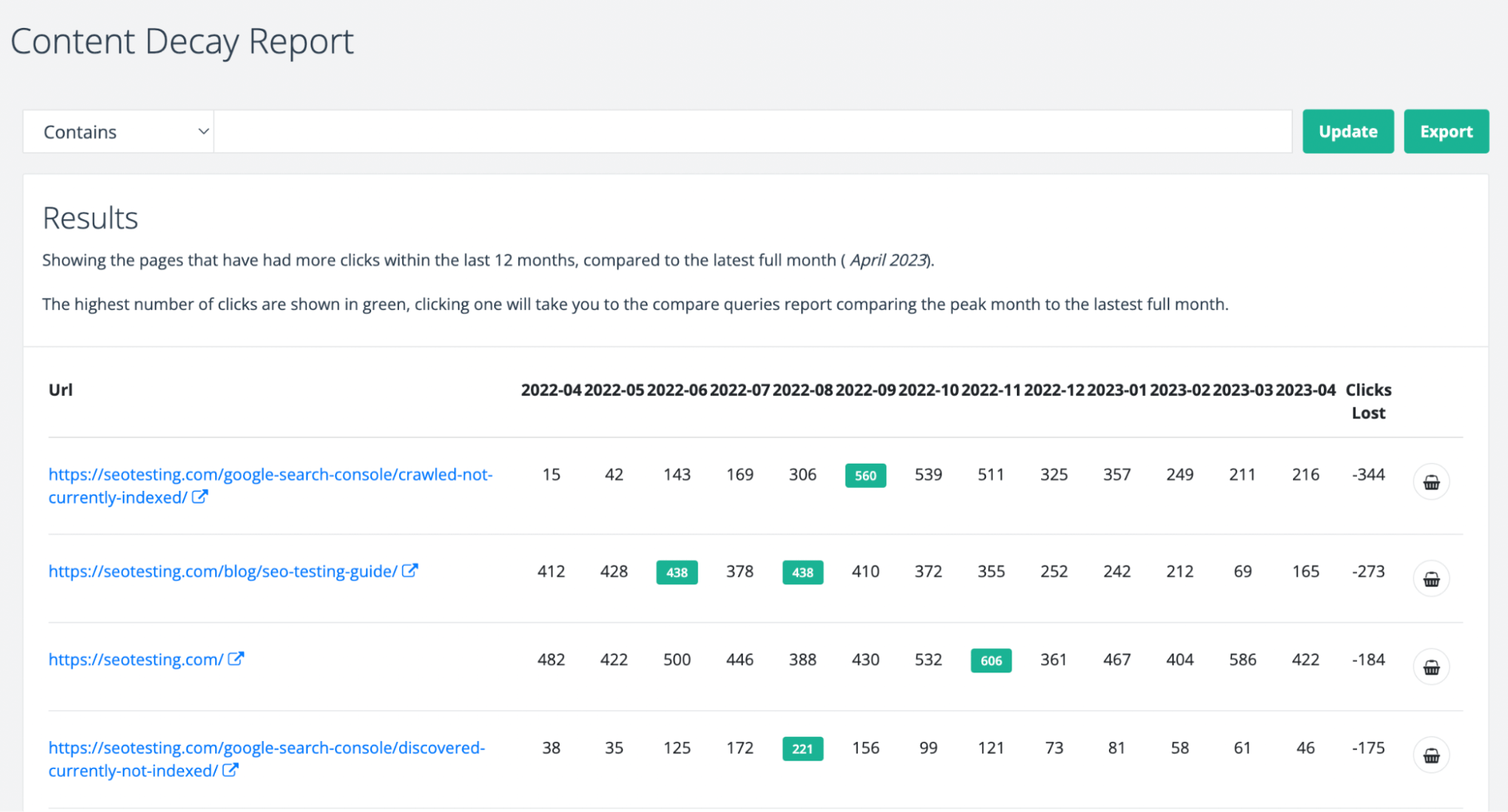 Naturally, the pieces of content at the top of this report should be first in line for a content refresh once you have ruled out internal factors that may be causing the decay. In the example we've shown above, our piece of content on GSC's "Crawled but Not Currently Indexed" status has lost significant traffic over the past 8 months. We should place this in our editorial queue for a content refresh.
Find Keyword Cannibalization Opportunities with Ease
This is perhaps the tool I have used the most within SEOTesting. The Keyword Cannibalization Report allows you to find instances of cannibalized queries appearing in Google quickly and easily, all you have to do is run the report.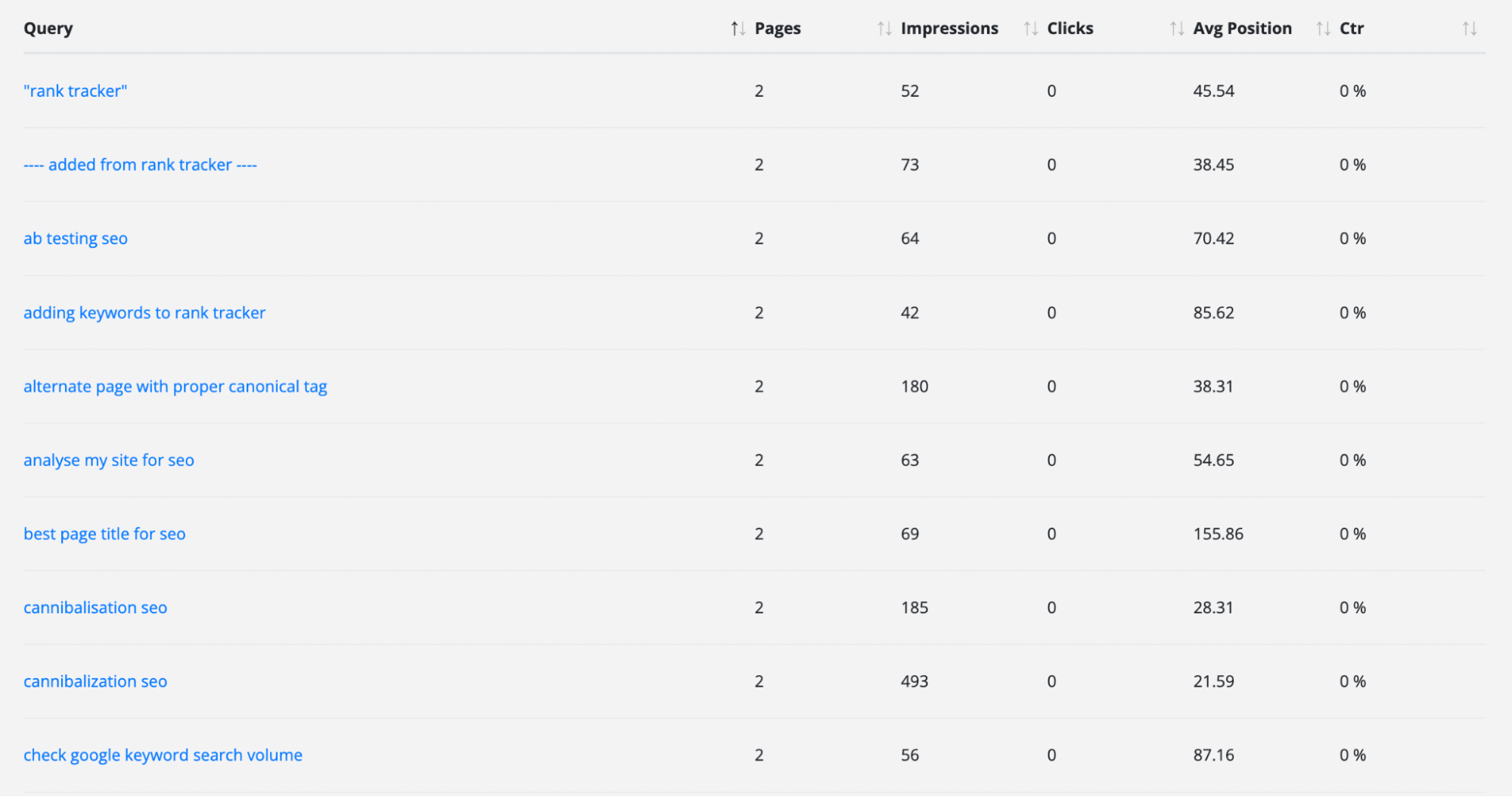 As you can see here, we have a few instances where two pages are ranking for the same keyword. If you click into the query, you will be taken to a separate page showing which pages are ranking for that search term. Once here, it's up to you to make the decision on what you want to do.
Do you want to delete one of the pages and redirect the URL to the other page?
Do you want to keep both of the pages online?
Do you want to merge the pages and redirect to the chosen canonical URL
You can do this and then run a URL Switch Test in SEOTesting to see if this has had a positive impact.
Find your Striking Distance Keywords in 20 Seconds
Our Striking Distance Keywords Report allows you to easily find all instances of striking distance keywords (queries just off page 1 of Google). All you have to do is log in to your SEOTesting account, and click on the Striking Distance Keywords Report.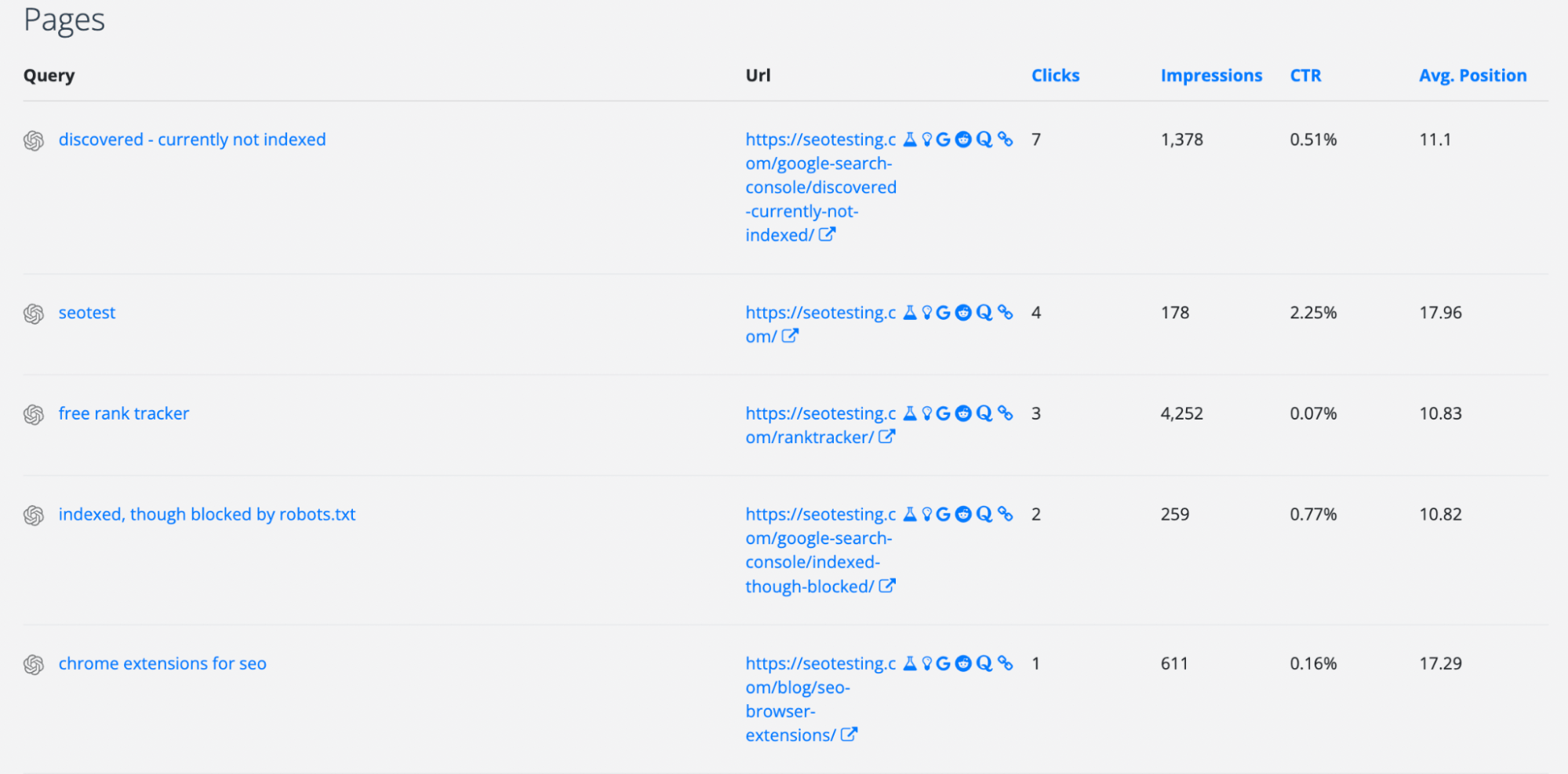 The report, for SEOTesting, shows keywords like:
Discovered - Currently Not Indexed
Free Rank Tracker
Indexed, Though Blocked by Robots.txt
Chrome Extensions for SEO
All ranking between Position 10 and Position 20 in Google search on average. We can take these keywords and make changes to the page to see if we can improve this ranking and, therefore, increase the number of clicks we are getting to these pages.
Automatic Annotations of Google Core Updates
Did you know that, in the last 12 months, Google has released 11 confirmed search algorithm updates? From Core Updates to Helpful Content Updates, it seems the barrage of changes to Google's proprietary algorithms is not going to slow down.
Would it surprise you to know I knew the above statistic with no research? No, my memory isn't that good. I simply looked at my dashboard within SEOTesting.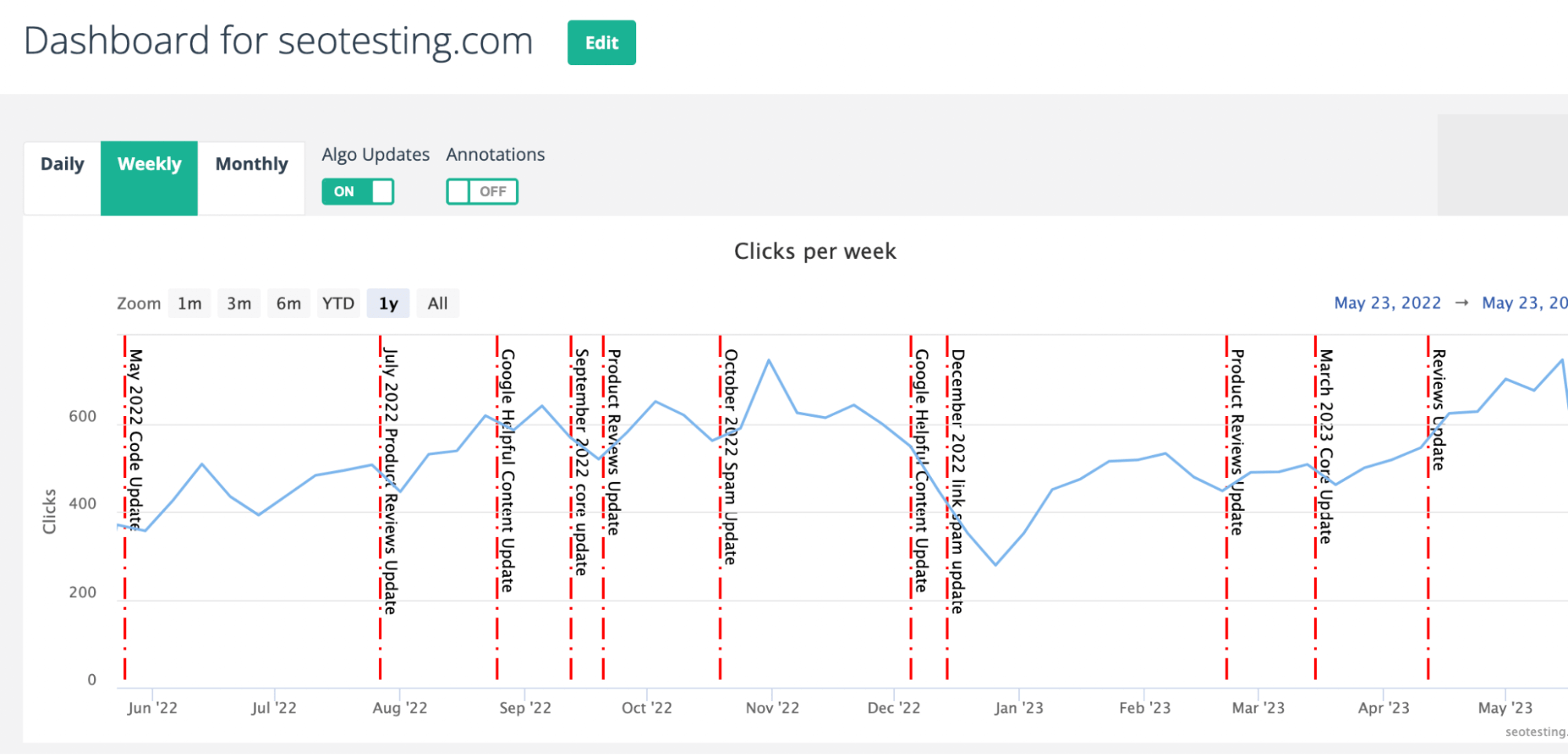 All of the red, dotted lines in the graph above show a confirmed Google algorithm update. This means it's going to be a lot easier for you to see whether a Google algorithm update, whether it's a Core Update or an update focused on helpful content, has impacted your search traffic.
You can click on each individual update and you will be taken to our Compare Pages Report, automatically set to compare the week after the update to the week before the update. With this, you can easily see which pages have been impacted.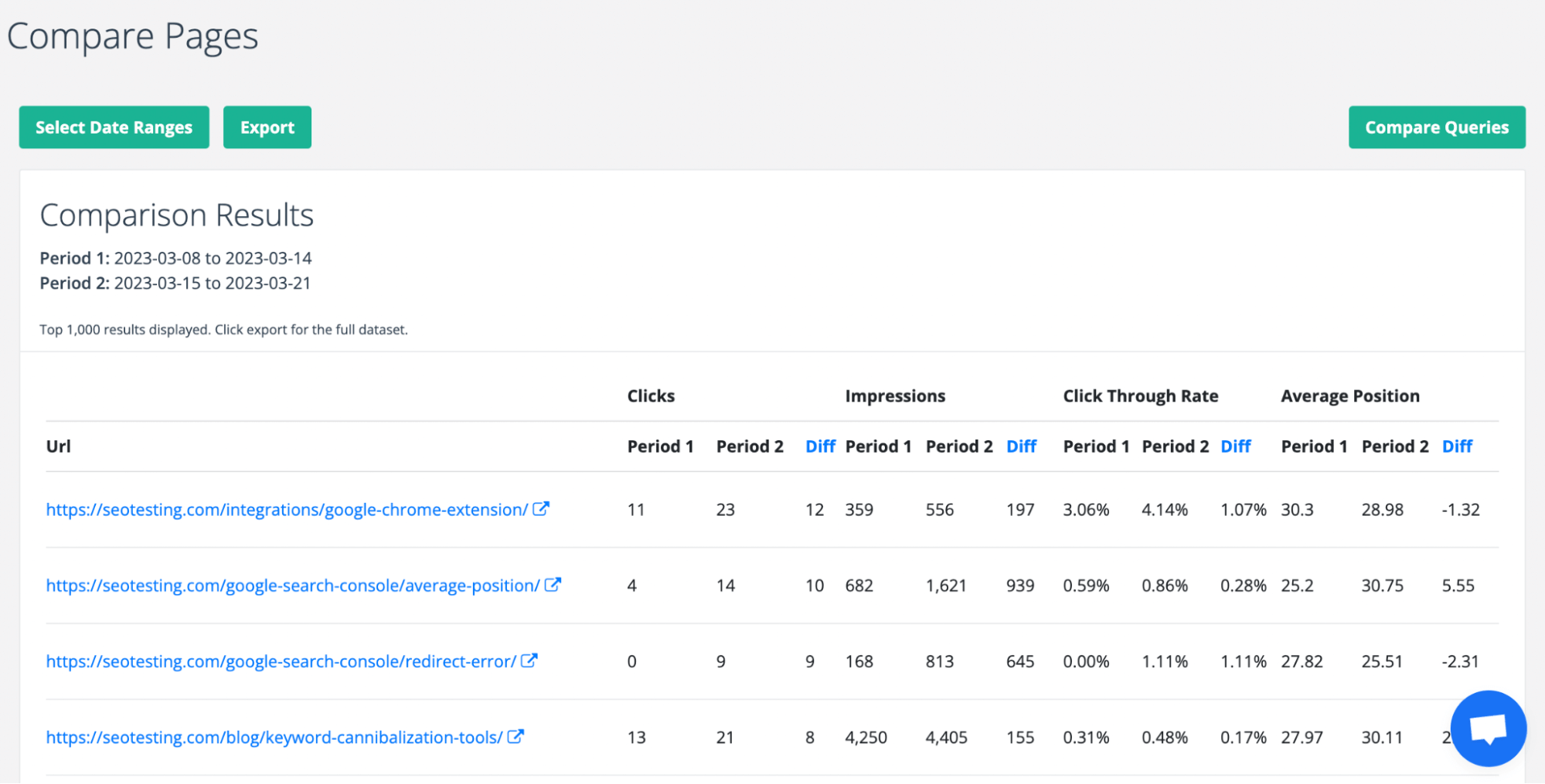 The screenshot above shows the Compare Pages Report following the March 2023 Core Algorithm Update. We can see that multiple URLs have gained clicks including:
Our Google Chrome extension page
Our piece on average position within Google Search Console
Our piece on redirect errors within Google Search Console
Our blog post on keyword cannibalization tools
Rank Tracking Functionality within SEOTesting
One of the annoying traits of Google Search Console is its limited rank tracking functionality.
Yes, you can track your average position over different time periods for your website as a whole, but you are going to waste a lot of time if you want to track the ranking position for individual queries.
You'll need to individually click into, and note down, each query you wish to see. If you are doing this for 500 queries, it's going to take a lot of your day. Not very efficient if you are looking to track specific rankings at a glance.
SEOTesting has built a rank tracker, based on Google Search Console data, within their tool which allows you to see your current average position, as well as:
Daily Change
7-Day Average
30-Day Average
90-Day Average
1-Year Average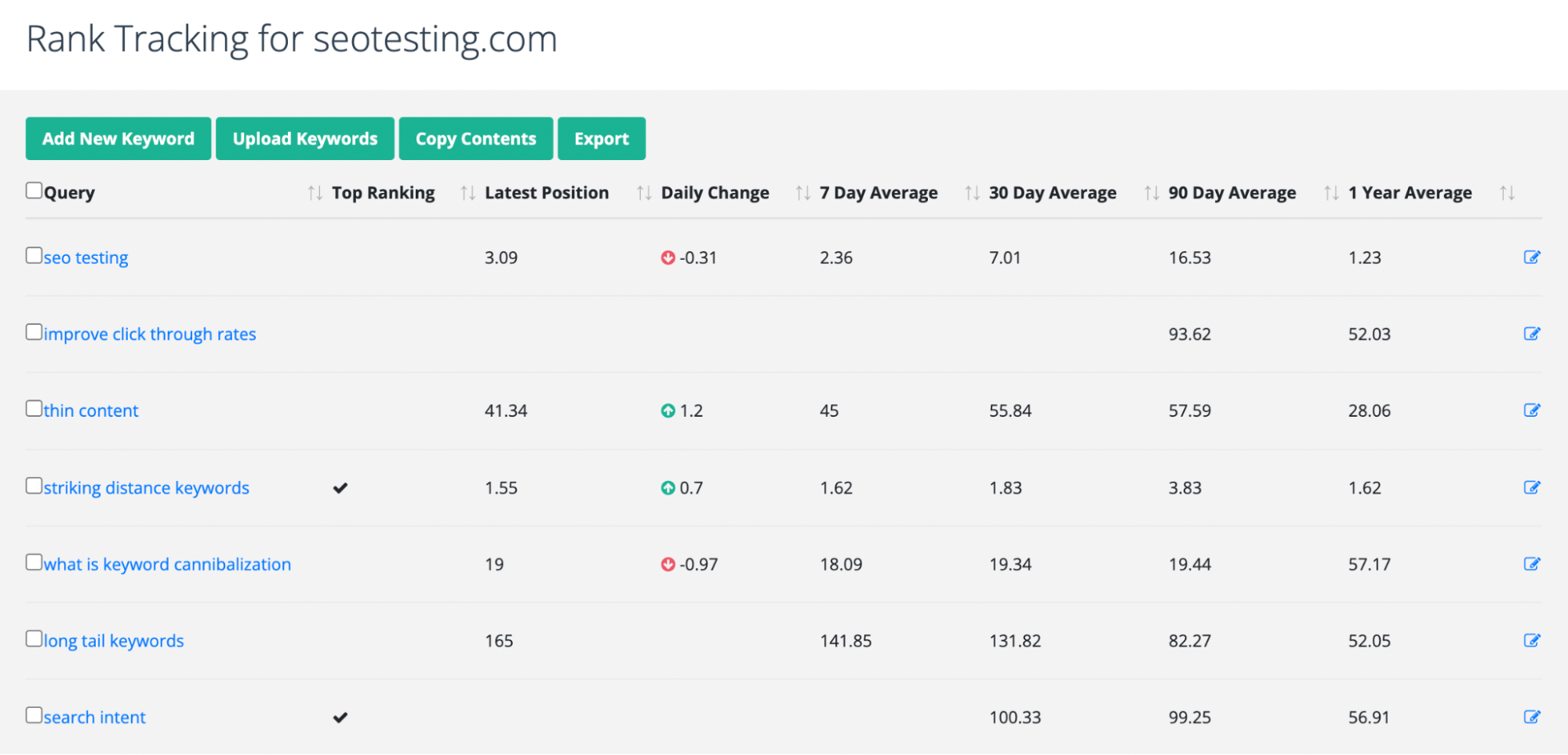 You can manually select which keywords you want to track within the rank tracker, and depending on the size of your business, this may mean that you do not need to invest in another rank tracking tool.
SEOTesting has also built a standalone free rank tracker, which you can use even if you are not a paying SEOTesting customer.
Split your URLs into Content Groups to Track Individually
If you have a large website, place a big focus on content marketing, or have lots of individual content categories and groups that you'd like to track individually, then the Content Group feature within SEOTesting is going to be incredibly useful for you.
Within the content groups functionality, you can manually create groups of content, for example:
Specific pages you've been tasked to improve (typical for agencies)
Blog posts from specific authors
Specific ecommerce category / product pages
Specific content clusters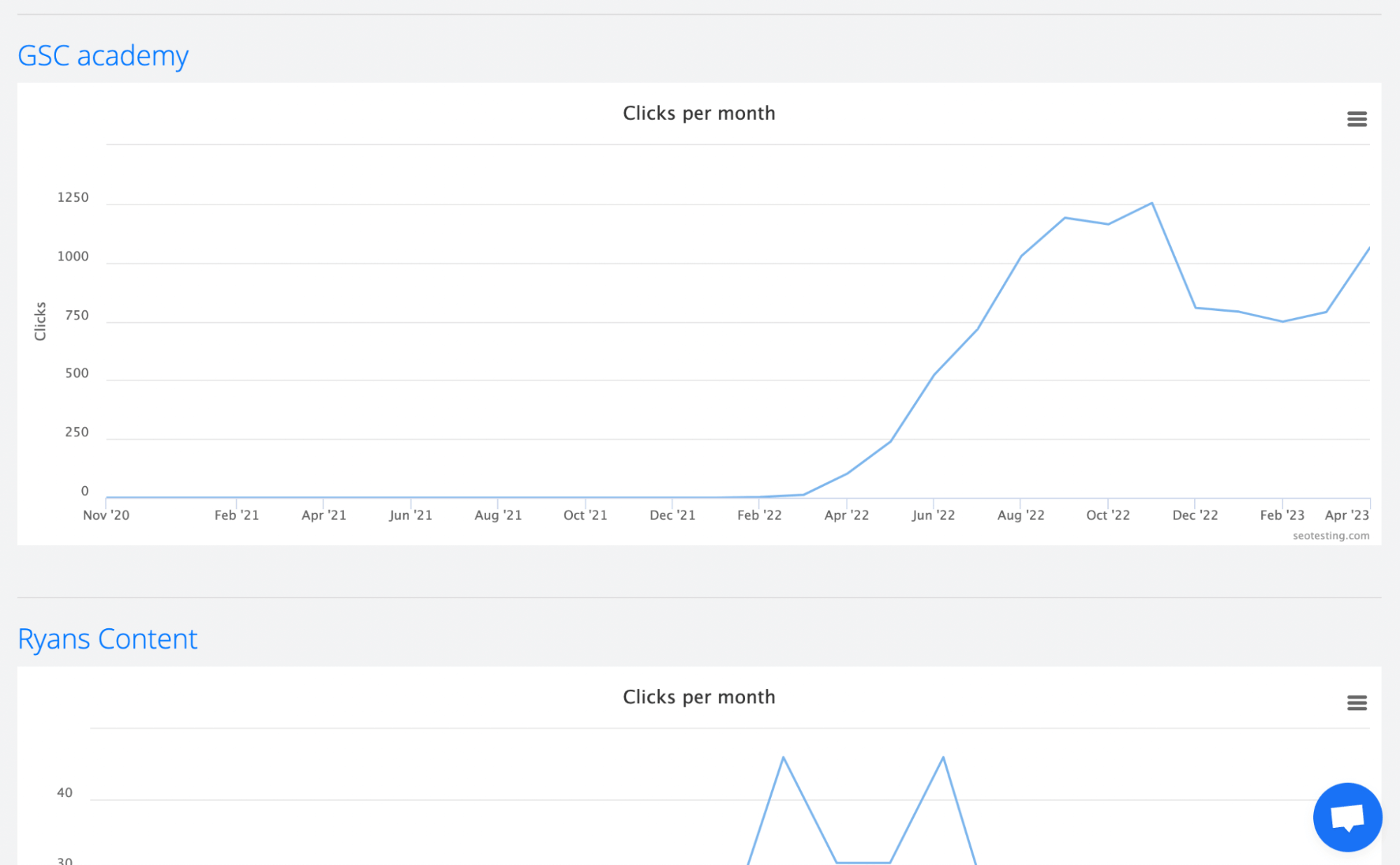 You can track the performance of these content groups over time, exactly as you would be able to in Google Search Console. In Google Search Console however, you would need to manually export the specific URL data and import this into Microsoft Excel or Google Sheets in order to create a chart. This chart would then need to be manually updated every month. SEOTesting will collect the content group data for you automatically at the end of each week or month.
Annotate your Google Search Console Dashboard
If you have been working with Google Search Console for some time, you will know that you cannot annotate your Google Search Console data. With SEOTesting, you can.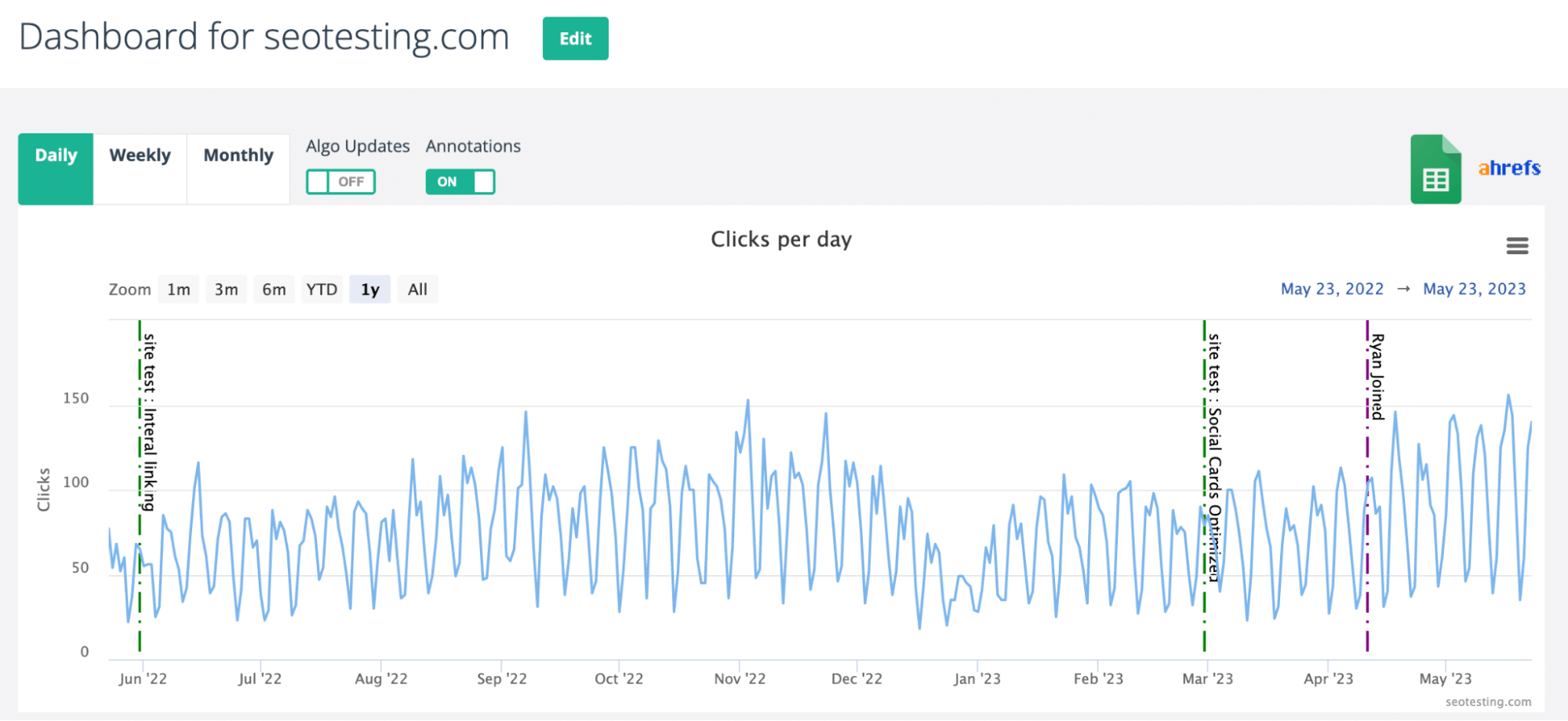 With SEOTesting, you can manually create annotations showing specific things you'd like to remember. For example, in the screenshot above, we have annotated our data with:
An internal link site test we completed.
A test we did in which we optimised social card images.
The date I joined as SEOTesting's Marketing Manager.
With annotations like these, it's easy to look from a bird's eye and see whether the changes that have occurred have been net positive or negative. For example, after we completed the internal link site test we can see a steady increase in clicks per day over a prolonged period of time.
This will help you especially if you are looking to show managers or clients the value of the work you are doing. For example, if you completed a site migration for a client (from Magento to Shopify, for example), you can annotate the date this migration went live, and show the client the increase in clicks per day.
Keep Track of your Website Changes with SEOTesting's Site Changelog
Many businesses do not keep any kind of record on the changes they make to a website, or individual pages.
When you complete SEO tests or add in annotations to your Google Search Console data, SEOTesting automatically creates a changelog for you. This helps in a number of ways.
If a person leaves an organisation, they do not take all of this valuable information with them. And from a monthly reporting point of view, one click of a button within SEOTesting allows you to export all of your changelog data, so you can include this in weekly / monthly updates to clients, managers and other stakeholders.
The SEOTesting site changelog will automatically keep track of all tests and annotations created for you, showing all the information you need to know at a glance, including:
The Name of the Test / Annotation
Description of the Test / Annotation
Change Type
URL Changed for the Test
Date the Change was Made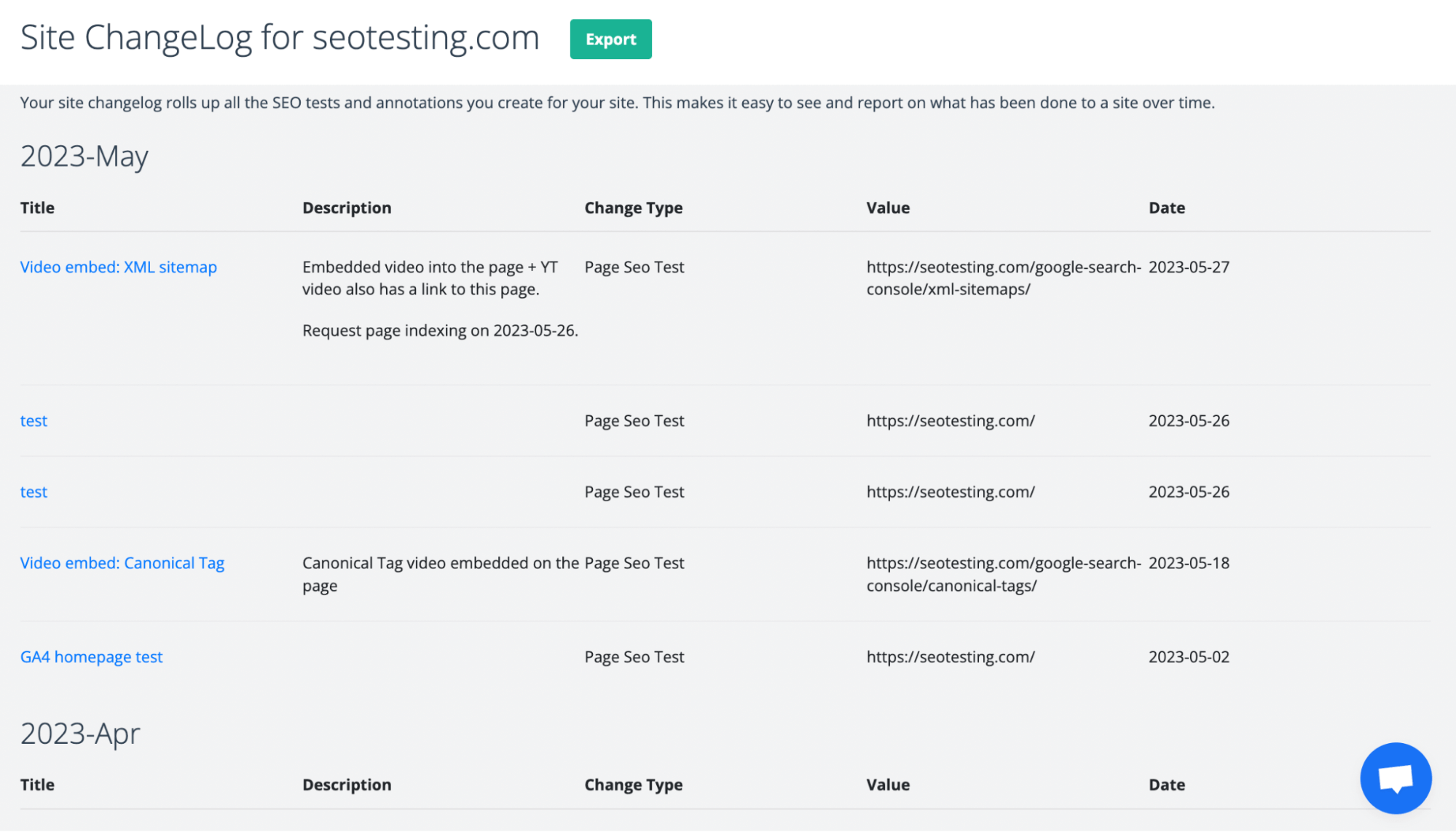 Meaning you can click on your site changelog and see, quickly, what changes have been made to the website and when. This means if you see a rise (or drop) in traffic, you can go back to the date before this occurred and find out what change was made to the site which might have been the culprit.
So there you have it, hopefully this has answered your question as to what the best Google Search Console alternative is. If you'd like to give SEOTesting a try for your business, we have a 14-day free trial which does not require a credit card. Try us for free!