My name is Nick and I'm the founder of SEOTesting.com. SEOTesting is a tool that helps you run experiments and tests on your website, so you can see how site and page changes impact organic SEO traffic from Google.
2021 was the first full year of running SEOTesting and so it seems a good time to start putting together annual reviews.
My partner and kids let me escape for a couple of days to a hotel to review 2021 and put some plans together for 2022. Writing this annual review has been a good way to get started with these two days.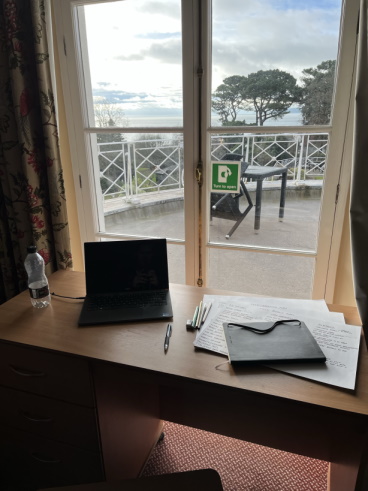 For those of you finding out about SEOTesting.com for the first time, it started life as a tool called SanityCheck.io in 2017.
I renamed it to SEOTesting.com, repositioned it to focus on the testing side of SEO, and rewrote most of the code in the first half of 2021, launching it as a brand new product.
This is going to cover a lot of work stuff, and some personal bits and pieces:
Monthly Recurring Revenue
Monthly recurring revenue increased from $2,610 in January 2021, to $9,606 in December.
I'm really happy with the growth as it's allowed Phill Duffy to join the team and has allowed SEOTesting.com to support a number of community initiatives such as Women in Tech SEO.
I owe the customers of SEOTesting a massive thank you. You've allowed me to work 100% on something that I really enjoy doing, in an area I find really interesting, and I hope this equates to a product that you find valuable.
It's awesome to see and hear the results that our SEOTesting users are able to achieve with the tool, using their expertise and experience we can see the value they are delivering to their clients, teams and business.
Investment Offer
In August I turned down an investment offer. While the amount of money invested into the business would have been nice, the percentage of the business the other party wanted in return was more than I was willing to give away.
I'm certainly not anti-investment and fixed to the bootstrapping way, so if the right investment offer were to come along I'd always consider it.
Features Developed and Released
Looking back over the calendar year we got a lot done!
January
Algorithm Annotations - confirmed algo updates marked on the graphs
Graph Annotations - custom annotations, and tests marked on the graphs
February
Copy tests - easy to change or update URLs, and date ranges of tests
Top Query Per Page report - see which aren't used in page title, meta desc or H1
March
Content Groups - track the performance of a group of URLs over a period of time.
April
User access control - give individual users access to individual sites
June
SEO Group Tests - time-based testing of a group of URLs
July
Url Switch Tests - time-based testing for when URLs change are part of the test. Good for testing topic clusters.

September
Compare periods report - see how an algorithm update affected individual pages/queries
November
Google Data Studio Connector - include SEO tests in your data studio reports
December
New Pages alerts and report
Chrome extension - see Search Console query data when browsing your site.
Getting Help
Crystal Ortiz joined for a few months to help with some content pieces. Her article on the Sitebulb blog did really well: SEO Testing, An Argument for Using Data in SEO
As did her pieces on the SEOTesting blog:
18 Free SEO Browser Extensions that Actually Work
Best Practices for Writing Page Titles and Meta Descriptions
The Complete Guide to Content Audits: With Reports To Run
In September Phill Duffy joined part-time to help out on some coding tasks. We quickly decided to make it a full-time arrangement as we both got a bit frustrated with the two weeks on, two weeks off schedule.
The plan is for Phill to eventually take over all the coding and development, allowing me to spend more time on marketing and the business.
Switched from Circle.so forum to Slack. Much better engagement and interaction with customers. Our customers are often using Slack anyway for their work, so it makes sense to use a platform they are already on.
SEOTesting customers use Slack as a support channel, ask general SEO questions, add feature requests, and we use it to get feedback on new features and ideas.
Marketing
With it being just a one-person business (up until September), the monthly process generally was:
Build a new feature
Write a blog post about the problem, and how this feature solves it
Send out an email newsletter about it
Post on Twitter, LinkedIn etc
This seemed to work well and led to steady growth throughout 2021.
In amongst all this, there were some partner marketing and promotion within SEO communities. I'm really grateful for the help from the community leaders and SEO course owners.
Each tweet, share, and like is a massive help, and I can't thank people enough who took the time to share what we've been doing.
In theory, I should have more time for marketing going forward, and I have taken a couple of days away to write this roundup and also come up with a 'marketing plan of action' for the rest of 2022!
Homelife
We started 2021 in another Covid lockdown which continued until March sometime.
Thankfully my partner is a school teacher, and so she generally took over the homeschooling.
I got involved with a bit of maths, and other subjects when I could feel the tension rising and tears were close (both the kids and partner!)
The kids were a bit more experienced with homeschooling this time around as well and so everyone committed to finishing school work in the morning, so they could have the afternoon to get outside and play.
My mood and motivation are very much affected by the weather, and how much sleep I have. While I can't do anything about the gray skies that usually surround the UK from November -> March I can take some steps to improve my sleep.
In December I made a big effort to cut out processed food, and eat healthily. Reducing refined carbs and sugar had a massive impact on my sleep. Even if I got an hour or two less, the sleep quality improved, which made a massive difference. I'm kicking myself this only happened in December rather than at the start of 2021.
Thankfully everyone in the family is in good health, which if you've been following me for a while on Twitter, you'll know how much that means to us.
Cycling
I cut back on the amount of golf played in 2021, and focused more on cycling.
In June I did the Dartmoor Classic, which is the hardest single day of cycling I've done to date.
In September I did Ride Across Britain again for the second time. I was just over 6 hours quicker in 2021 which I was really happy about. I haven't decided whether to do it in 2022 yet, although I did start working with an online cycling coach in December to set a more structured approach to training.
Business/Life Coaching
Each evening during Ride Across Britain, Julian Mack (Mack) - the founder of the event, gets up on stage to do a rider briefing which invariably includes a lot of motivation to encourage cyclists to get back on the bike again tomorrow and cycle another 100+ miles.
Each evening I always thought I could do with a motivational talk from Mack every so often to keep me focused on what matters from a personal and business point of view.
Shortly after Ride Across Britain finished this year, I found out that Mack was stepping away from the running of the event and setting up his own coaching business.
I jumped on this straight away, and we've had a number of really useful chats towards the end of 2021 about life, family, and work. It's been really useful to me, and I highly recommend getting in touch if you feel a bit of coaching would help you from a personal or professional perspective.
Since the very first Covid lockdown in April 2020 I've been having fortnightly Zoom meetings with Ben Collins from Boldist.
I've found these really helpful and value the friendship, help, and listening Ben has offered over the past couple of years.
Being a solo bootstrapper can sometimes be a lonely place (especially in lockdowns and working from home) so I'd highly encourage you to book regular chats with friends and peers if you find yourself working from home for a long period of time.
Plans for 2022
More of the same hopefully.
With a team of two now, we should be able to work to the same cadence of releasing a new feature each month, with some extra marketing and educational SEO content included.
I've set a low MRR goal of $18k (approx 5% growth a month), and a stretch goal of $31k (approx 10% growth a month). I'm definitely aiming for the stretch goal!
We've got an ideas list that is much larger than what could be accomplished in this calendar year, which is exciting and shows how much we still can do in this space.