SEO (referred to as Search Engine Optimisation) has been talked about very consistently, across the world, since 1996. The interest in it now is almost as high as it's ever been.
But how, exactly, do you learn SEO? It's such a convoluted process and there are so many different aspects of SEO to learn, how do you make sure you are doing it as effectively as possible?
In this article, we'll talk about all things SEO, and how to learn SEO in 2023. You'll learn what SEO is, why you should learn SEO in 2023, who (within a business) needs to understand SEO and why it's important to understand SEO!
Of course, we'll also share some of the best ways you can learn SEO in 2023 so you can get started growing your website's organic traffic, creating long-term, profitable growth.
What is SEO?
SEO is a set of strategies, techniques and practices aimed at improving the visibility of websites on search engines. Specifically, SEO is the practice of getting a website (and its pages) to rank higher on Search Engine Results Pages (SERPs).
The primary goal of SEO is to increase organic traffic. This is traffic that arrives on a site without any paid acquisition. For example, if I was to search Google for "men's grey caps" and I landed on an ecommerce site without clicking on an ad, I would have contributed to that website's organic traffic.
Search engines, including Google and Bing, use complex algorithms to determine the relevance and quality of web pages concerning specific search queries. SEO involves various on-page and off-page optimisation methods to align a website's content, structure and technical elements with these algorithms.
Your ultimate aim is to ensure your website is ranking higher (organically) than your competitors for relevant search queries that are going to bring you revenue and, more importantly, profit.
Why should you Learn SEO in 2023?
There is a lot of talk about the value of SEO, is it worth investing in, and can it still keep driving results in 2023? Especially given Google are currently in the process of rolling out SGE (Search Generative Experience) to the masses, which is going to fundamentally change how SEOs work, once it is released to the public.
Our emphatic answer to whether should you learn SEO in 2023 is yes. It is proven that, for many website types, that SEO can still drive scalable growth, even in 2023. So learning SEO and investing in it for your company is still worthwhile.
Let's take a look at the results SEOTesting have achieved in 2023:

As you can see from the graph above, we have taken our organic clicks from around 2,000 per month to approximately 4,000 per month in 2023. That's a 100% increase in organic clicks per month since the turn of the year.
So, yes. If you have a website in 2023 and you rely on that website to generate leads, revenue and profit for your business, you should learn SEO in 2023.
Who Needs to Know / Understand SEO in 2023?
Whilst it is a good idea for anyone working in marketing (or business leadership) to have a basic understanding of SEO, anyone in the following job roles/types must have a firm understanding of SEO to succeed in 2023:
Marketing Manager
Content Creation
Analytics
Conversion Rate Optimisation
Sales*
*Given that part of the job function of someone working in SEO is to bring in leads for the sales team, it is (in our opinion) important for someone working in sales to understand SEO and the lead generation process so they can perform better in their job role. The same goes for anyone working in marketing, we believe that it is crucial for people working in marketing to grasp how sales work within their organisation so they can perform better and bring in better-qualified leads to the business.
If you're working in marketing, it is vital to have at least an understanding of how SEO works within a business, even if SEO is not part of your job description. Understanding how SEO fits into your business marketing strategy is a crucial element of your being able to drive better results for your business overall.
Why is it Important to Know / Understand SEO in 2023?
Here are some important statistics to know, which may help you understand why knowing SEO is going to help you market your business in 2023:
Looking at the above statistics, it is easy to see why SEO is still one of the most valuable marketing methods, even in 2023 with all the changes to the state of the web.
Knowing SEO, understanding how it can work for your business, and executing a well-researched SEO strategy is crucial to business success.
The Basics of SEO
Before we jump into how to learn SEO, it is important you know the basics of SEO. This will give you a very foundational understanding before you jump into the details of building and executing an SEO campaign for your business.
How Search Engines Operate
Search engines, including Google and Bing, systematically collect, index and retrieve information from the internet.
The goal, of all search engines, is to provide users with relevant and valuable results when they input queries. It doesn't matter what that query is, whether you are looking for the best snooker cues to use, the best running shoes or you are looking to navigate to a particular business.
Search engines operate on three key pillars. Crawling, indexing and ranking.
Crawling: Search engines use software called crawlers, Google's is called Googlebot, which will crawl the web as a whole. These crawlers will start from a few known web pages (referred to as seed URLs) and follow links from these pages to discover new ones.
Indexing: As crawlers visit web pages, they will extract and store information from each page. This information will include the page's content (text, images and videos), metadata (like your page title, meta description and keywords), and links to other pages. This data is then stored on a vast database, known as an index.
Ranking: When a user, such as yourself, enters a query into a search engine, the search engine's ranking algorithm will come into play. This algorithm will evaluate the indexed pages that are most relevant to the user's query. It will consider various factors and give each factor a certain weight depending on the query type. You will have most likely found this article online, meaning we have been evaluated by the search engine's ranking algorithm and placed in a high enough spot for you to find us in the SERPs.
Let's run a search as an example. For this, I am going to search "men's slim fit jeans" on google.co.uk to see what comes up: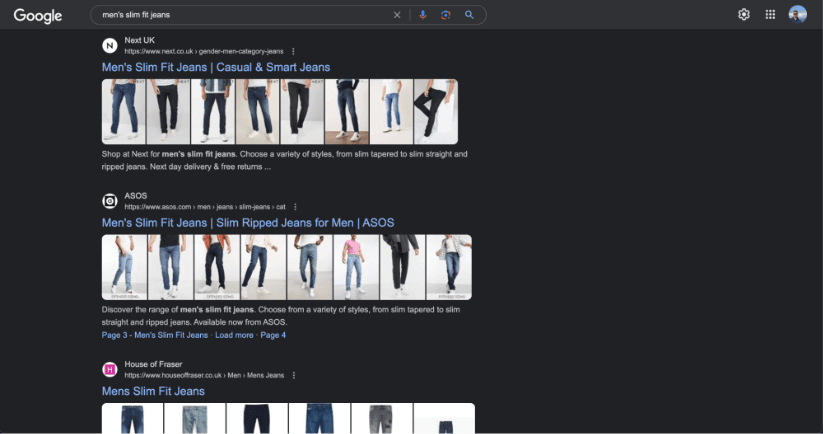 Looking at the results (ignoring the ads and focusing exclusively on the organic results), we can see the top three results from Next UK, Asos and House of Fraser. These web pages will have been crawled by Googlebot, indexed (so they are available for searches such as this) and evaluated by the ranking algorithm. The ranking algorithm will have established that, for this particular query, the result from Next UK is the best, hence why it has ranked at the top of the SERP.
If I was to search the same query in a month, the result might change as crawlers are constantly traversing the web for new web pages, and the algorithm is constantly changing which means the best result now might not be the best result in the future. Just like it might not have been the best result in the past.
Looking at the SERP over time, in Ahrefs, I can see that this is the case: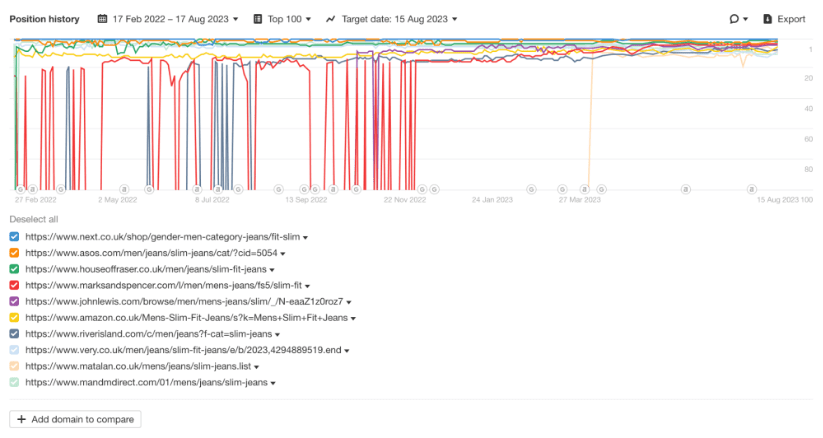 Whilst the top pages are, generally, the same, the positions are constantly changing depending on what page is best to serve for the user at the time.
Keyword Research
Your keyword research is the cornerstone of your SEO campaign. If you are not targeting the right queries and keywords, you are not going to see long-term, sustainable results for your business organically. Getting this step right is crucial.
It all starts with your "head keywords". These are the short, high-traffic keywords that are going to bring a lot of organic traffic through to your business website. Examples include:
Men's Trainers
Digital Marketing
Living Room Rugs
The intent of these types of keywords will be split. For some keywords, the user might simply be looking for more information, or to put more research into a product before they decide to purchase one. Other head keywords might be more transactional, meaning they are ready to buy and you need to be there with a product listing page or product display page to help facilitate that.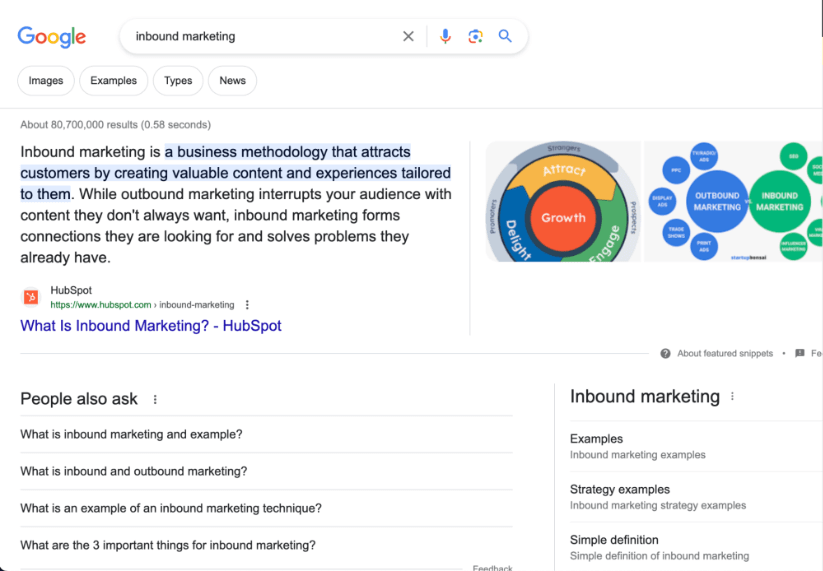 The above image shows a search for "inbound marketing". As you can see the top listed result is an organic result from HubSpot, featuring an article about inbound marketing.
The next set of keywords you need to research properly are commonly known as "the chunky middle" keywords. These are phrases that, commonly, contain adapters and descriptors to the phrase. Think of words such as "best" and "alternatives". These types of phrases signify when a customer has moved further along the funnel, and is now looking to do more research before they purchase.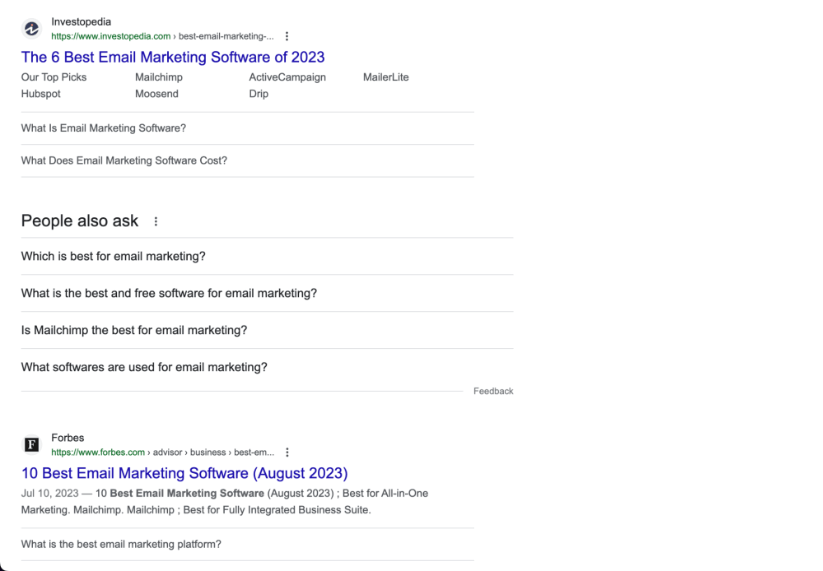 The image above shows the top organic results for "best email marketing software". This is a "chunky middle" keyword that shows the user is looking for more information about what the best email marketing software might be for their business. They are getting close to purchase, but they are not there just yet.
Finally, you have long-tail keywords. These phrases contain lots of words, generally 5 or more, and are ultra-targeted to a specific action. A user might be looking for more information, for example, "what is the current time in pacific standard time". They could also be ready to purchase a product from you, right there right now. For example, "men's black running shoes size 13". This phrase will generally mean that the user has figured out what they want and they are ready to buy.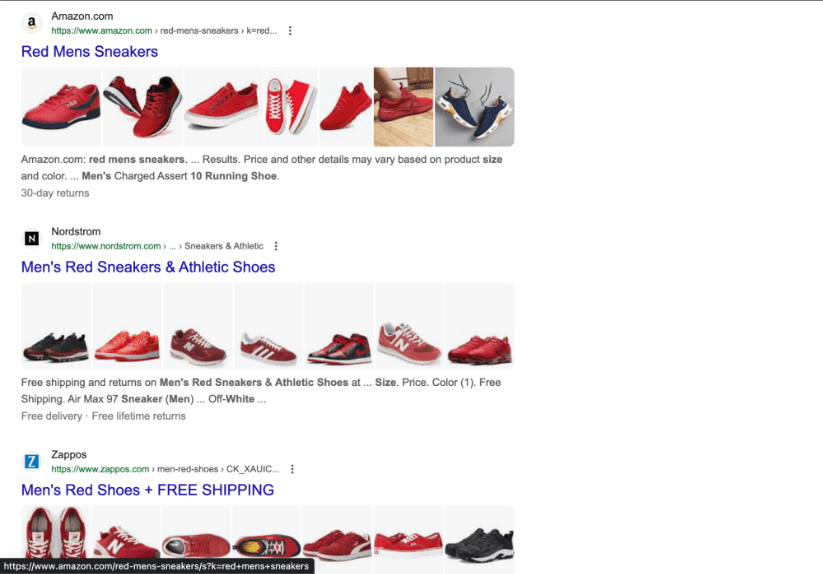 The above image shows the organic results for a search "men's sneakers in red and white". This search shows that I, as a user, am ready to buy and I am now looking for a style that fits me.
All of these keywords have their uses, and you must create pages and content that target all three types of searches. This way, you know your website is going to satisfy the marketing funnel as a whole.
Content Creation
A large part of SEO, and successful SEO campaigns, is content creation. Multiple different types of pages may need to be created on your website, depending on your business type and the customers you are targeting.
Some static pages need to be created, like your "About Us" page and your "Contact" page. This is standard for all websites and helps the user learn more about you. The about us page, in particular, will help with E-E-A-T as it allows you to show your industry experience and tell everyone more about the people that work within your business.
Following that, if you are an ecommerce website you will need to create product listing pages and product display pages. We have written about these page types in extended detail, so we will not go too much further with this. But these page types are incredibly important for ecommerce websites as they help you show your products off to customers, whether they are looking for more information or they are ready to buy.
If you are not an ecommerce business, you will still need to create static pages to tell customers more about the services you offer. For example, if you are an IT company and you are focussing on remote IT support, you must ensure this is a page on your website, telling potential customers all about your remote IT support service. This is the page that will rank for terms like "remote IT support" and "remote IT support company".
You then need to place a large focus on your blog. No matter what business you are working with, a blog is one of the biggest keys to SEO success. You can target users who are located throughout the funnel with multiple blog posts. Keeping a regular cadence is key, and ensuring you have content to fill the entire funnel is possible with a regular publishing cadence.
On-Page SEO
On-page SEO symbolises everything that is done on your pages and on your website to help improve your organic ranking. This means everything from the keywords used within your content to the internal links used, your page titles and meta descriptions and your content structure as a whole.
Using keywords within your content is one of the best ways to help Google's Googlebot understand what your content is about. Whilst they spend time crawling (reading) your page, they will read these words and understand that your content is about this topic, given that keywords (and related keywords) are mentioned multiple times within the content. For example, this article is about learning SEO, so we are going to ensure this article mentions that keyword within the article. See what we did there?
Internal links are used within your content to direct users from one page to another on your website. For example, if you were reading our blog post on SEO testing, you may find that there is an internal link within that content to our blog post on organic click-through rate. Internal links are used to add relevancy and help the user answer their question. When reading our blog post on SEO testing, they may have a question about what, exactly, an organic click-through rate is, so they can head straight to this article and come back once they are done reading.

The above is an example of internal links showing up within a blog post.
You also need to think extremely carefully about your meta information, including your meta title and your meta description. These are, generally, the first two things a user sees about your website when they land on a SERP, so ensuring these are quality is going to give you the best chance at getting an organic click.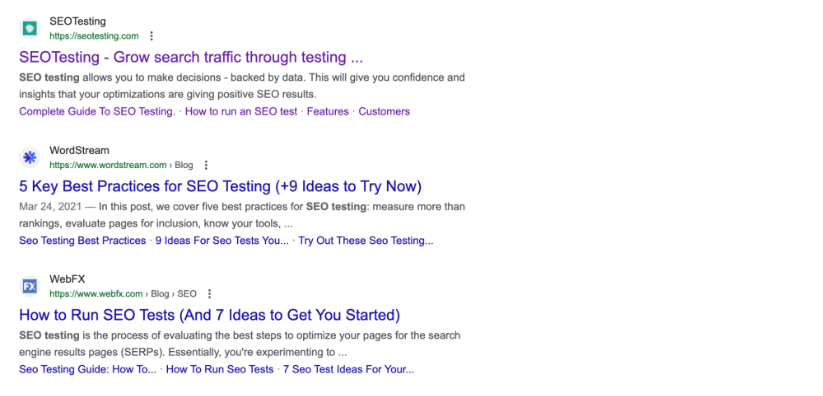 The above shows the SERP for "SEO Testing" in the United States.
Off-Page SEO
The next "SEO basic" you must understand is off-page SEO, this is essentially anything you can do to improve your website's rankings and organic traffic that does not include changing the site directly.
What this, essentially, means is link building and acquisition. Backlinks are the backbone of the web and one of the key metrics Google (and other search engines) use to determine how authoritative a website is. The more authoritative a website is, the better its chance of ranking. Especially for those "head" keywords that we talked about earlier.
There are several methods you can use to acquire more backlinks to your website including:
Press requests and thought leadership comments.
Skyscraper link building.
Guest posting on authoritative websites.
There are others, and you may see some websites talking about buying links. We strongly advise against this. Purchasing a link from another website is against Google's guidelines, and doing so systematically may ensure your website is slapped with manual action.
Technical SEO
Technical SEO refers to the work done to the technical components of a website to enhance its visibility on search engines. The process will involve refining the website's structure (and code) to ensure that Google can crawl, index and rank your content effectively.
The key areas of technical SEO encompass factors like:
Page speed.
Mobile functionality.
URL arrangement and structure.
Canonical tags.
Schema markup.
Technical SEO gives your website the best chance it can have when it comes to bots navigating and comprehending a website's content. This, in the end, will lead to improved search engine rankings and, thanks to the higher rankings, more organic traffic.
A Note on Google Core Algorithm Updates
Another important note. Google (and other search engines) are constantly updating and refining their search engine algorithms. So what works today in SEO may not work in 6 months, it may not work in 1 month or it may not work tomorrow.
SEO is constantly changing.
Looking at SEOTesting, we can see that there have been 9 confirmed Google algorithm updates in the last 12 months:

This is before we mention the fact that search engines will refresh, update and change their algorithms hundreds or thousands of times over the year without making this information published!
It's always worth keeping your skills and knowledge up to date so you can stay ahead of the algorithm changes and updates as much as possible.
How to Learn SEO in 2023
Now we have covered why it is important to learn SEO in 2023, and you have a firm understanding of the basics of SEO, how do you go into detail? How do you learn SEO in 2023?
Luckily, there are a large number of resources available to you to learn SEO in 2023 and beyond!
Blogs
One of the best ways to learn SEO, in our opinion, is by following industry blogs.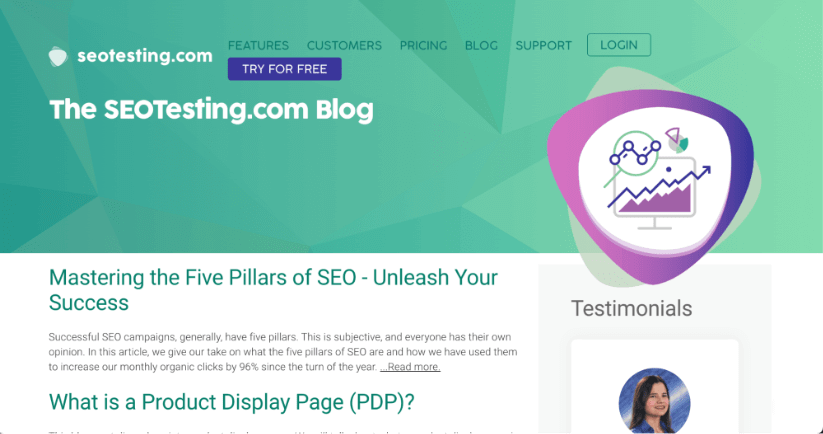 Many SEO blogs will provide real-world case studies, examples and practical advice that will help you understand how different SEO tactics will work in practice on different websites. Learning from actual scenarios can be much more effective than learning theoretical knowledge alone. It's always helpful, for example, to look at case studies for an ecommerce website if you are learning SEO to improve an ecommerce site too.
SEO is a dynamic field that is constantly changing, as we discussed earlier. Blogs are often updated regularly with the latest trends, algorithm updates and best practices. This way, you can ensure you are learning with up-to-date information. So long as you are using a reputable blog.
Blogs, in most cases, will offer actionable tips and step-by-step guides on how to do certain things or implement different SEO strategies and tactics. This hands-on approach can help you learn practically.
On top of all this, learning SEO using reputable blogs is incredibly cost-effective. There are not many SEO blogs out there that work on a gated-content model. Most blogs monetise using display ads on their website, meaning there is no incentive to gate content. Generally, the only cost of learning SEO using blogs is the cost of your computer equipment and an internet connection.
Some of the most reputable blogs to learn SEO out there include:
YouTube Videos
Another, perhaps underrated, method of learning SEO is using videos produced by reputable YouTube channels.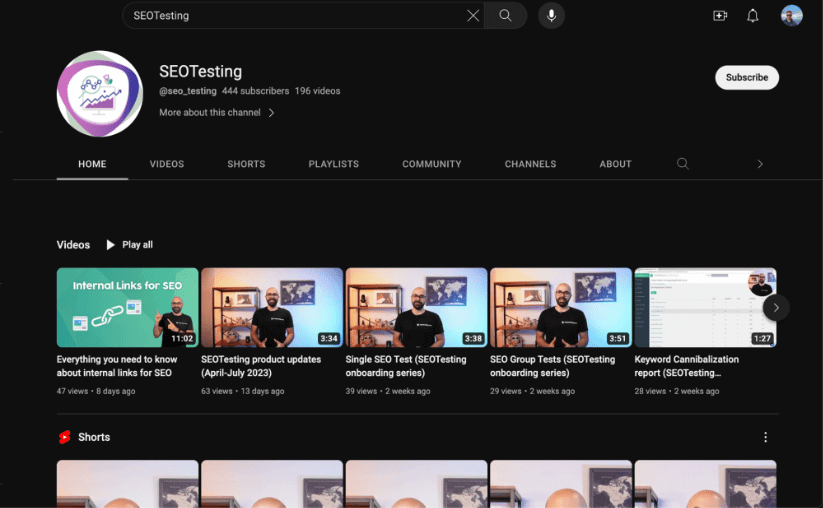 Videos offer learners both visual and auditory components, which will make it easy to understand very intricate concepts, which is especially important when you start to level up your SEO knowledge and look into complex topics. Visual explanations, live demonstrations and real-life case studies are all commonplace on SEO YouTube channels.
Several reputable SEO-based YouTube channels will upload videos including step-by-step tutorials on various SEO topics. This is ideal for learners who prefer structured guidance, especially beginners who are brand new to SEO.
The dynamic nature of videos, enriched with animations, graphics and screen recordings can simplify the comprehension and (more importantly) the retention of intricate SEO ideas. For example, if you are watching a video on how to create an XML sitemap, the use of screen recordings is going to be incredibly useful.
To help monetise their YouTube channel, lots of publishers will offer added resources such as downloadable guides, templates, free (and paid) tools, and more. This will help both the publisher and the learner. So long as the added resources are of a high quality.
Some of the best channels to learn SEO include:
There are also some handy video courses to follow, including:
Online Courses
Learning SEO through online courses is an excellent option for beginners.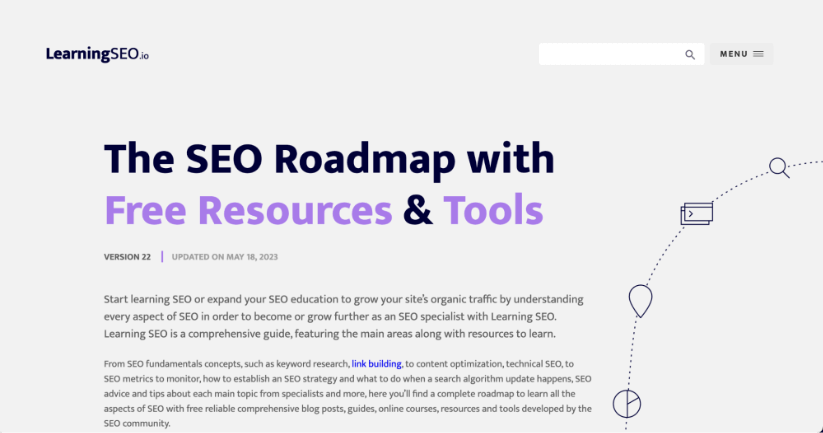 There are several reasons for this. Online courses, whether free or paid, will offer:
A structured approach.
Guidance from the experts.
Comprehensive content.
These courses offer clear explanations, practical assignments and immediate feedback, which will allow SEO beginners to grasp complex concepts fairly quickly and apply them hands-on.
It's also worth noting that using online courses as your learning method will give you flexibility in your study schedule, access to supplementary material and up-to-date information which will all help to further enhance your learning experience.
There are plenty of incredible SEO courses available online, and some not-so-great courses! In our opinion, the best courses include:
Training Schemes / Apprenticeships
Learning SEO via a training scheme or an apprenticeship can be a highly advantageous choice for beginners due to its practical and hands-on nature.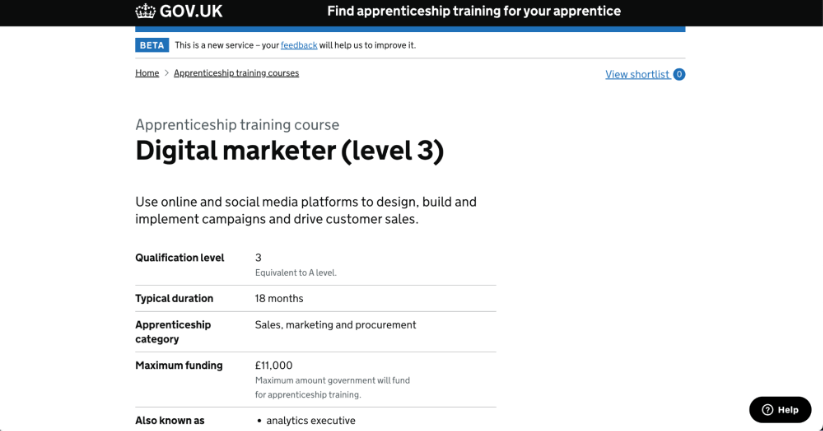 These programs will offer students direct mentorship from experienced industry professionals, enabling beginners to learn from industry experts and receive completely personalised guidance, tailored to their needs as an individual.
These programs often include real-world projects and assignments. Allowing beginners to immediately apply their knowledge to practical scenarios. This experiential learning approach will foster skill development and confidence in executing SEO strategies on a range of different websites. Additionally, working on projects will provide beginners with a portfolio of work, which can be a valuable asset when starting to seek employment or freelance opportunities within the SEO space.
If you place onto an apprenticeship (which is commonplace in the UK for young learners who want to learn SEO and work in the digital marketing space) will also encourage networking and collaboration. Beginners will have the chance to connect with fellow learners, mentors and professionals within the SEO industry, helping them build a contact book full of industry contacts and potential career opportunities.
I am very biased towards apprenticeships as this is how I started my career! I left school at the age of 16 and joined an apprenticeship with a local digital marketing agency, learning the ins and outs of SEO for a wide array of businesses. Nearly a decade later and I am still loving every second of my career.
We hope this blog post has helped you understand more about how to learn SEO in 2023, and that it has helped you grasp more of what SEO entails before you get started with your SEO journey. The goal of this blog post was to ensure you understand:
Why it's important to learn SEO in 2023.
Who should be learning SEO in 2023.
The basics of SEO.
How to learn SEO.
If you are looking for a tool that will help you with your SEO, in the form of making SEO testing easier, then consider giving SEOTesting a try. Get access to a 14-day free trial, with no credit card to sign-up.