If you are a niche site owner, we know you balance many different tasks and roles, from research to writing, editing HTML, to negotiating with advertisers.
SEOTesting's mission is to save you time with the research on how to improve the SEO and content on your niche site and then to show you the difference your work has made to motivate you to continue.
Spot opportunities
All the reports in SEOTesting will save you a lot of time when working with Google Search Console data.
Find opportunities for CTR improvement
The Top Query Per Page report will check each page to see whether the top queries are used in the page title, meta description, headings, and paragraph text.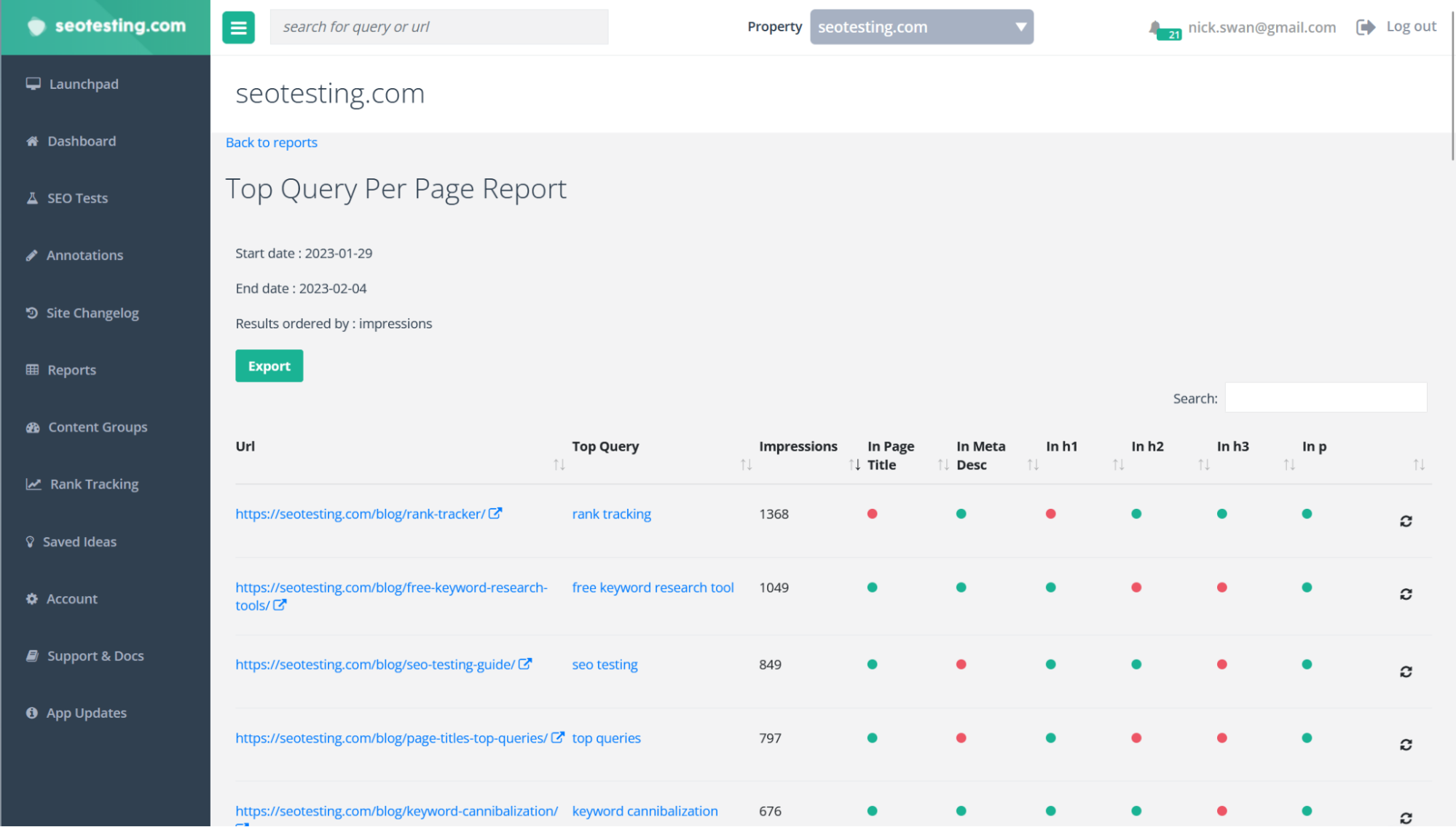 We are not suggesting you start keyword stuffing them all into the page title, but if the opportunity is there to improve a page title or meta description by using one of the queries the page gets a high number of impressions for, you should try it.
Spot content that has lost its sparkle
With one click to open the report, the Content Decay Report will show you which of your pages have lost the most clicks from its peak over the past 13 months.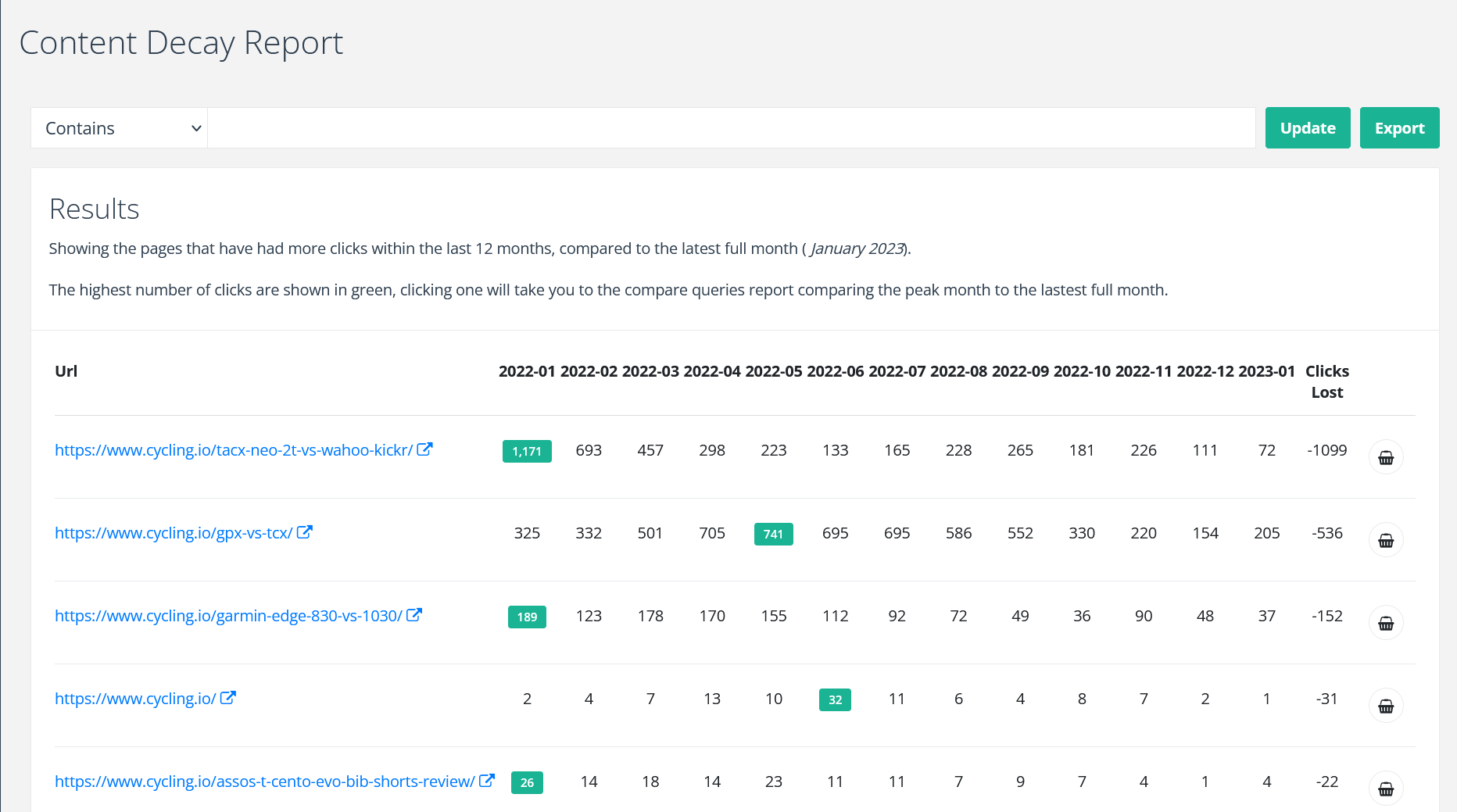 Start from the top, the pages that have lost the most traffic, and refresh and update those pages. Get those clicks back from Google!
Optimize and refresh existing content
Once you have used the Content Decay Report or found other pages to refresh, the Page Details view in SEOTesting will show you which queries the page is appearing in the SERPs for that are not used on the page.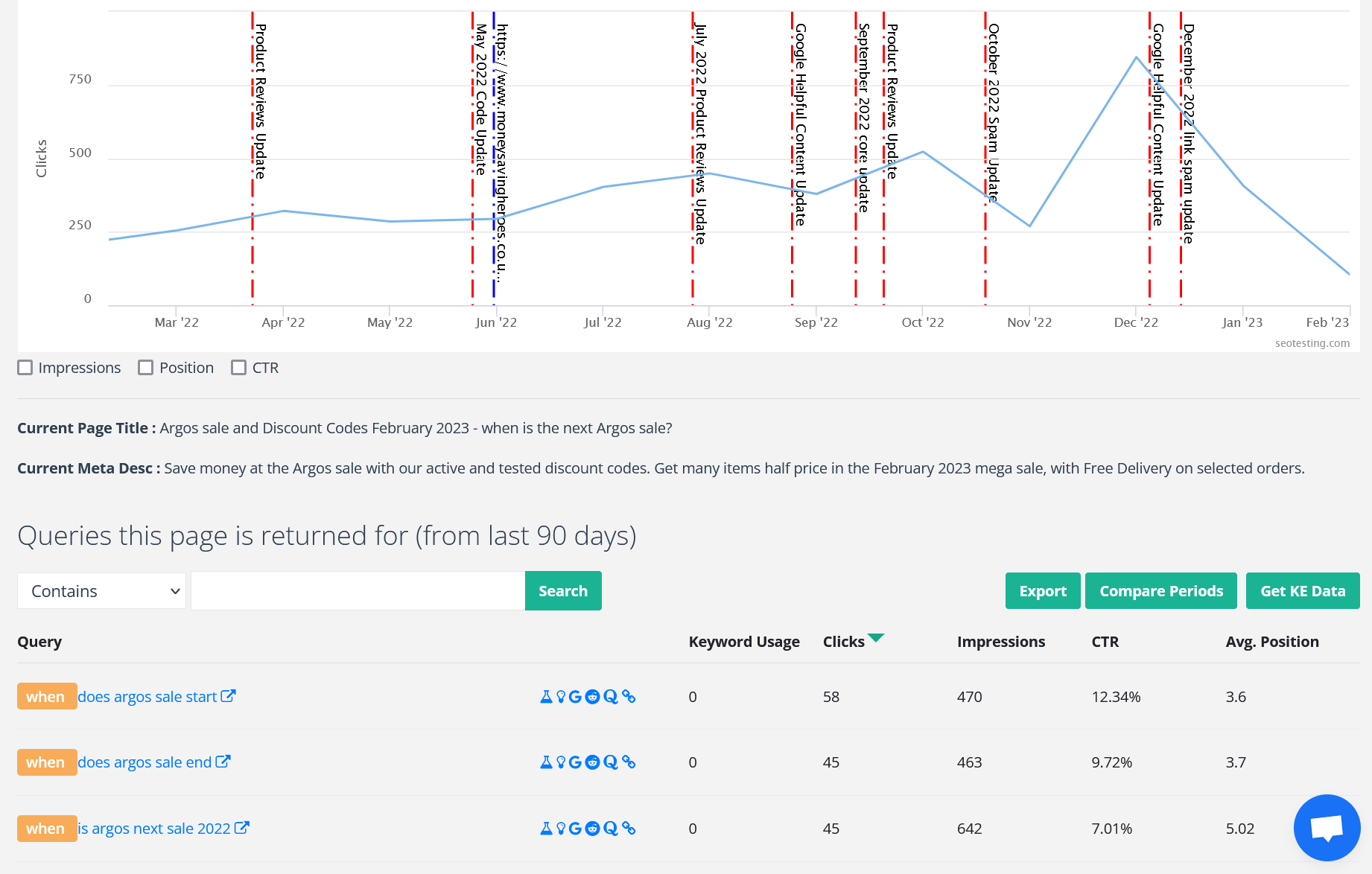 With Search Intent highlighting, you easily see the questions your page is appearing for that can make new sections on your page.
Find content that's not performing
The Content Quality report will inform you of pages on your site that get very few impressions in the SERPs.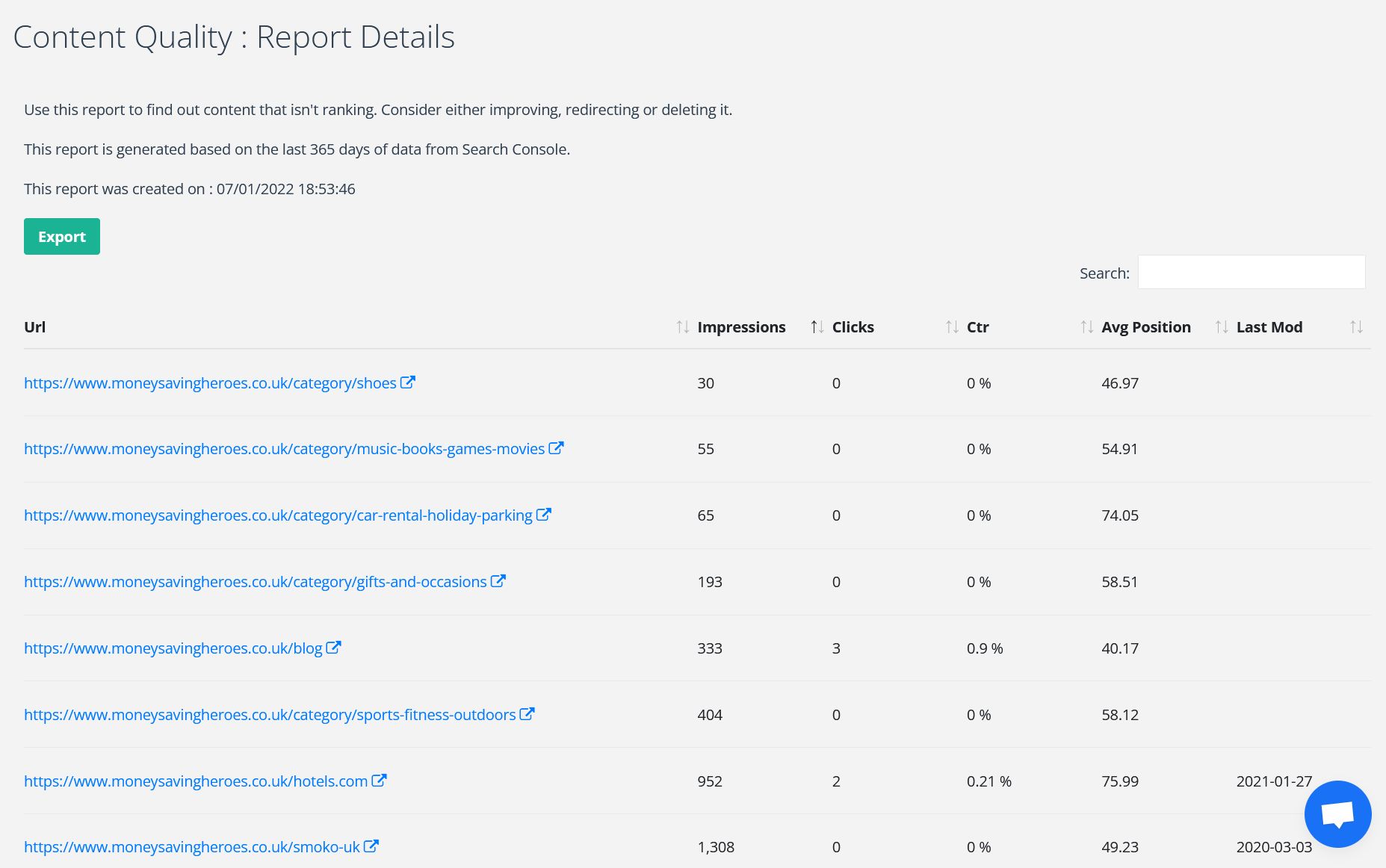 Either rewrite this content, merge it with other pages, or potentially delete it from your site.
Cleaning up your site is an important part of overall site quality and protecting your crawl budget.
Have you cannibalized your keywords?
Let's be honest, it's probably unlikely that you've always had a perfect content plan for your site? You may therefore have multiple pieces of content targeting the same keyword.
The keyword cannibalization report from SEOTesting will let you know how many pages are ranking for your queries and which pages they are. You can then review them and see whether you have a cannibalization issue you need to fix.
See the results of your work
Once you have used the reports in SEOTesting, and made changes to a page, you will want to track the page to see how these changes affect its organic search performance.
Time-based SEO tests in SEOTesting allow you to do this. They get the data for a number of weeks before you made a change so that you can compare it against the period after.
You can check clicks, impressions, click-through rate, average position, and the number of queries the page ranks for.
If you get good results, happy days. If the results are not what you hoped for, keep iterating and improving until you get an upward trajectory.
Action leads to motivation
Seeing how well a page performs after refreshing the content or making other changes gives you the motivation to keep going.
Being a niche site owner can often mean working in isolation or catching the odd hour here and there on your site, so seeing positive results, and the impact of your efforts gives you the motivation to do more.
Building out Topic Clusters?
If you are taking a single page and building it out into a topic cluster, use the URL switch test to track how it performs from a single page compared to a topic cluster.
You can also use Content Groups to track your topic cluster as you build them out.
Track your writers
Content Groups in SEOTesting allow you to track a group of URLs over time. If you are lucky enough to work with writers on your niche site, you can set up a Content Group for each writer and track how their content performs. As they publish new pieces of content, add them to their content group.
Try SEOTesting.com for free
SEOTesting has a free 14-day trial, so please give it a try and let us know what you think!