Clicking the publish button on any new article should be the beginning of its lifecycle.
We have put together this SOP so you have a set of steps you can follow immediately after hitting publish, and also how to use SEOTesting to remind you to revisit and optimize the article further in 3 months time.
1. Submit it to Google Search Console
Pop into Google Search Console and search for the full URL via the top toolbar 'Inspect any URL' textbox

As it is a new page, it won't be indexed by Google yet. Click the 'Request Indexing' link to ask Google to crawl it.
2. Find internal linking opportunities
See whether you have any internal linking opportunities. Perform the following search on Google:
site:yourdomain.com 'target query'
The pages returned from your site are the ones that include the target query within their content. Reviewing these pages will hopefully bring some new internal linking opportunities.
If you don't have any internal linking opportunities, it may give you the opportunity to build out a topic cluster.
3. Submit to industry round-ups
Reach out to people who publish industry round-up articles or email newsletters. If it's appropriate, send them your new article for consideration. Not only will it get eyeballs to your article, but it may also pick up external links from the roundup piece or others referencing it.
Find these roundup opportunities by Googling terms such as '[your industry] round up' or '[your industry] newsletter'
The people who put together these roundups are always on the lookout for good new content that will interest their audience, so you'll be doing them a favour by reaching out.
4. Post on social media
There's anecdotal evidence that posts that start to do well on public social networks like Twitter indexed quickly by Google. Make sure to share your posts, ideally from the author's social accounts and any company account. Promoting the tweet can also help it quickly pick up likes and retweets.
5. Wait for the new page to appear in the search results
You will get an email alert from SEOTesting when your new page appears in Google's search results for the first time.
It'll be ranking for an initial set of queries, but you won't have much data to work with.
The best thing to do is set a reminder to revisit the page in 3 months.
You can use your calendar to do this, but we suggest using the Page Action feature within SEOTesting.
From the New Pages email or report, click on the URL to go to the Page Details view.
Use the 'Do Nothing Until' page action, and set a date for around 3 months.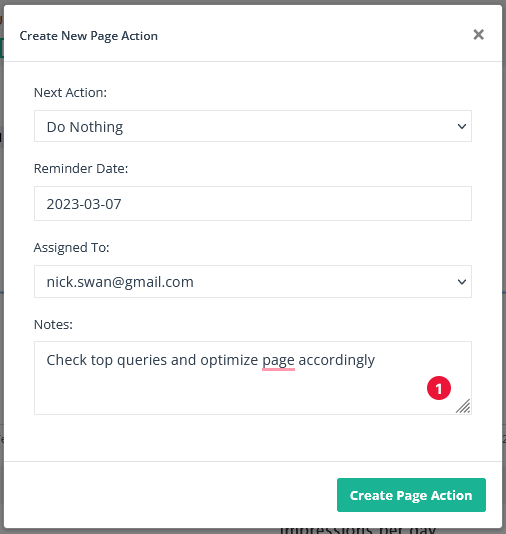 When the 'reminder date' is hit, you'll get an email, and the page's status will be set to 'Check' with a task assigned to you.
6. Optimize and expand.
When the reminder date comes around, you'll get an email notification and a task set within SEOTesting to 'Check' this page and review the associated page action notes.
Now is a good time to review the queries the page is ranking for and look for any opportunities to optimize or expand the original content. Our Content Refresh SOP is an excellent place to start when putting together a standard operating procedure for this part of the process.

Clicking on the 'Page Detail' link within the page actions email notification with take you to the Page Details view in SEOTesting for the page (as will clicking on any URL within any SEOTesting report).
In the Page Details view, we get all the queries a page appears in the Google SERPs for and count the number of occurrences of the query on your actual page.
Here are a set of things we always look for:
Page title and meta description
Are the top query by clicks and impressions, which is often a different query, both used naturally within the page title and meta description?
Including the top query for both metrics can potentially improve the click-through rate for the page, although, as with all changes, we recommend you test this.
You may want to do page title and meta description changes at different times to any content optimization, so you can separately test and report on their impact.
High impression queries not used on the page
Sort the query data for the page and look for high-impression queries that are not used.
We aren't suggesting keyword stuffing. Still, if you can naturally include a query the page is already ranking for or replace a synonym or similar keyword with this high-impression query, you may be able to rank better for it. You may also be able to improve the click-through rate if Google rewrites your page title and meta description and now includes the high impression keyword in its rewrite - simply because you added it to the page.
Find informational type queries
SEOTesting has basic query intent highlighting built into its reports to bring your attention to informational, transactional, and commercial keywords.
When looking to expand content, informational (question) type queries make great headings for new sections or FAQ entries on a page. Double down on their impact if you add FAQ sections to a page by including the relevant FAQ structured data.
Run an SEO Test
Whenever you change a page, it's always advisable to set up an SEO test to track how it performed before and after any changes.
Time-based SEO tests are perfect for this and take a few clicks to set up in SEOTesting. At the end of the test period, you can review the results and decide whether to set another 'Do nothing until' action for 3 months on the page or go straight into another round of optimizations.