It is hard to ignore AI if you are working in SEO. Especially with the recent developments of both Bing and Google, integrating AI into more of their search functionality. With that in mind, you may be looking at ways to improve your SEO using AI tools.
We have hand-picked 11 tools with AI functionality that will help you improve your SEO, whether it's through your writing or general processes.
Quick Links
Frase.io
Frase is, perhaps, one of the most well-known AI tools on the market today when it comes to helping marketers do their jobs a little better. Starting at $14.99 per month if you pay monthly or $12.66 per month if you pay annually, there is a lot you can do with even the basic subscription.
With the basic subscription, you get one user seat that can optimise 4 articles per month. You can also generate 4,000 words per month with AI to help speed up your writing process.
Frase primarily helps content marketers. Its tool will analyse the SERPs of your chosen keywords, inputting information like domain rating and the word length of competitor content into a research panel for you. From there, you can write an article outline (or generate one with AI) so you can start writing sooner rather than later and get content out to the masses quicker. Frase will also score your content, so you have a better idea of how well it will rank once it is published.
It is worth noting, however, that the full AI functionality will cost you an additional $35 per calendar month. This will give you unlimited AI writing capacity and the ability to unlock monthly search volume numbers for your chosen keywords.
Surfer SEO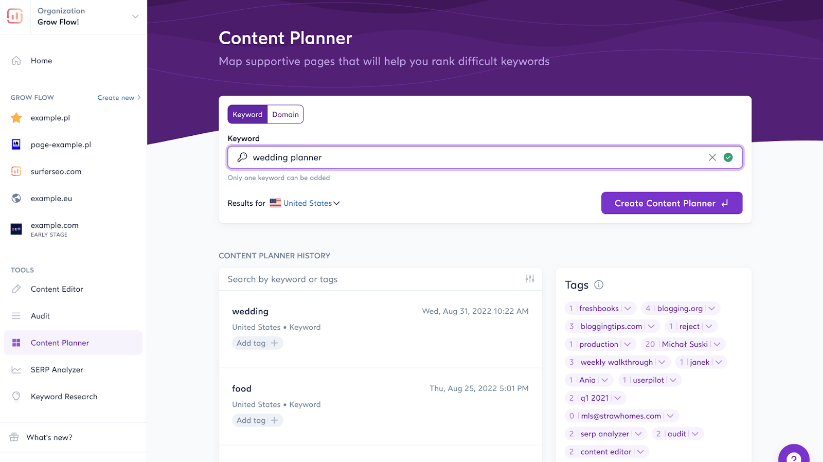 Image Credit: https://surferseo.com/
Surfer SEO is another great tool, primarily for content marketers, but will massively help SEOs too with certain tools. Their product is built around two key tools. The "Content Editor" and the "Keyword Research Hub".
With the content editor, you have a writing tool that allows you to write content directly within their tool. From there, you will be scored on how good your content is when compared to competing content. You will also have a word count, information on the number of headings your content has and information on the number of paragraphs and images you have too. You'll also be able to see the outline you created within the sidebar, so you know you are following your brief whilst writing too.
The keyword research hub will allow you to find relevant topic cluster ideas based on a single primary keyword inserted into the tool. For example, you will be able to input the seed keyword of "keto diet" into the tool, and you will be given a range of topic clusters including:
Ketosis.
Keto and intermittent fasting.
Low carb vs keto.
Giving you more ideas to write about, and become an expert in your niche.
Surfer SEO starts at $29 per month, when paying monthly, which gives you the capacity to create 3 pieces of content within the tool and analyse 10 keywords per month, too.
For an additional $29 per article, you will also be given access to Surfer AI, which allows you to create optimised articles "within minutes" as their website states. You start with a keyword and Surfer AI will analyse competitor content and do all the research for you. From there you can customise your article by selecting the tone of voice, selecting competitor content and reviewing the outline. The AI will then write the article for you, and you will have the chance to edit it and add images before publishing.
Keyword Insights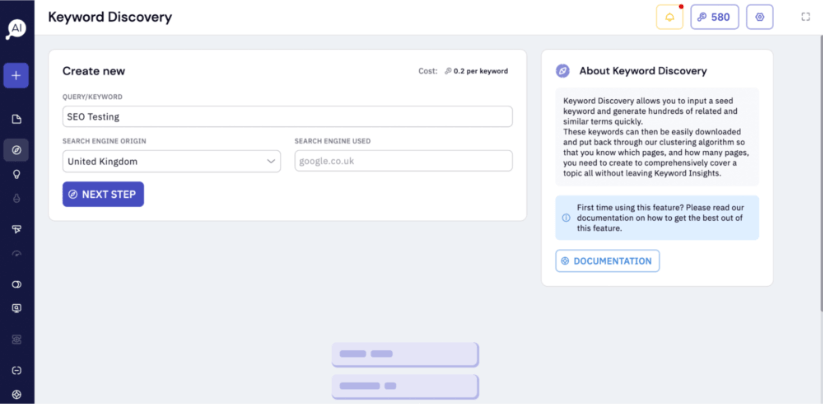 Keyword Insights, conceived by Suganthan Mohanadasan and Andy Chadwick, will help you create topic clusters from your keyword lists incredibly easily.
The product hinges on 4 key features:
Keyword Discovery
Content Briefs
With the keyword discovery feature, you simply start with a single keyword and Keyword Insights will generate thousands of related terms, along with their search volumes, keyword difficulty and CPC incredibly quickly. You can then put this list of related keywords into the keyword clustering feature, which will analyse the SERPs for all of these keywords and group the keywords together that generate similar results pages. You'll know, within a few minutes, what pieces of content you need to create and what pieces of content you don't need to create.
The search intent feature allows the tool to analyse keywords at scale and classify the intent for you, saving a lot of time. This can be done in the keyword clustering section at the cost of additional credits. What this means is that you will be given a full topic cluster spreadsheet which also includes the intent of each keyword.
Keyword Insights also features an AI-driven content brief generator. It will scrape the top 20 ranking pages of your chosen keyword and pull all the information into an easy-to-use brief creation interface. From here, you can drag and drop important topics into your brief. You can also use AI to rewrite headings for you to make them sound better.
Keyword Insights starts at $49 per month when paying monthly which gives you 6,000 credits to spend on clustering and briefs per month. You'll also get three user seats. It also features a PAYG feature, allowing you to buy the credits you need on an "as and when" basis.
SEOTesting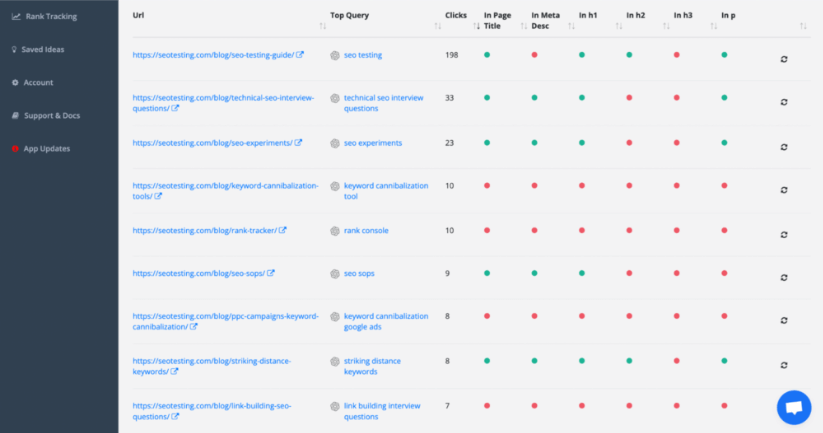 SEOTesting is, first and foremost, an SEO testing tool, but it does have some cool AI-driven features. Within the "Top Query Per Page" Report, you will see your URLs and the top query it ranks for on Google. The tool will scrape your pages and let you know if this top query is listed in your:
Page Title
Meta Description
H1
H2
H3
Paragraphs
It will highlight whether the query is included using a traffic light system. If you find that the top query is not included in any of your page sections, you can use ChatGPT within the tool itself to generate new page titles and meta descriptions for you to ensure your top query is used throughout your content.
You can then set up an SEO test to see whether including this top query has an impact on your SEO.
SEOTesting has a very simple pricing structure:
$40 per month for one website.
$100 per month for five websites.
$300 per month for twenty websites.
Clearscope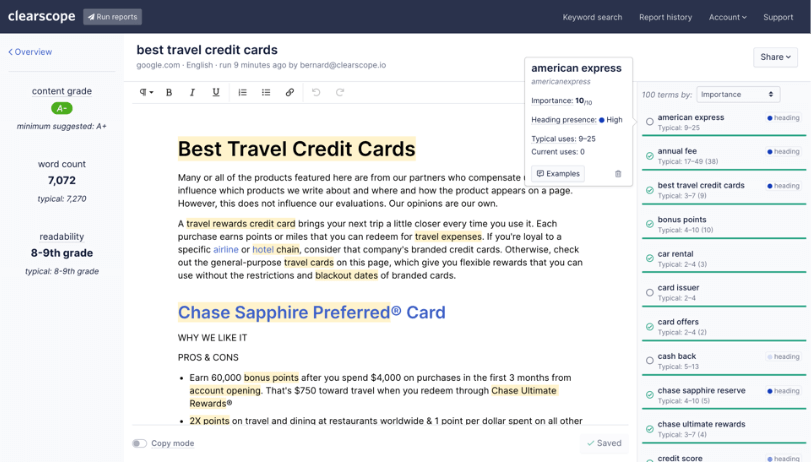 Image Credit: https://www.clearscope.io/
Clearscope is, primarily, a keyword analyser and content editor that will allow you to optimise content for search.
With Clearscope, you will be able to analyse keywords so you know, beforehand, what content needs to be created. You will be able to know how many words need to be written for the piece, what keywords need to be included and what sections to include within your content.
You will also be able to use the content editor to create content briefs, outlines and full content pieces. You can see, on the go, the keywords you still need to include and how many times each keyword has been used. You'll also see a readability score included in the editor so you know how easy your content is to read and understand as you are writing.
Clearscore starts at $170 per calendar month for the "Essentials" plan which includes 1 user seat, 10 content reports, 20 content inventory pages and integrations for Google Docs and WordPress.
GrammarlyGO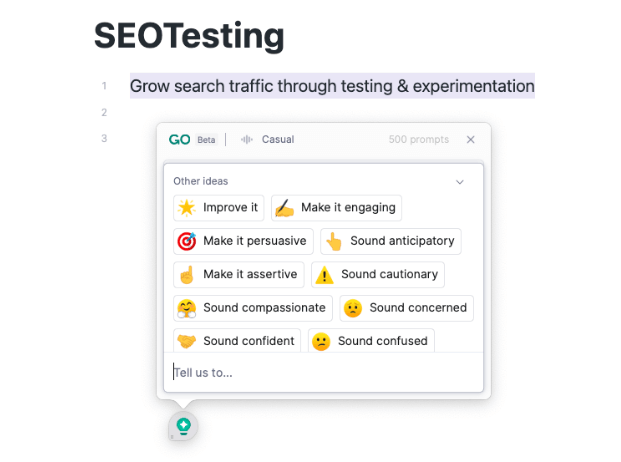 Grammarly as a tool has been around for several years now and is, perhaps, one of the world's most well-known proofreading tools.
GrammarlyGO is an incredibly new tool they have produced which uses generative AI to improve your writing, rather than simply correct it. Within the tool, you can select a block of text you have written and select "improve my writing". From there, you can rewrite content, and change the formatting of it to make it exciting, assertive or persuasive for example.
You can also generate specific blocks of text if you are not sure what to write next. Let's say, for example, you are writing an article on team-building ideas and you are not sure what to write next. You can use GrammarlyGO to write more suggestions for you, which you can then improve and optimise for SEO etc.
GrammarlyGO is currently in its beta phase and is included in all plans, free and paid.
Writesonic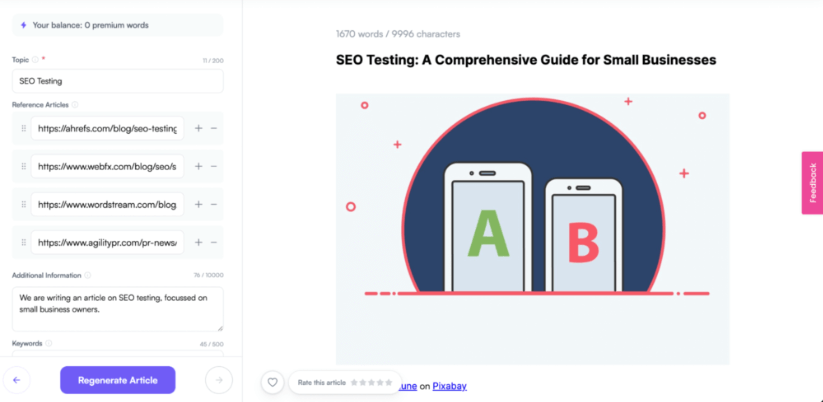 Writesonic is one of the most comprehensive AI-based article generators I have ever worked with.
Within the tool, you have access to a wide array of features:
AI-Based Writing Tools
Ads and Marketing Tools
E-commerce Tools
Social Media Tools
Website Copy Tools
All of these tools, listed above, have different features and "sub-tools" within them geared towards helping SEOs and other marketers speed up their workflow.
With their AI-based article writer, you simply need to add in a seed keyword, competitor articles and any other relevant information (such as the angle you are writing about) and the generator will come up with a full article in minutes. You can then edit this and optimise it for your website (by adding internal links, for example) and get it published.
It is also worth noting that Writesonic has access to both GPT3.5 and GPT4. Your subscription price will depend on which version you'd like to use.
Writesonic starts at $19 per month if you are paying monthly. This allows you to write up to 100,000 words per month using GPT3.5, or 33,000 words using GPT4. The $49 per month plan gives you access to 5 user seats and 3 times more words per month.
GPT for Sheets and Docs

As SEOs, we use Google Sheets and Docs almost every single day. GPT for Sheets and Docs is a great way to integrate ChatGPT into your workflow using these tools.
The first thing to note is that GPT for Sheets and Docs is completely free. The only cost is OpenAI access. You can see the pricing model for OpenAI here.
With ChatGPT integrated into your Google Sheets and Docs, you can:
Clean lists, extract entities and convert formulas.
Edit, summarise, translate and classify different texts.
Generate ad creative, taglines, subject lines, outlines, blogs and emails.
ChatGPT for Sheets will be great when working with short-form work like cleaning lists, generating product tags, and generating ad taglines and product descriptions. Whilst the ChatGPT integration for Google Docs will be great for working with long-form entities like generating email and blog post copy.
Raycast Pro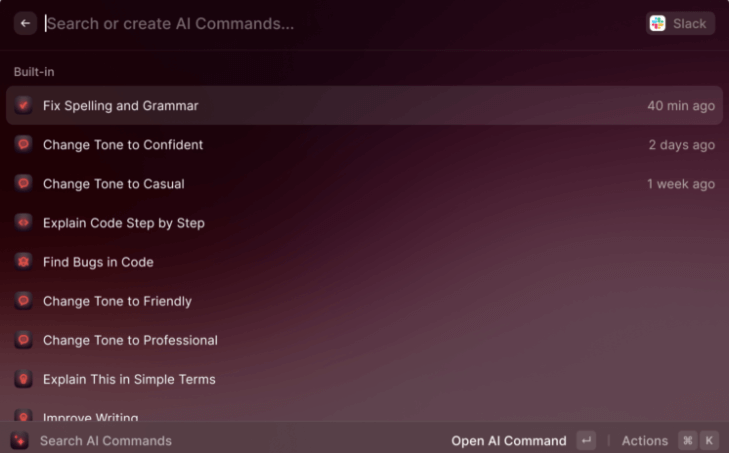 Image Credit: https://www.raycast.com/pro
Raycast Pro is described on their website as a way to supercharge your Mac. Integrating ChatGPT into your Mac to help you streamline aspects of a lot of your work. Whether you are an SEO or not.
With a subscription to Raycast Pro, you have access to a wide array of features including "always-on" ChatGPT which will allow you to ask anything, anytime, anywhere on your Mac. You can generate copy, find solutions when you are stuck with code or ask a question in general. This is extremely useful for SEO professionals as it means they can make use of ChatGPT wherever they are on their Mac, there is no need to log in to ChatGPT each time you would like to use it.
The big downside to all of this is that Raycast Pro is only available to Mac users, there is no Windows version as of yet.
Whilst Raycast is free to use for any Mac user, Raycast Pro (which is where you get the AI integration) starts at $8 per month when billed annually.
Google Bard and Bing Chat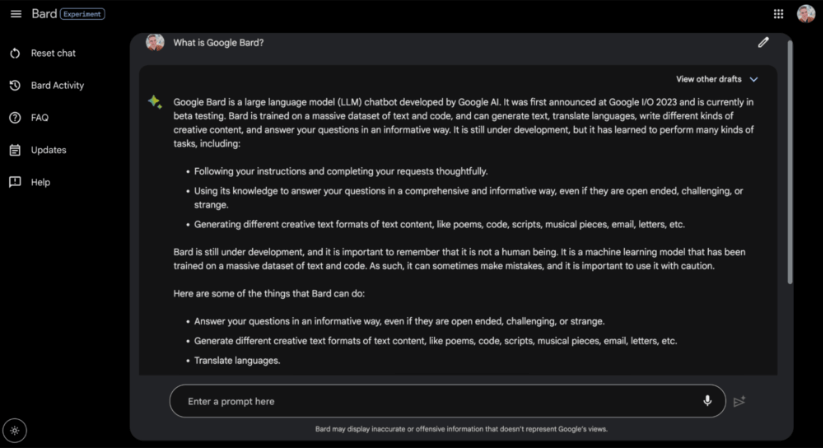 Perhaps two of the most underrated AI tools for SEOs to use are Google Bard and Bing Chat.
When using these tools, we can begin to learn more about their algorithms and how we can use this to our advantage. We know that when Google and Bing bring AI search to the forefront of their operations, clicks and impressions are (likely) going to take a big hit. If we begin learning how tools like Bard and Bing Chat display information for different searches now, we can have a head start when new AI-search features go live.
When you search for informational searches, what is displayed? Do the products link through to sources? If so, we can learn how we can become the go-to source for some queries and ensure we are still bringing traffic through to our websites.
We have seen how Bing expects to use generative AI within their search engine, and now we know how Google plans to use it too. If we do not start to learn more about how these engines pull responses through, we can expect to be left behind.