Looking for an easy boost in clicks from Google. Working on a site's striking distance keywords is a great way to get an increase in clicks from a minimal time investment.
SEOTesting.com has a pre configured report to display your sites striking distance keywords so you can easily find opportunities to work on.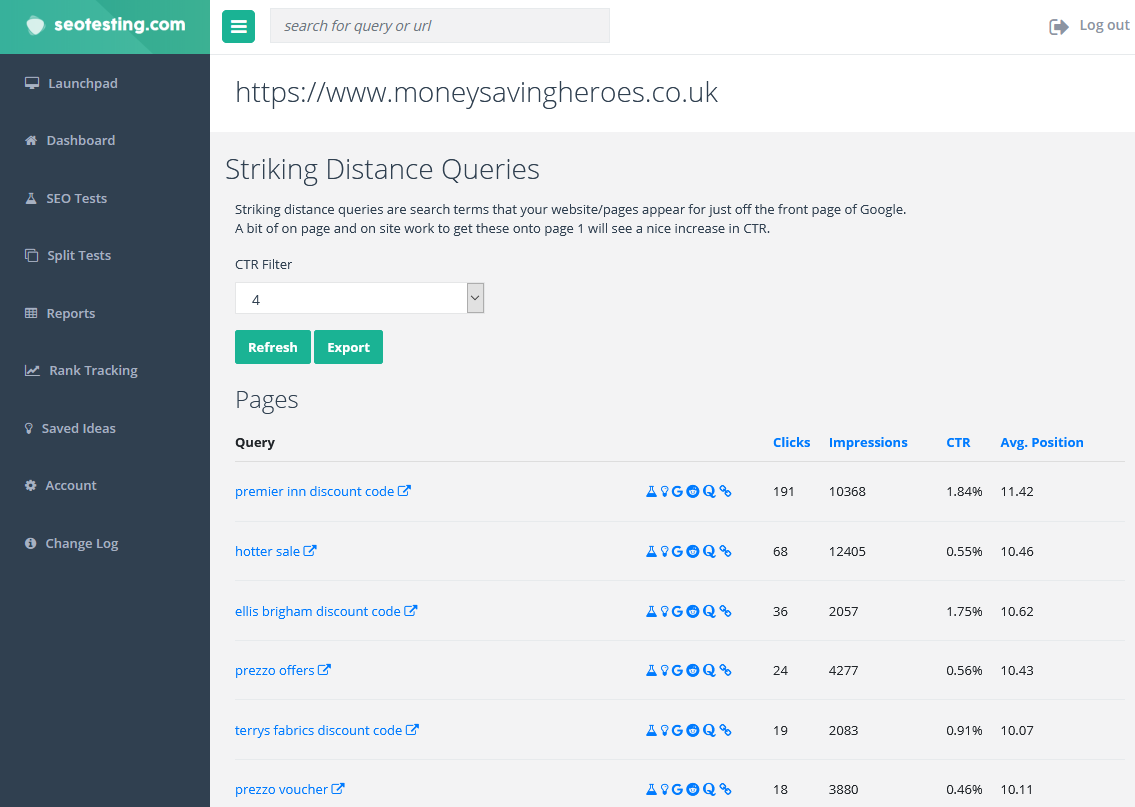 When you have selected a site to work on from the SEOTesting launchpad, you can find the striking distance keyword report in the Reports section.
What are striking distance keywords?
Striking distance keywords are the keywords your site ranks for within position 11-30, so just off page one of the Google search results. As a search result drops off page 1 of Google, which is generally position 11 or worse, the click through rate drops significantly.
Striking distance keywords are the queries with the best potential of getting more clicks. If you can take a keyword from position 11, and improve it a few spots to position 7 and onto page 1, the click through rate and overall clicks will jump up nicely.
Striking distance keywords are also some of the first keywords you will find for your website when using Google Search Console for keyword research.
How to find striking distance keywords
The data you need to easily find striking distance keywords is stored in Google Search Console and available at no-cost.
You can easily export the data from Google Search Console into your favourite spreadsheet program and run a filter on the average position to only display rows where the position > 10.1 and < 30.1. This will show you the keywords that display on pages 2 and 3 of the search results.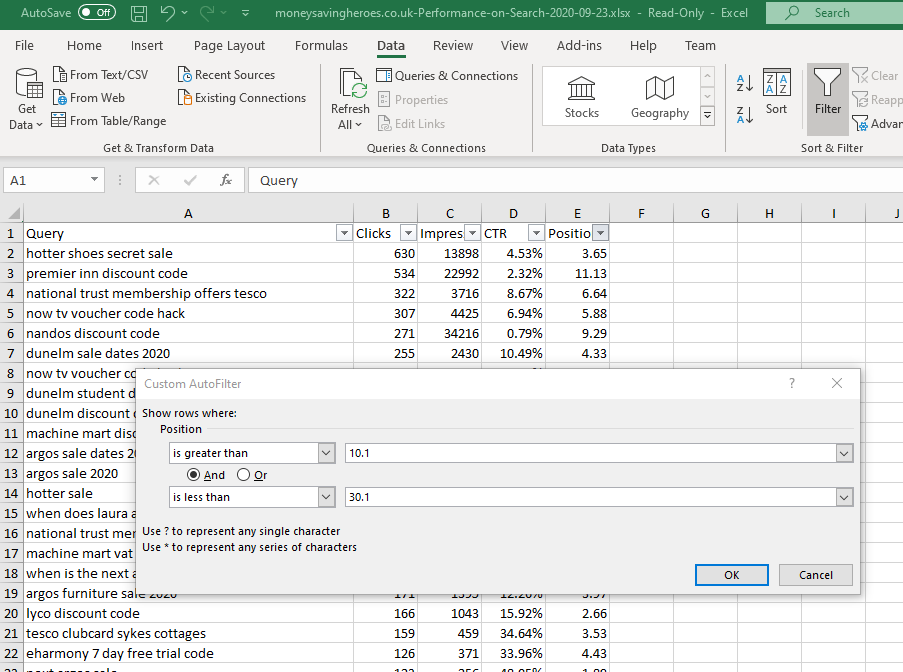 These are the keywords with the good potential of getting on to page 1 of the search results.
As already mentioned above, SEOTesting has a pre configured striking distance keyword report that will save you time from having to manually export the data and filter it in a spreadsheet.
How to get onto page 1 of Google for striking distance keywords
Below we have outlined 3 ways of getting your site to rank on page 1 for a striking distance keyword. They get progressively harder, and more work involved, so I would definitely recommend applying the first tactic and working down...
Internally link using the striking distance keyword
Internal linking is something many people disregard and forget about as they publish new content. It is important as it helps your users navigate around your site, it helps Google crawl your site, indicates to Google which pages are important, and also indicates the topic a page is about.
To find internal linking opportunities, Google is actually your friend.
Say you have a page on your site that targets the keyword "striking distance keywords" which ranks at position 11. You want to try and get it into the top 10 positions and onto page 1 of Google. To add internal links into this page you want to find out where the keyword "striking distance keywords" has been previously mentioned across your site so you can link to the page targeting this query.
With Google search use the following query:
site:yourdomain.com "striking distance keywords"
Change yourdomain.com to be your website's root domain.

This will bring back the pages on your site that include your target keyword. You can then use these to create links to the page that you want to rank better.
As well as following this process for striking distance keywords, you can also do it for any new content that is published on your site that targets a specific keyword.
Improve the content
Improving the content on a page can bring about better rankings. Adding more relevant information that helps answer the users query will get your page ranking better.
Steps and tools to help you improve your content include:
Search for the keyword in Google. See what types of content are being returned for the query. If the query returns lots of ecommerce pages, and you are trying to rank an informational blog post, you will find it very tough and may be impossible. Ensure the content you are creating matches what Google thinks the user wants to see. Use 'People also ask' suggestions within Google as sections within your content. Make sure your content answers the related questions to your striking distance keyword. Try using tools such as Clearscope.io and SurferSEO.com. These tools analyse the top pages ranking for your striking distance keyword and make a list of suggestions on the content and structure of your page.
Build external links
Relevant links from other websites will always improve how a page ranks.
If your page is a useful resource, people will be more likely to link to it.
Link building, especially to specific pages, is an entire skill and topic within itself and so we aren't going to cover the details here. But if you have tried adding internal links, and updating the target page with better content, and still can't crack the top 10 positions - a link building campaign is the third tactic you could try.
Run SEO Tests for any changes
For any changes you make to try and get a striking distance keyword onto page 1 of Google make sure you set up and run an SEO test.
This will make it easier to track the daily position of the striking distance keyword, as well as an improvement in clicks and click through rate as the position hopefully improves. It also gives you an easy way to show results of your efforts to management and project stakeholders.