It's not a pleasant situation for any SEO professional or business owner to log into their Google Search Console (GSC) dashboard and not see any impression or click data.
But, every so often, this happens for multiple reasons. We'll go through all of the common reasons Google Search Console does not show any data as well as the fixes for this within this article.
The most common reasons include:
The website is new.
The sitemap wasn't submitted.
Property not fully validated.
Lack of admin rights.
Google Search Console losing data.
If you are interested, we believe we have the best Google Search Console alternative on the market today. Give it a try and let us know what you think.
Potential Issue 1: New Website
You've added the site to Google Search Console, but then you go check it, and the data is missing.
This section focuses on resolving the issue when the site is new or recently added to GSC.
Step 1: Is it verified in Google Search Console?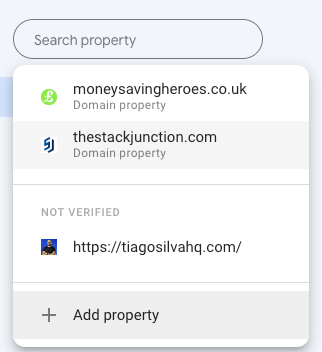 Click the site list from the top-left of Google Search Console. When the site is in the "not verified" section, you need to verify it or redo the process.
This step is vital because Google Search Console will only start showing data after the site is verified. This is a very useful feature from Google as it means people who should not have access to your GSC data cannot see impressions or click data on your site.
A site might need to be reverified for numerous reasons, including an error during the previous attempt.
Step 2: Is the site online and accessible.
Try to reach the site using incognito mode, a different browser, or a different device.
The site can be saved on your browser cache, and using a different browser allows you to see the most recent site version.
One of my favourite methods for checking whether a website is working correctly or not is to visit the website URL on your mobile phone using your mobile/cellular data. This ensures you are trying to access the site from a completely different IP, mitigating caching issues.
If the site is inaccessible, you have probably found the cause and should check your hosting to solve it.
When the site is up and running normally, the next step is to check the SERP.
Step 3: Is the site indexed by Google?
Google Search Console will only show data for sites that are indexed.
This means that GSC will only show clicks and impressions from Google Search.
To ensure your site is indexed, jump into Google and use the site search operator.
A simple search query using site:[your_site_url] is enough.

This Google search will only show results from the domain mentioned, so if there are no results, it means Google hasn't indexed the site yet.
We will dive into this a little further below, but it's common for Google to not index brand new websites straight away. This is so they have time to properly crawl the site and establish the authority Google thinks it needs to rank. Some people refer to this as the "sandbox" but Google deny that such a thing exists. In reality, this is just a way for Google to check sites out before they release them to the search population.
Step 4: Is the site getting visitors?
Another important step is knowing if the site is getting visitors.
You must look into your analytics and find the traffic sources.
As mentioned before, Google Search Console only shows organic clicks from Google.
This differs from analytics services (like Google Analytics) that show all the visitors, including direct and social traffic.
If analytics don't show search traffic from Google, GSC isn't missing data because the site doesn't get clicks from Google.
However, when the analytics show traffic from search engines, you must wait at least 48h for GSC to show the clicks.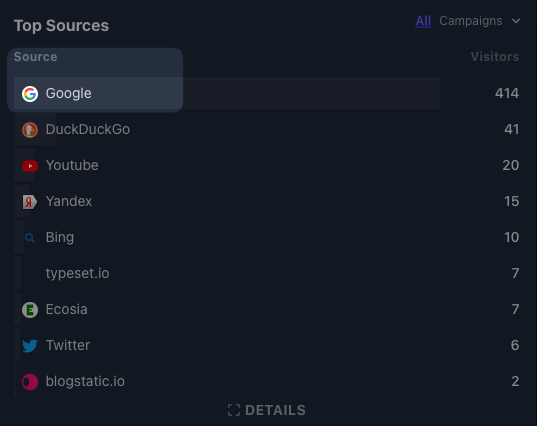 But when more than 3 days passed and the data still doesn't show up, there's likely an issue.
Solutions for this are:
Website verification (potential step 1 - above).
Wrong protocol used (potential issue 3 - see below).
GSC reporting issues (potential issue 5 - see below).
Note: visitors / traffic from Google Search Console and Analytics will always have a difference. There are many reasons for this, with the main reason being different search users will have different cookie settings configured within their browser.
Potential Issue 2: No Sitemap Submitted
Another reason that can cause missing data on GSC is not submitting an XML sitemap.
Google relies on links to find pages, so pages with more backlinks are easier to find.
The opposite is also true. A page without links is hard to find.
That's why sitemaps are important for SEO.
A sitemap lists the site's pages you want Googlebot to find and crawl. Most platforms like WordPress already have a sitemap by default.
You can find them at the domain's root—for example, AwesomeSite.com/sitemap.xml.
Note: if you're using a subdomain (like WWW, blog, etc.), just add "/sitemap.xml" at the end to find if you have a sitemap - for example, blog.AwesomeSite.com/sitemap.xml.
These sitemaps may or may not have styling, but it doesn't make a difference from an SEO perspective as Google simply sends its bots in, they crawl all the crawlable links and then the content on these pages go through to the indexing and ranking stages of the process.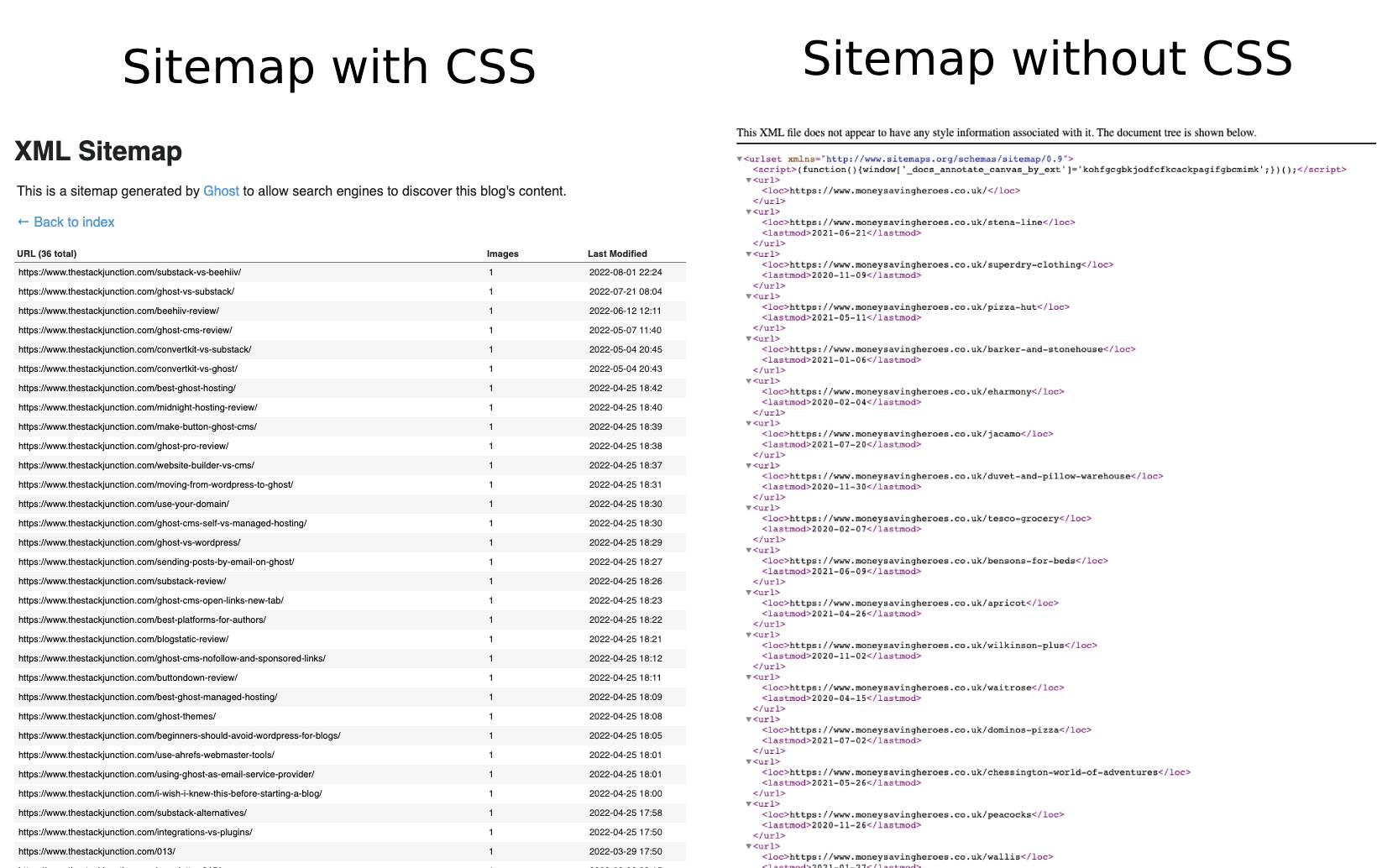 My recommendation is to always submit a sitemap on GSC. Doing so only has advantages, including helping Google find the pages of your site. This is especially helpful for new websites as these sites will not necessarily have many (if any) backlinks to their important pages yet, so it is always beneficial to ensure Google's bots can crawl, index and rank them.
Another benefit of sitemaps is helping Google index your content faster.
But before you continue, make sure the sitemap exists, is online, isn't blocked by robots.txt, and you have permission to submit it on Google Search Console — full or owner access required.
Now, head to Google Search Console and follow these steps to submit the sitemap:
Select the website from the list.
Go to the sitemaps tab.
Paste the sitemap URL in the "Add a new sitemap" field.
Submit the sitemap.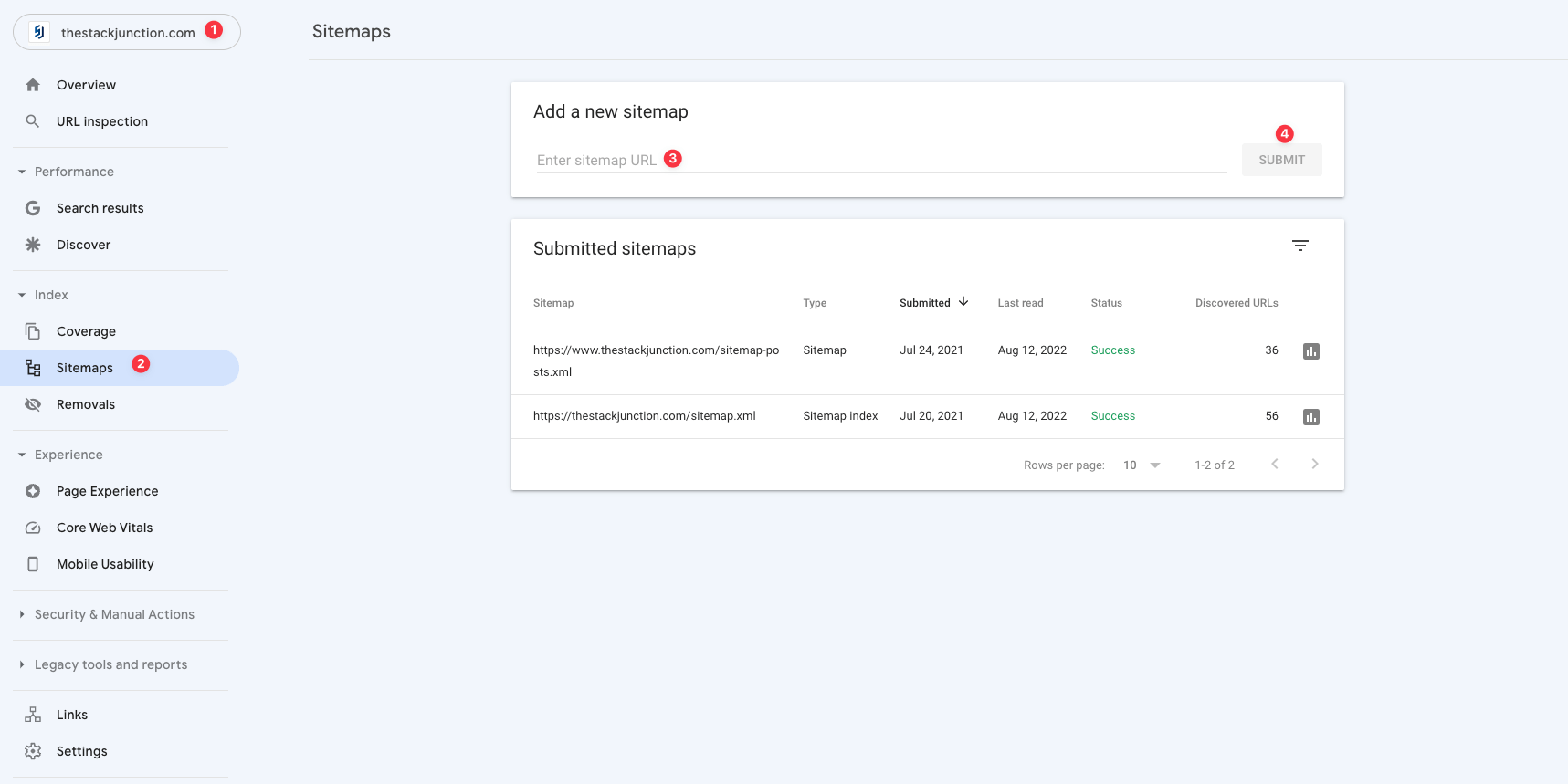 When everything goes according to plan, you'll see a success window.

You can submit multiple sitemaps and sitemap indexes (a sitemap with a list of other sitemaps).
Wait a few days for Google to crawl the pages and show the index coverage on GSC. This will let you know what pages Google has crawled and indexed.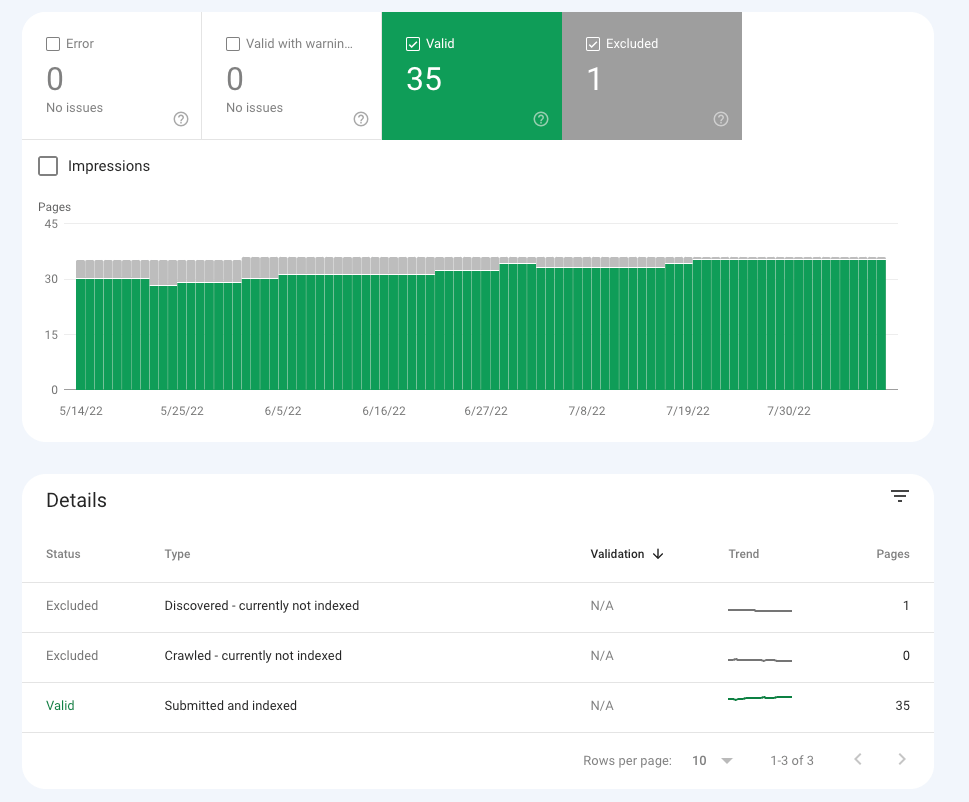 Potential Issue 3: HTTP and HTTPS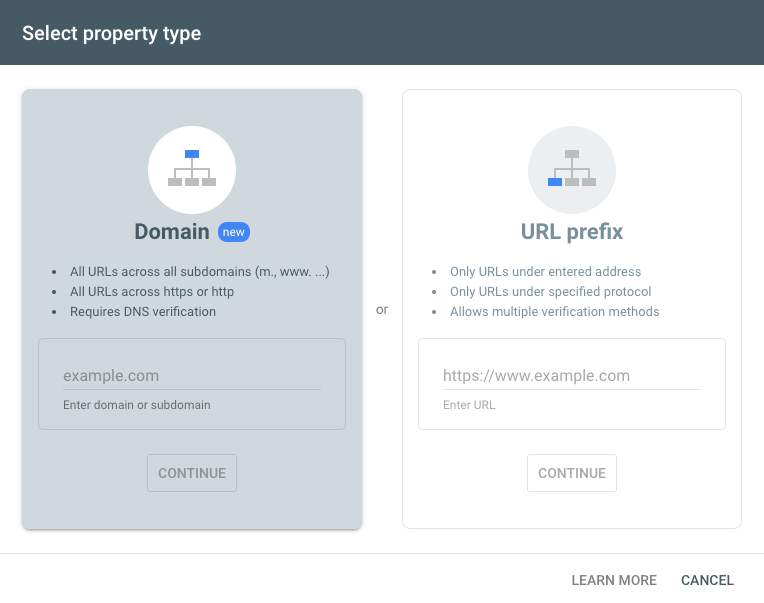 Google Search Console might miss data when the domain is verified using the URL prefix method (right side of the image above).
With this method, GSC will only display data for the exact protocol and sub-domain verified.
Imagine you verify a site using the URL prefix located on (notice the http protocol is used) http://www.store.com.
In this scenario, Google Search Console will show data for the articles accessed using the same protocol and domain, like:
http://www.store.com/awesome-post.
But your site is setup to use the https protocol, and Google has correctly crawled and indexed all the site using this.
Because you have verified the http protocol, GSC will not show any data when someone clicks on a https URL from the search results.
https://www.store.com/awesome-post
Google Search Console treats different protocols and different subdomains (www/non-www) as completely different sites, and so data will only show if you have a site property setup using the canonical protocol and sub-domain your site uses.
You can also verify a site as a domain property in Google Search Console. This will include traffic for all protocols and subdomains. This is a good option because:
It's simple to do
It will help you spot pages that Google and users can access that are not set to use the canonical protocol and sub-domain you have decided upon for the site.
When you gain access to a new property, it's easy to spot the verification method used.
Look for the property list, and below the site name, you'll see if it's a "domain property" or "URL prefix".

Verification History
To see the verification history for the domain, visit https://www.google.com/webmasters/verification/. This page will show you who the owners are, the verification method used, and the dates.
The dates are important to know when GSC should start displaying data. If there is any period where the site was unverified, it will cause missing data on GSC.

Potential Issue 4: No Admin Rights
You might also not have access to data on Google Search Console due to the lack of permissions.
This can happen when you try to access a property you haven't been granted access to.
A typical example is when a client shares their GSC link with you but doesn't give you access.
If this happens, you'll see the following error message.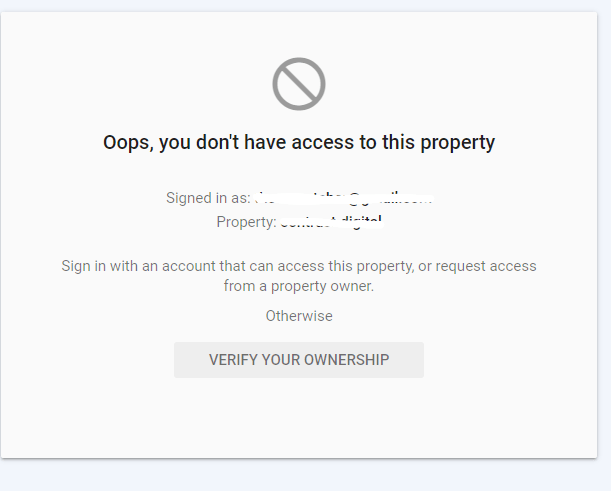 The solution is asking the property owner to grant you access by adding your email on "users & permissions".
I will openly admit that this may seem like a small issue to note, but it is a very common one. Especially with SEO and other digital marketing agencies when they sign a new client. It's crucial for their team to be able to access GSC data, and a client may have forgotten this crucial stage in the process.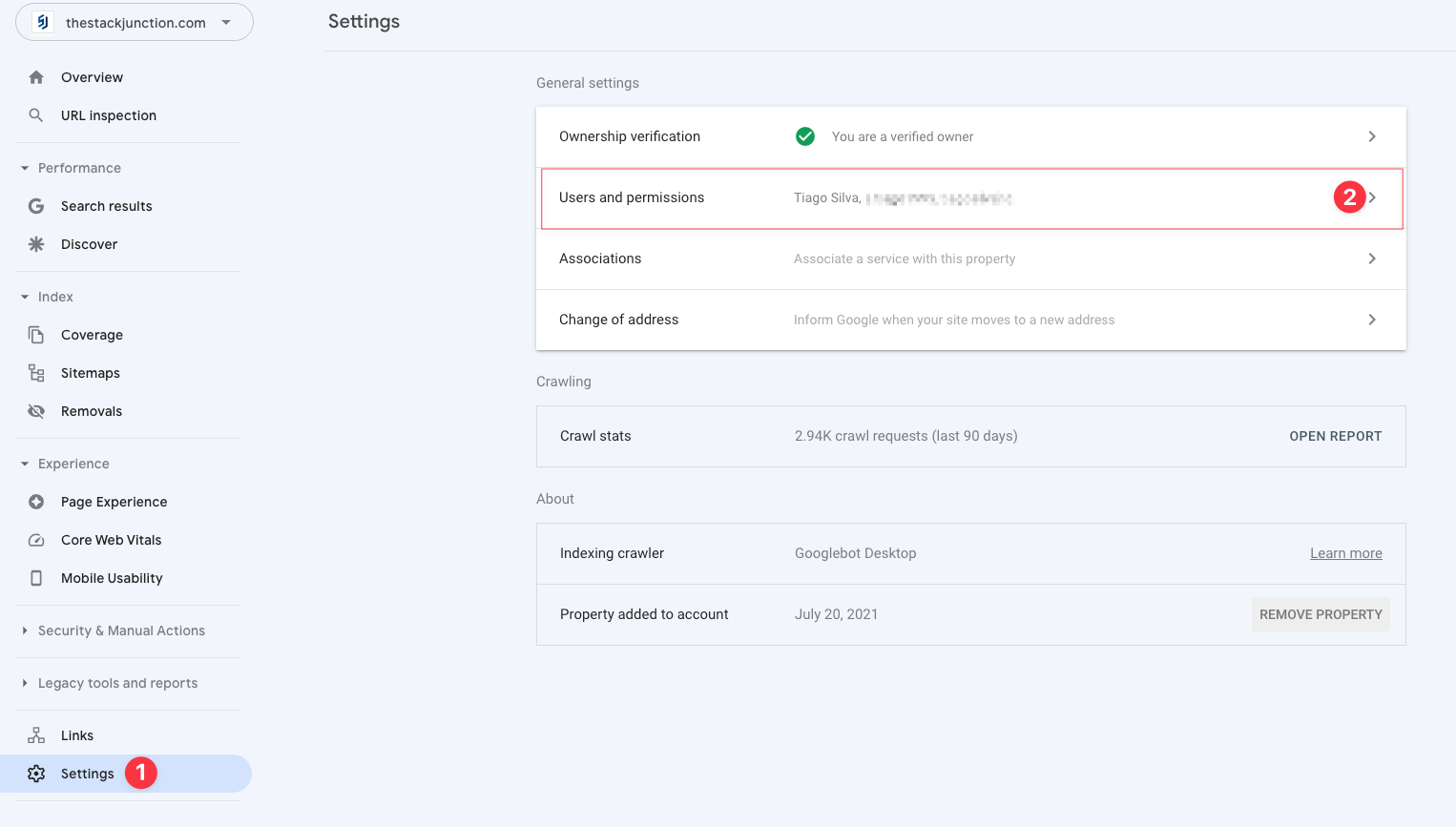 You can also see this 'permission denied message' if you are logged in to more than one account and try to access GSC with an email that wasn't granted access.
Potential Issue 5: Issue with GSC
Sporadically, you'll notice missing data on Google Search Console thanks to problems with the service.
This can be a reporting issue where GSC stays stuck for a few days or shows a dip, but Google backfills the data later.
However, it can also mean a complete loss of data where Google won't be able to backfill anything.
When it's the latter, Google will show a notice on the Performance report.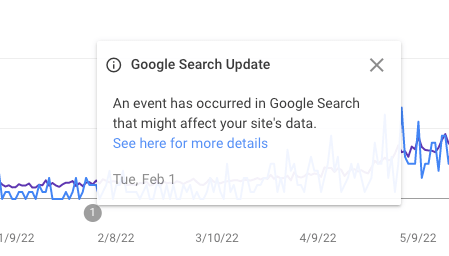 I advise you to bookmark the data anomalies page to keep an eye on the problems with GSC. This is an official resource where Google lists recent difficulties with the service.
Alternatively, you can also follow Search Liaison on Twitter for official communication from Google.
Note: if you need to know about GSC issues as soon as they happen, monitor the anomalies page with a service that notifies you every time the page is updated / changed.
Sadly, even Google services can face problems, disruptions, and data loss—look at the Google outage in August 2022 after a data center fire.
Unfortunately, you can't do anything in these scenarios since the problems affect all properties and users.
Summary
There are many reasons why you might experience missing data on Google Search Console.
But you also need to understand that GSC doesn't show you all the data in the first place.
Google Search Console will only show up to 1,000 queries your site is ranking for. Even if you rank for more queries, GSC still won't show them all.
A study showed that Google hides 46% of the queries on GSC. However, using SEOTesting, you can see up to 50,000 queries for each calendar day.
On top of that, SEOTesting has filters and reports that saves you time interpreting Google Search Console data. Sign up for a 14-day free trial today (no card required).