We've tried and tested all the recommended SEO extensions and put together the best free ones, broken down by category. These 18 extensions will help you decide which ones you'll actually be able to use, and examples of how you might use them.
Jump to a category
Elevate your SEO efforts by quickly troubleshooting indexing issues, providing context for client discussions, improving CTR, finding keywords for on-page copy, and more.
Content
Keyword Surfer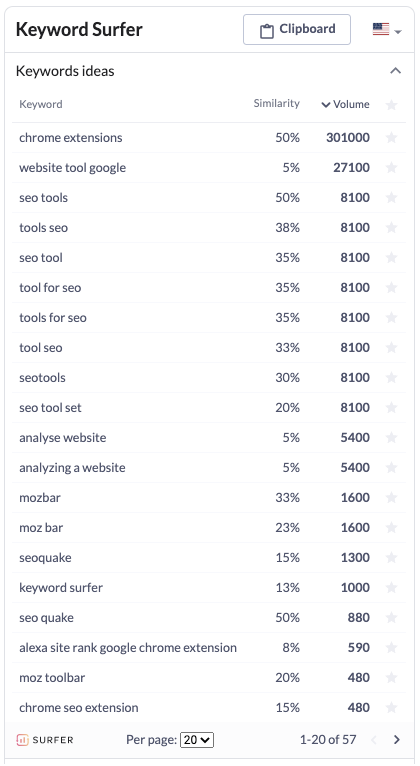 What it does
Keyword Surfer easily allows you to see search volume and similar keywords right in your SERPs. Start typing your new keyword to see suggested keywords, CPC, country, and other information, or use the table in your SERPs to export and 'favorite' ideas.
Use case
You're writing a new blog and want to make sure you're covering all the related topics and subtopics. Keyword Surfer helps you discover which keywords are most closely related and which topics are a must-have to include.
Trendstatic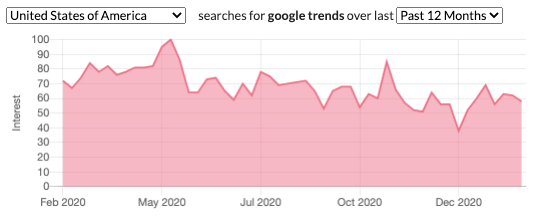 What it does
Spot trends in your keywords so you can plan exactly what to write and when to publish relevant content. Trendstatic shows you exactly how your chosen keyword trends over the last 12 months by integrating with Google Search Trends and can even switch between countries and different time periods.
Use case
You're working on a digital pr campaign in conjunction with some upcoming content and you want to make sure you know exactly when to publish.
Grammarly
What it does
Grammarly integrates with your browser to help you write better. From email to essays, and blogs to website copy, Grammarly offers alternative suggestions for tone, spelling, error, and more.
Use case
You're writing a blog post (like this one) and want to make sure it is easy to read, matches your ideal tone, and that your grammar and spelling are on point.
Technical
Schema Builder & Tester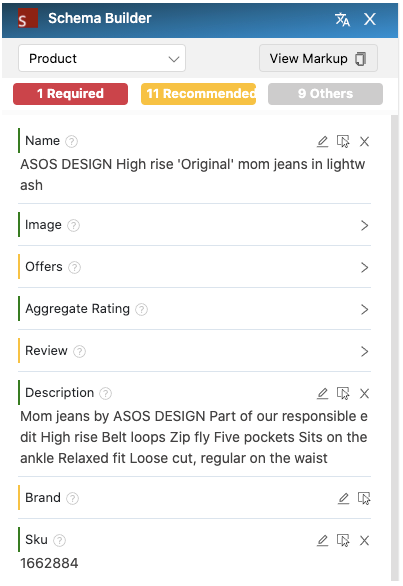 What it does
Schema.dev created a great plugin for helping you see exactly which markup is on your page or your competitor's pages. Not only can it help you write your schema, but it can also help you validate schema that's already on the page, so you can correct any errors with little effort. It's also really fun to use and can test your markup with the click of a button.
Use case
You need to markup new items for your ecommerce store. Use the Schema Builder & Tester for Structured Data to help test and deploy your markup.
View Rendered Source

What it does
Sometimes Javascript can cause unknown errors in a rendered site. By the time it reaches Google, it's too late and the rendered version is what's indexed. View Rendered Source allows you to see how the browser is rendering your site, and will even show you the difference so you can make changes.
Use case
Your titles and meta descriptions are rendered as missing, but you know you've entered them in your CMS. Could Javascript be the culprit? View Rendered Source will help.
Link Redirect Trace
What it does
Link Redirect Trace can help you diagnose and analyze redirect errors. What's different about this SEO extension versus its alternatives is that not only does it show you the error, but it can tell you how to fix it and what impact the error might be having on your site.
Use case
You're noticing a redirect error is preventing your site from loading properly. Use Link Redirect Trace to find out if you've created a loop, or if another error is causing the issue.
Local
GMBSpy
What it does
To compare top listings in Google My Business, try GMBSpy by George Nenny. Easily see what competitors are using for their categories and decide what might apply to you or your client's GMB listing.
Use case
Your client is a local restaurant and you want to make sure you have all the possible categories listed.
SEO Search Simulator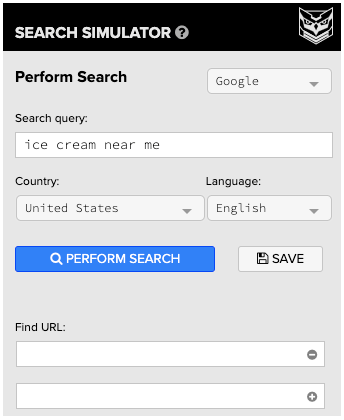 What it does
If you want to check ranking results for specific locations in real-time, try out SEO Search Simulator by NightWatch. A great alternative to logging into SEMrush or another ranking tool, this can show you how your keywords, or possible keywords, are ranking in other locations.
Use case
You're working on a quote for a client in another zip code and you don't want to use a VPN or add them to your rank tracking tool just to get a baseline for work scope.
On-Page
Detailed SEO Extension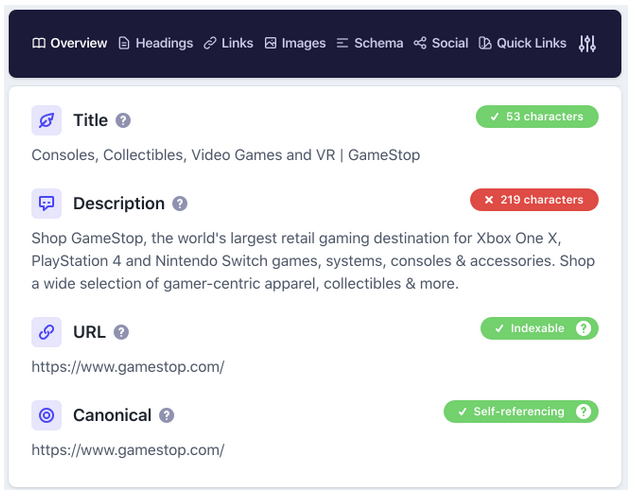 What it does
For easy, on-page header structure quick checks, try Detailed SEO Extension. Actually, this is a great free SEO extension overall, since it includes schema markup, canonical checks, word count, hreflang details, and more. Not to mention, it's really, really pretty.
Use case
Checking the staging site for canonicals and header structure prior to go-live.
Link Grabber
What it does
Link Grabber is a free SEO extension that collects all the links on a page and makes it very easy to download or copy to clipboard for easy analysis. If you don't have screaming frog available, or just want to do a quick check, this is a great tool. You can also group by domain or hide duplicate links.
Use case
You're working on an interlinking activity and you want to see what links are already on a particular blog page.
Moz Bar
What it does
A very popular tool with many capabilities, Mozbar for chrome has both free and premium options. Take a look at the SERP or an individual page to analyze canonicals, load time, page authority, status code, and markup. It's 'download to CSV file' functionality is helpful for sorting through data manually, such as storing and analyzing SERP data over time.
Use case
You're working on a link-building campaign and want to see which top results in the SERP have the highest authority.
Link-building
Ninja Outreach Lite
What it does
Quickly and easily find the author of any article or blog with Ninja Outreach Lite, the free version of Ninja Outreach. Also view website data, RSS, demographics, and more. You can even send out a contact email right from the extension.
Use case
You're working on a link-building campaign and want to see how many comments a particular author receives on their posts.
BuzzStream Buzzmarker
What it does
While not completely free, BuzzStream Buzzmarker offers a 14-day free trial so you can figure out if this is the tool for you. With all the advanced features like note-taking and team history, this tool stands out amongst its alternatives.
Use case
You're working with a new client and want to build up a list of contacts for outreach.
Hunter
What it does
Finds verified emails based on LinkedIn and other data to help you find contact information on an article or source where you'd like a backlink. While not completely free, if you're searching less than 50 times a month, this is a great tool for your browser.
Use case
You found the perfect blog for a backlink for your client. Quickly find the writer's name, email, and job title.
Accessibility
Siteimprove Accessibility Checker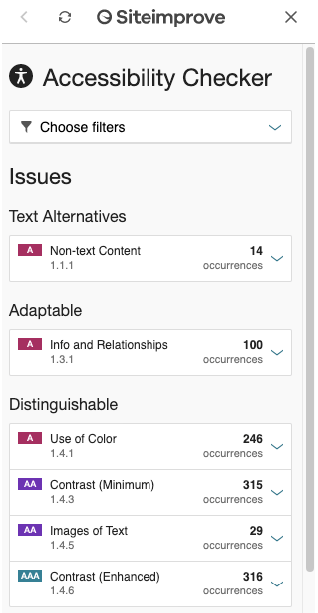 What it does
For finding useful insights into your website's accessibility, turn to Siteimprove Accessibility Checker, which can toggle from different levels of accessibility, prioritize issues, and even tell who is responsible for which initiative. You can also click into each issue for details on how many times the issue occurs, where the issue originates, and why it's important to meet the criteria.
Use case
You're advising a potential client on the necessity of website compliance, and want to show examples as to how they can improve and why they'll want to invest in those improvements.
General
SEOQuake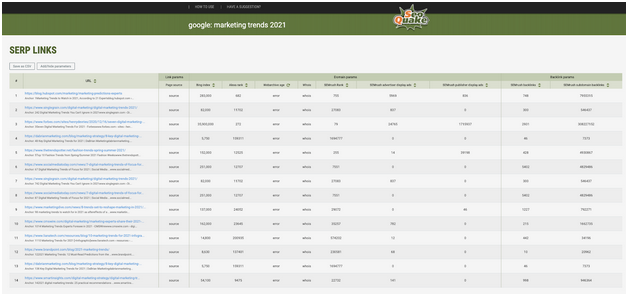 What it does
Use for free or login to your SEMrush account to unlock its full potential. Either way, SEOQuake is capable of a wide range of tasks, making it one of the more popular SEO extensions. Easily get an idea of technical action items, internal and external links, compare URLs, etc. Here's a handy guide to help you get an idea of its full potential.
Use case
You're looking at a blog post and want to quickly get an overview of the page diagnosis. Use the extension to get a basic overview with tips on how to improve.
Personal note: I like to use it in my SERPS to quickly spot the organic rankings for all of my searches.
Lighthouse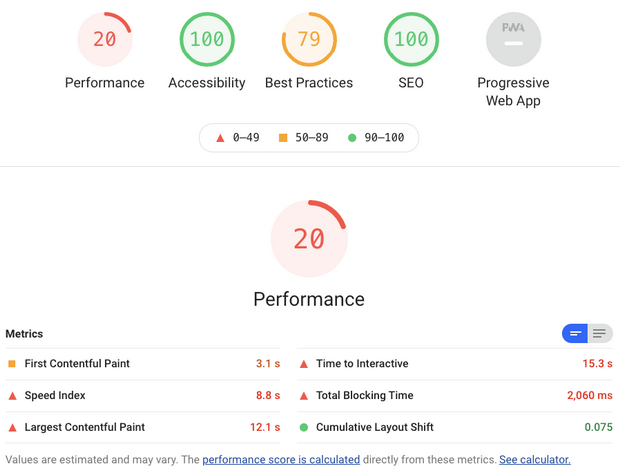 What it does
Lighthouse is Google's performance, accessibility, best practices, SEO, and Progressive Web App testing tool, which is available in both the DevTools audits panel and as a chrome extension. Check on a page-by-page basis for everything from unused Javascript to missing ALT tags.
Use case
You're checking how well a site passes the Google Lighthouse Test during a 3-month-audit-review for a client.
SEO Minion
What it does
SEO Minion is an extension with many capabilities, but most exciting is its SERP preview function, which gives you an actual preview of what your title and meta description changes will look like in the SERP. This can help prevent you from following an SEO tool's character recommendations that actually cut off your titles and meta descriptions.
Use case
You're doing keyword research for a FAQs schema exercise and you'd like to document which searches use this result type.
Summary
For more help with SEO, check out the rest of our blogs, or send us a message. We also have a library of useful walk-throughs that not only tell you how to use SEOTesting.com, but also show you new ways of approaching SEO.
Finally, if you found this useful, give it a share so others can find the best free SEO browser extensions, too.