We've tested some of the most recommended SEO extensions and put together this list with the best free ones.
You're about to learn how to use this elite selection of tools to elevate your SEO without breaking the bank.
SEOTesting
The SEOTesting Google Chrome extension was built to help with your day-to-day tasks and on-page SEO.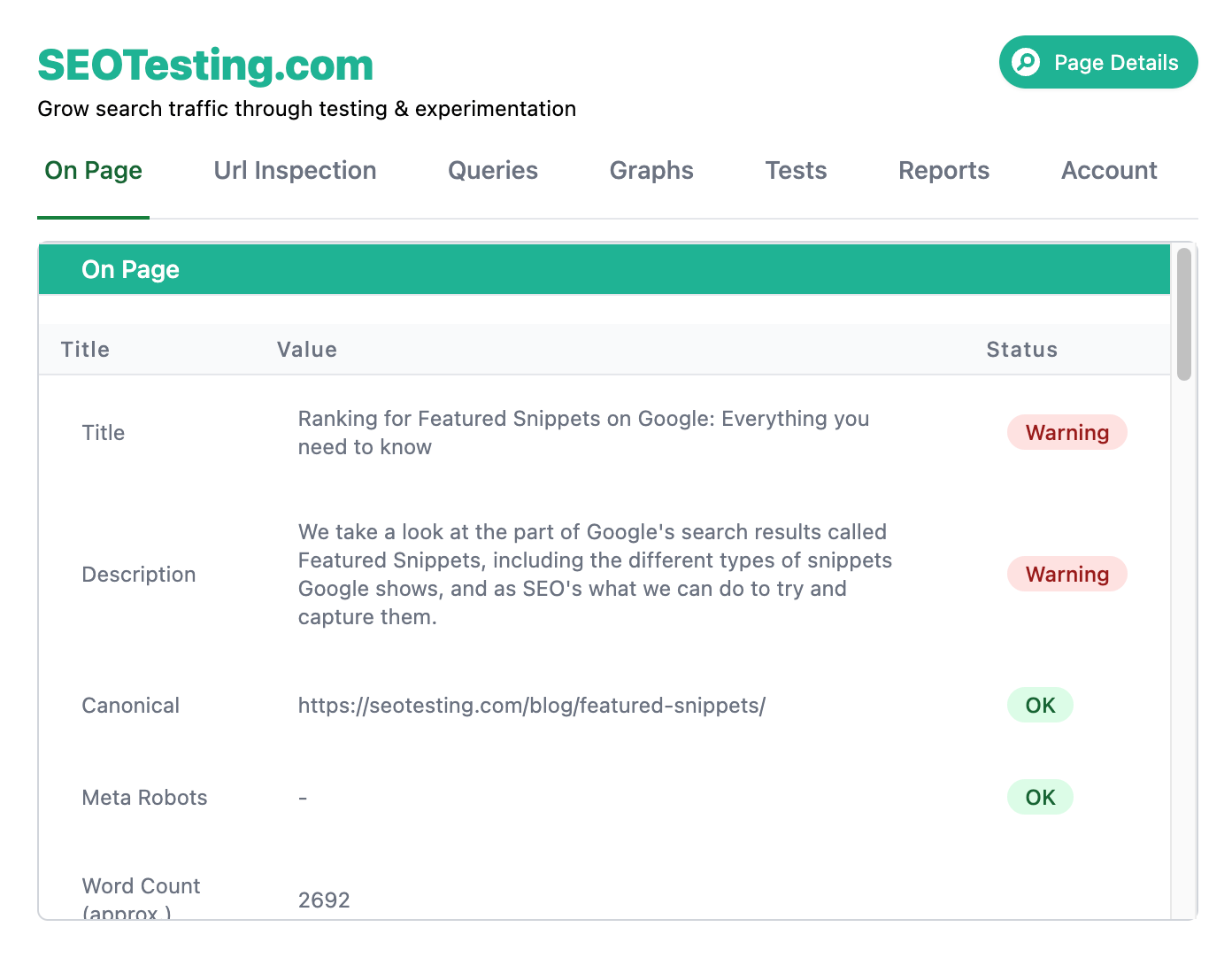 The extension's top features include:
Finding the page's top queries.
Easy to read page graphs with the number of clicks, impressions, average position, and CTR.
Current SEO tests.
Quick access to reports from SEOTesting.
This gives you access to Google Search Console data while browsing and removes the need to open the SEOTesting dashboard every time you want to check a page - that's a big time saver if you ask me.
Regardless of whether you have a SEOTesting account, the extension offers valuable features, such as:
Canonical URL and Meta robots tag detection.
Page word count.
Link count which differentiates internal and external links.
Check the number of images and how many don't have alt text.
Document heading structure.
I use the document structure all the time to confirm the content and headings are correct.
Note: Clicking on a heading will scroll down to that page element, and hovering your mouse will highlight it.
Grammarly
Grammarly has a free browser extension offering grammar, spelling, and tone suggestions to keep your writing sharp virtually everywhere, whether you're writing emails or articles.
This extension will be your best companion to avoid awkward mistakes.

Grammarly's free plan is generous. I started using the free plan in 2017 and changed to the paid subscription in 2021.
I use it all the time to check my articles (like this one you're reading) to ensure it is easy to read.
You can set a preferred tone, which will help you write consistently. My default is informal writing with an informational goal.
These tailored suggestions are one of the things that makes Grammarly a breeze to use.
Keyword Surfer
Keyword Surfer extension lets you see search volume and CPC for the keywords in the SERP.
They have search volume data for more than 70 countries, including the USA, United Kingdom, Australia, France, and Germany.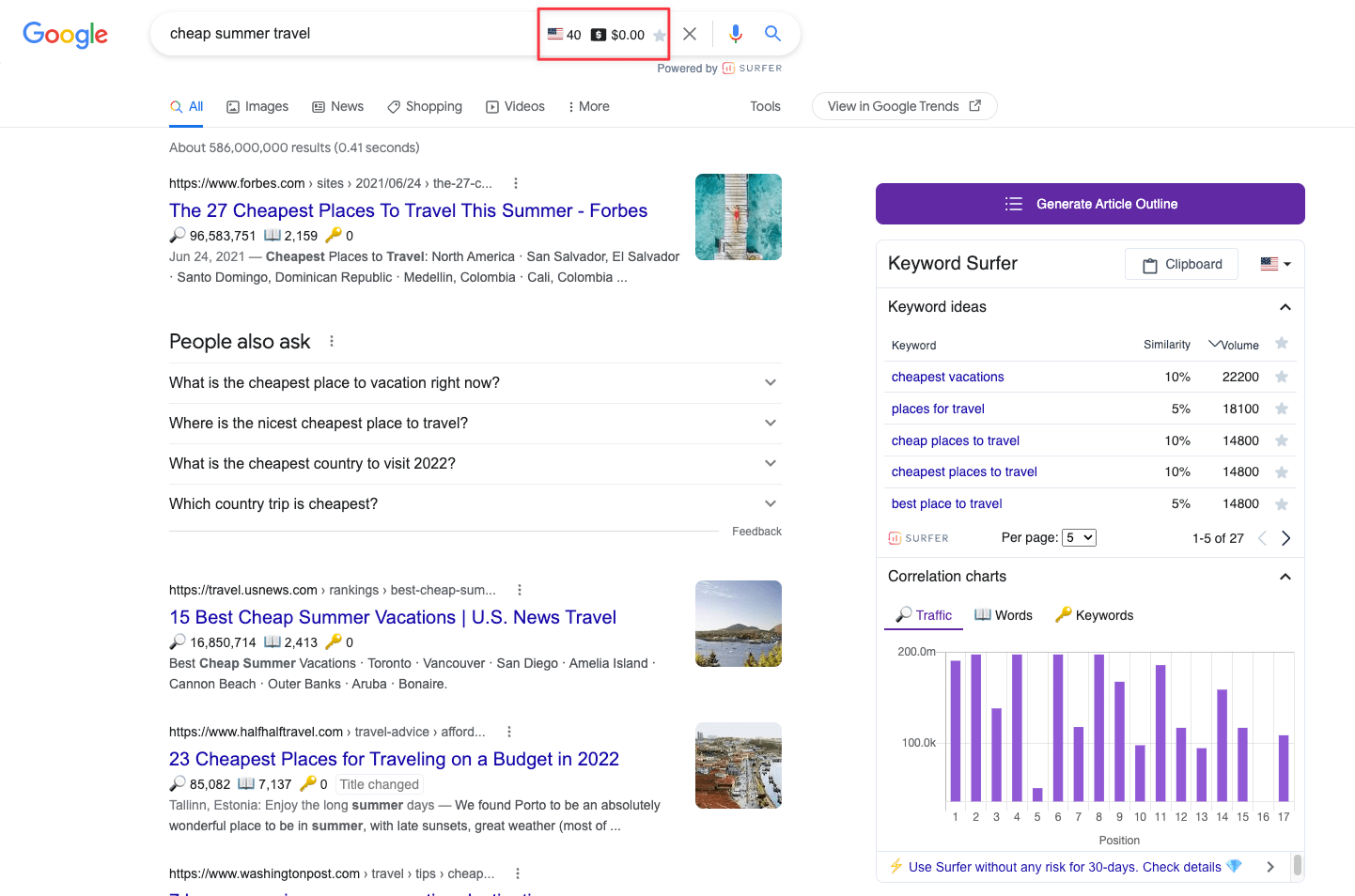 Within the SERP, Keyword Surfer will show an info box with the website's estimated traffic, words on the page, and the number of exact matches for the query.
It will even let you know when Google rewrites a page title. Following Google's renewed interest in changing title tags, this feature from Keyword Surfer is a complete game changer.

You'll see a useful Keyword Surfer widget on the right side of the SERP.
It has keyword ideas, their similarity to the current query, and the respective search volume.
You can quickly press the star to save these keyword ideas to the clipboard.
Keywords Everywhere
Keywords Everywhere is a low-cost extension for keyword research.
This extension adds the following widgets to SERP's right-hand side:
Trend graph for the keyword.
Related keywords.
People Also Search For (PASF).
Furthermore, Keywords Everywhere also shows traffic estimations and the keywords each page ranks for.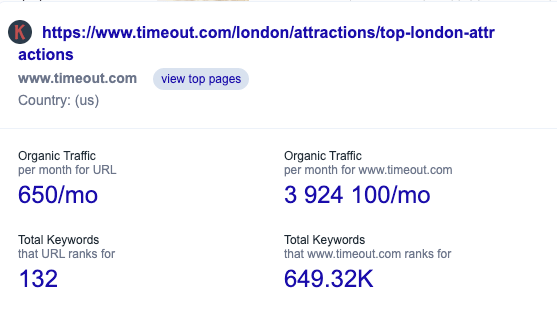 This extension works with most platforms, including:
Major search engines: Google, Bing, DuckDuckGo, and Yahoo.
Google products: YouTube, Google Trends, Google Search Console, Google Analytics, and Keyword Planner.
E-commerce platforms: Amazon, eBay, and Etsy.
Social media platforms: Instagram and Pinterest.
Keywords Everywhere premium plan involves a credit system that starts at $10. I find that $10 worth of credits per year is more than enough to research keywords for one website.
These credits are necessary to show keyword search volume, CPC, and competition.
Keywords Everywhere get their keyword data from Google Ads Keyword Planner (GKP) and Clickstream.
Glimpse
Glimpse is an extension that enriches your Google Trends experience.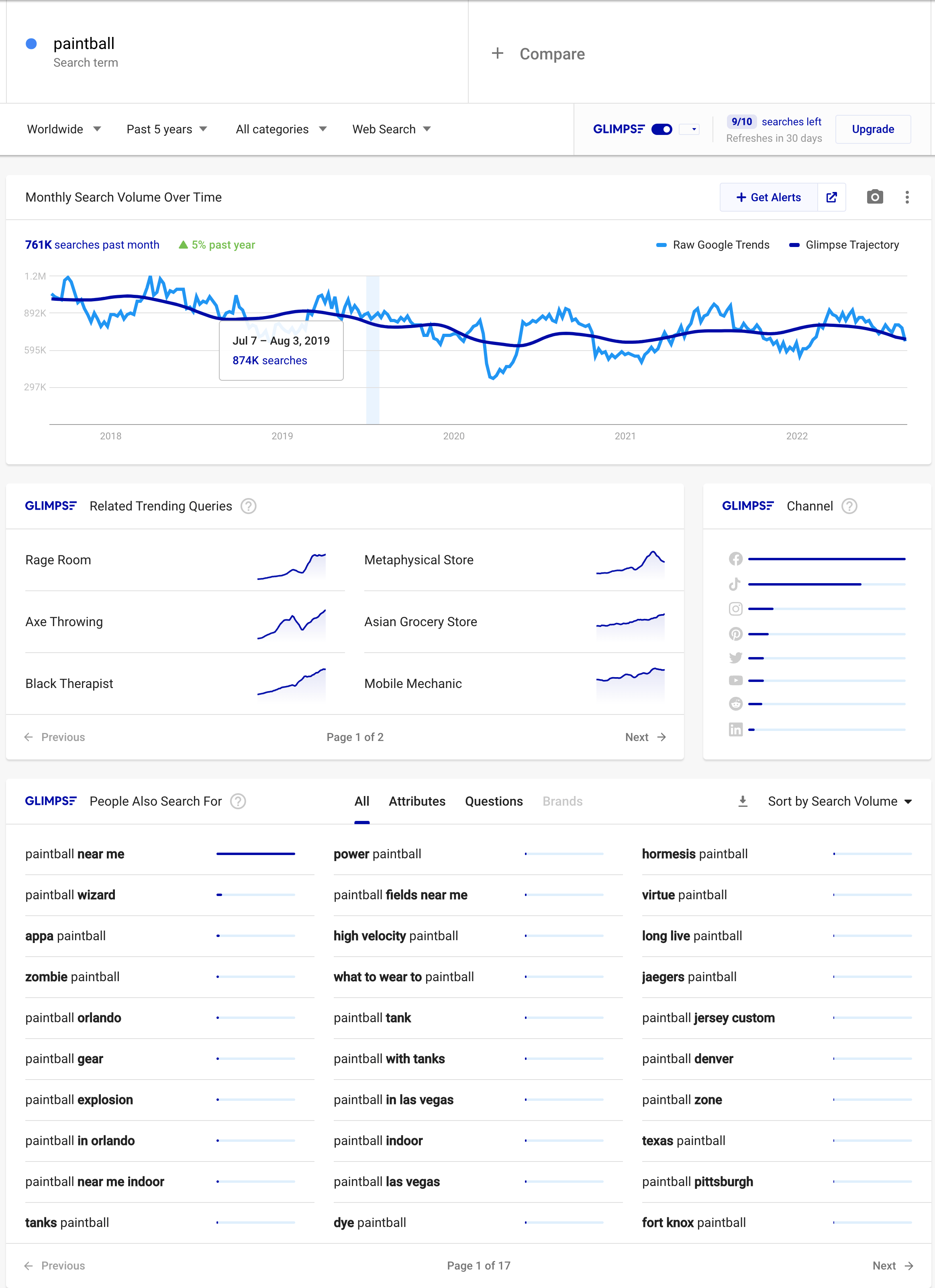 Some of Glimpse's features include:
Search volume.
Interest trajectory to remove seasonality.
Email alerts for tracking keywords.
The channel where the keyword is most mentioned.
People Also Search For keywords.
Topic Map.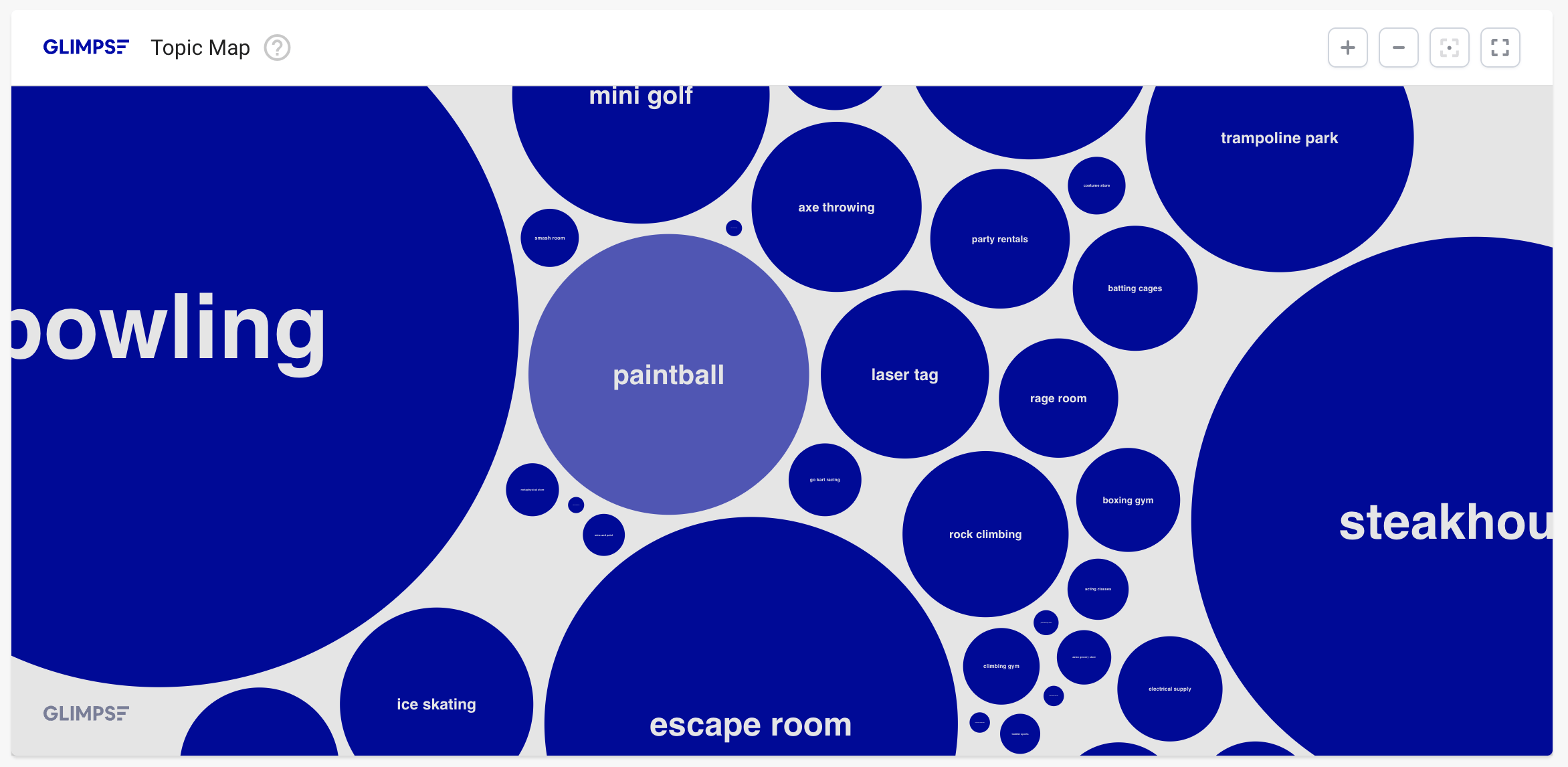 Data shown by Glimpse is valuable for spotting new trends before they go mainstream. This can help establish yourself as an authority for up-and-coming topics while SEO competition is still low.
Furthermore, by subscribing to their newsletter, you'll get 2 exponential trends per month delivered to your inbox.
Glimpse's free plan allows 10 searches per month, and all you need is to create an account to start using it.
SimilarWeb
SimilarWeb extension shows key website metrics, like:
Monthly visitors.
Bounce rate.
Average visitor duration.
Global ranking.
Top visiting countries.
Traffic sources mix (search, direct, social, email, ads, and referrals).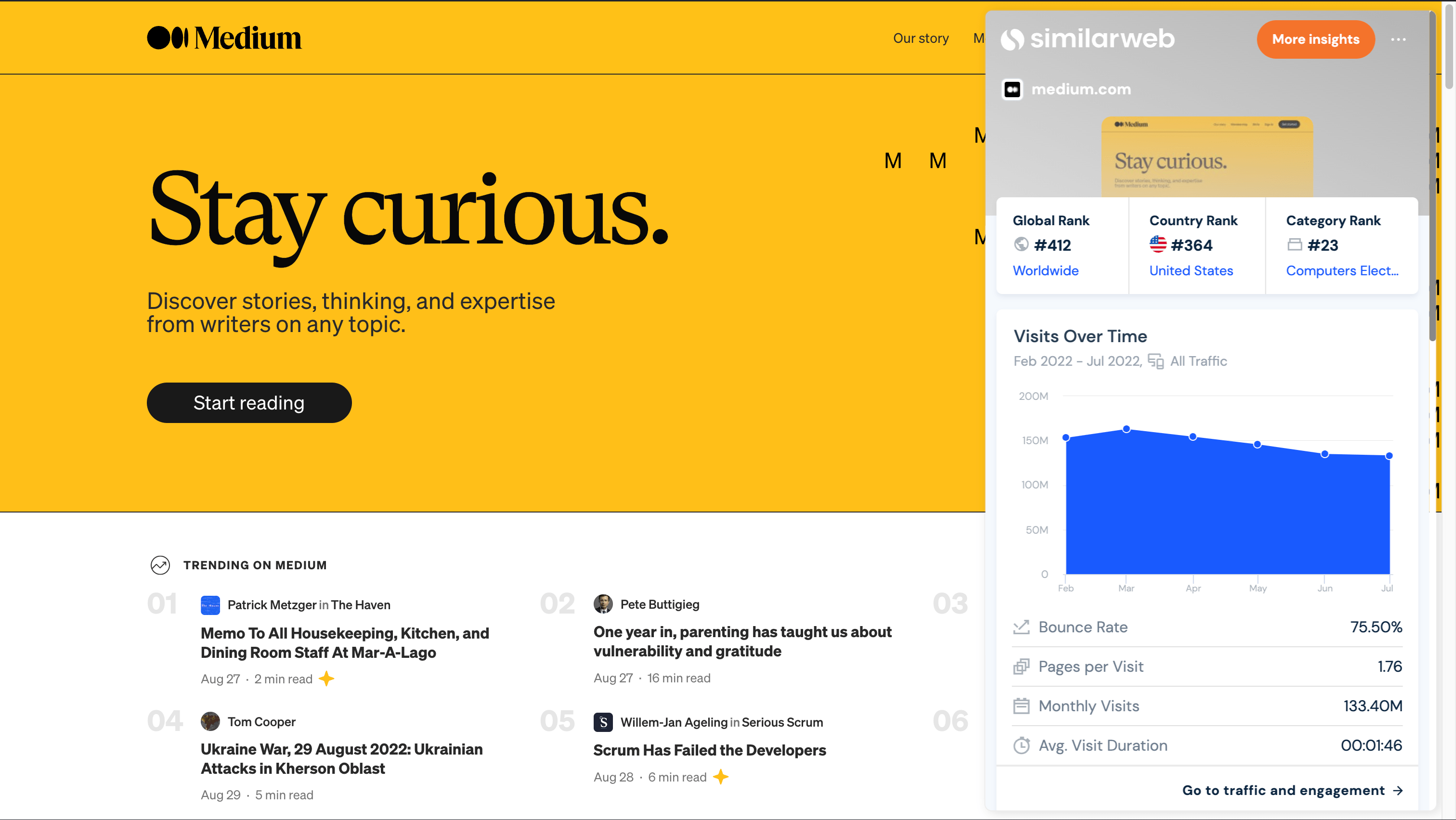 The extension is 100% free; the only requirement is joining their contributor network. This means you'll share information with SimilarWeb about the sites you visit.
This is a valuable extension for competitor research that you can pair with SimilarSites for more profound knowledge.
SimilarSites
SimilarSites can show related websites to the one you're currently looking at.
The primary use case for SimilarSites is finding who are main competitors. This is helpful when you don't know much about a niche and don't want to rely on intuition. Meaning, in a lot of cases, this extension is going to be extremely helpful if you work at an SEO agency and need to research competitor sites for a client you do not know much about.
You only need to click the extension icon when visiting a site, and it will show the panel with data.
Inside the panel, you can also see the estimated monthly visitors for the competition and their ranking in the category.
Since this is an extension from SimilarWeb company, you'll need to sign up for the contributor program.
Schema Builder
Schema.dev created this extension to help you see a page's markup.
This extension not only can help you write Schema, but it can also help you validate the Schema that's already on the page, so you can correct any errors with little effort.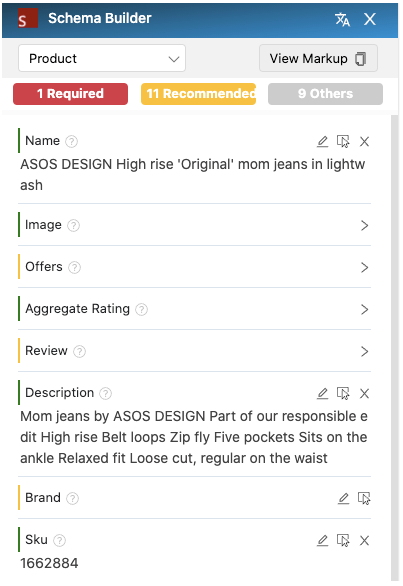 It also makes it easy to use and test markup with the click of a button.
Schema Builder is handy when you need to add structured data to an e-commerce store.
Markup requirements and recommendations will also be shown when you test and deploy using the extension.
View Rendered Source
View Rendered Source is an extension to show how the browser rendered a page versus its original source code.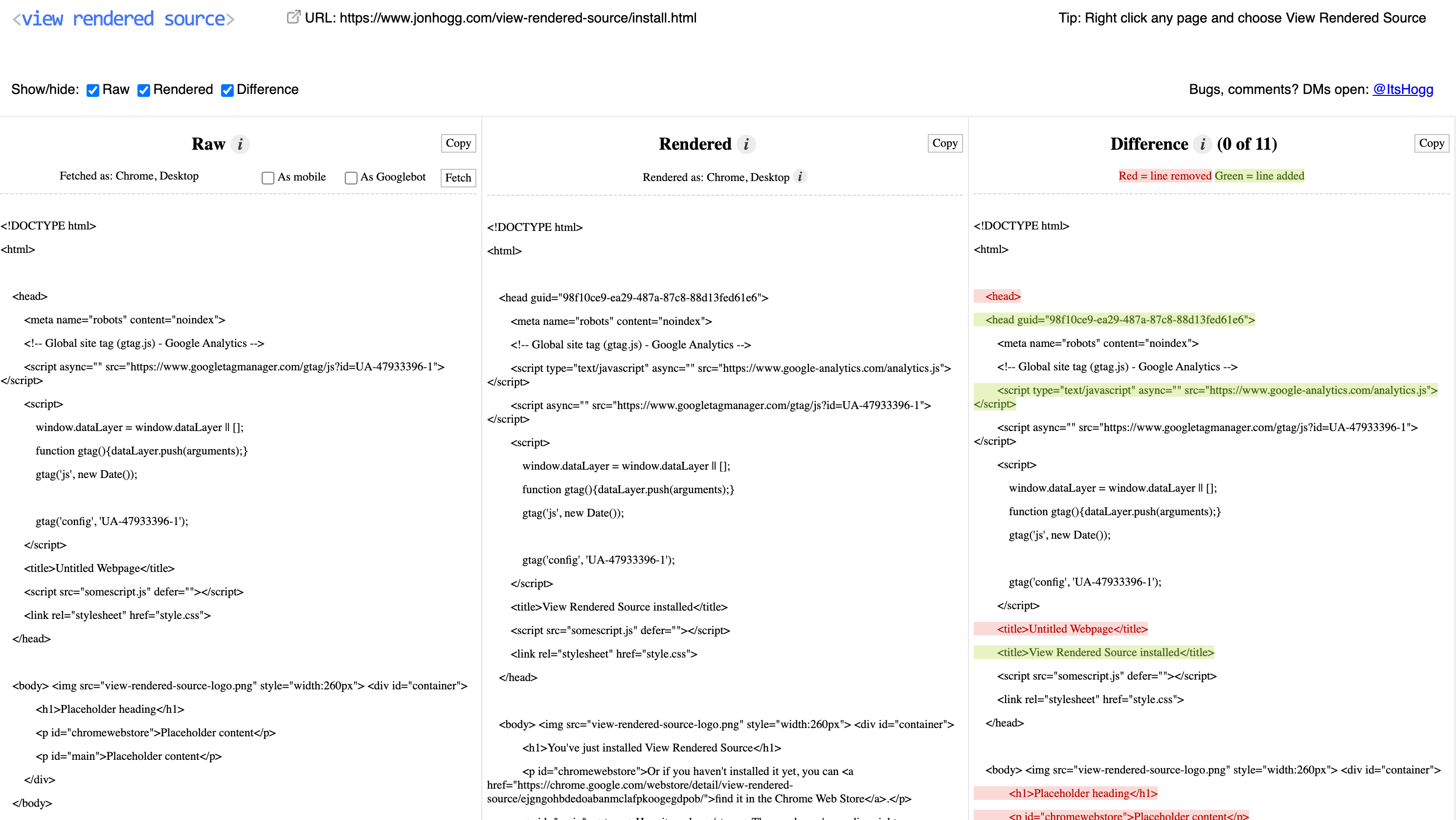 SEOs can use this to know what the DOM looks like and what search engines see.
This makes it possible to catch errors before Google. Otherwise, Google can index the version that's not properly rendered.
In this case, I'm referring to errors caused by JavaScript in the rendering stage, like missing titles and meta descriptions (even when you set them up in the CMS).
View Rendered Source divides the code into 3 sections:
Raw: The HTML source code you'll see on the browser's 'View Source'.
Rendered: The page as it was rendered in the current browser (including JavaScript modifications).
Difference: The differences made by JavaScript between the raw and rendered source.
Link Redirect Trace
Link Redirect Trace (LRT) can help you diagnose and analyze redirect errors.
What's different about this SEO extension versus its alternatives is that it shows you errors, how to fix them, and what impact the errors might be having on your site.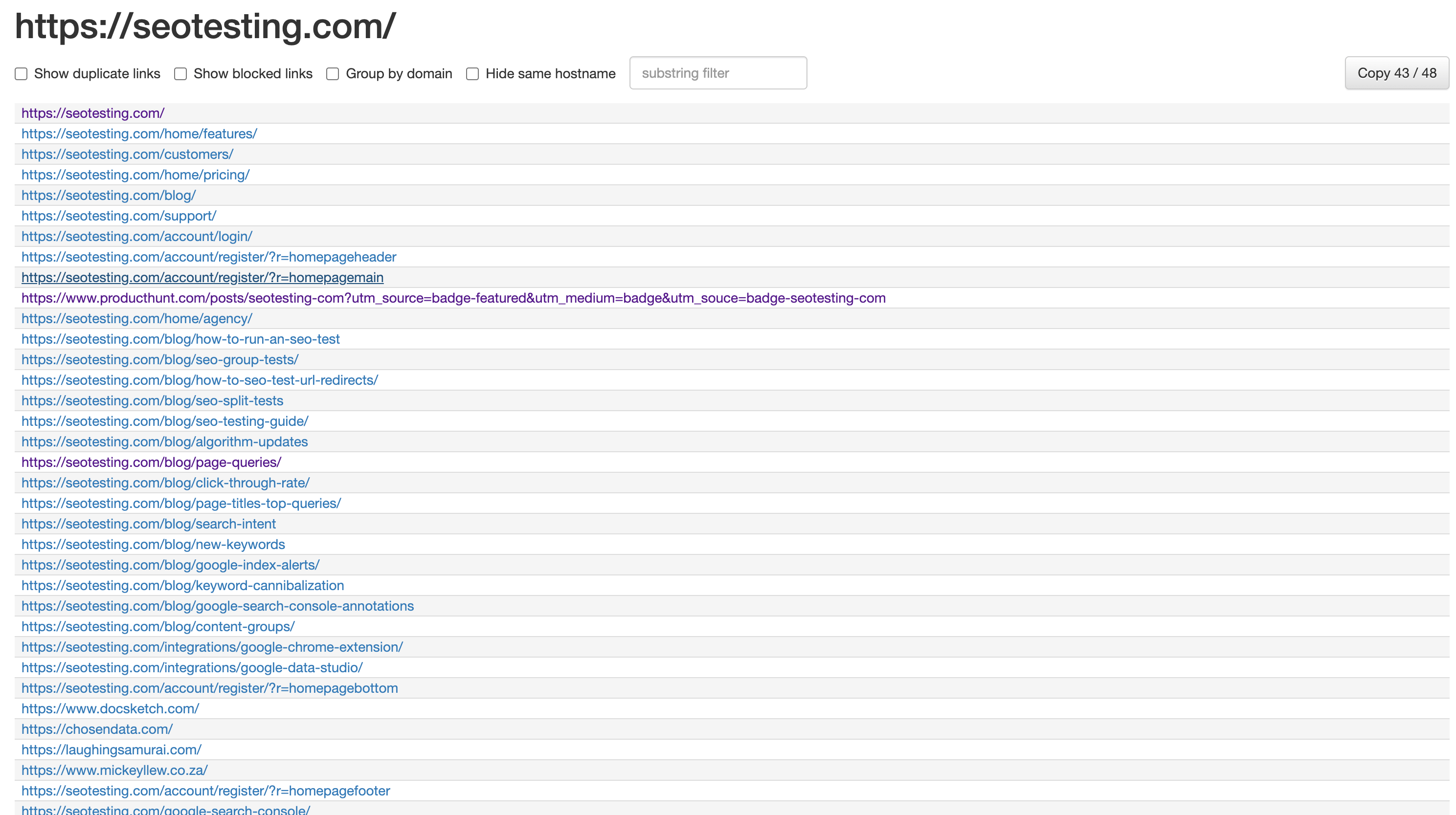 LRT can detect how many redirect loops there were for the current page you're visiting and the HTTP code used for each redirect.
It will also let you know if crawling is blocked by robots.txt, detect canonicals, meta robots tags used, and the raw HTTP header data.
All this is entirely free and without creating an account!
SEO Search Simulator by NightWatch
SEO Search Simulator by NightWatch simulates Google searches from different locations in real time.
This way, you don't need to use a VPN to see how a page ranks in a different country or to remove personalized Google results.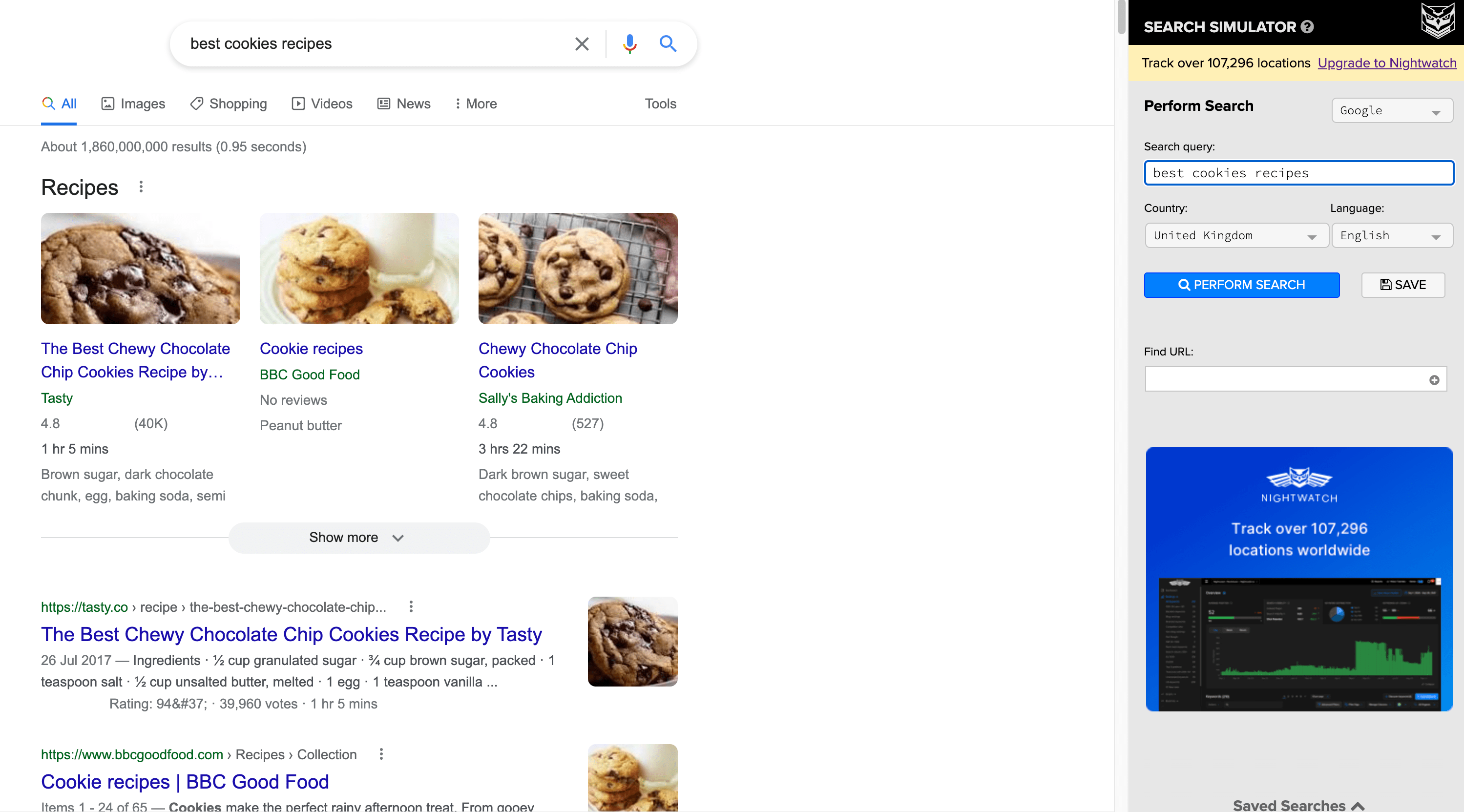 This extension is an excellent alternative to logging into SEMrush or another rank tracker tool to quickly check rankings.
It's also helpful to check how competitors rank for certain queries.
The search simulator allows saving searches, which is handy when you use the same query repeatedly.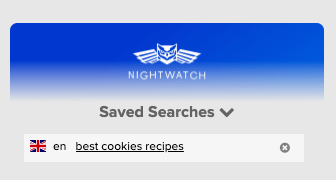 Detailed
The Detailed SEO Extension helps with on-page SEO checks.
The default section is the overview and shows elements like:
Page title.
Meta description.
Canonical URL.
Robots tag and X-Robots tag.
Meta keywords.
Word count.
Page language mentioned in the HTML.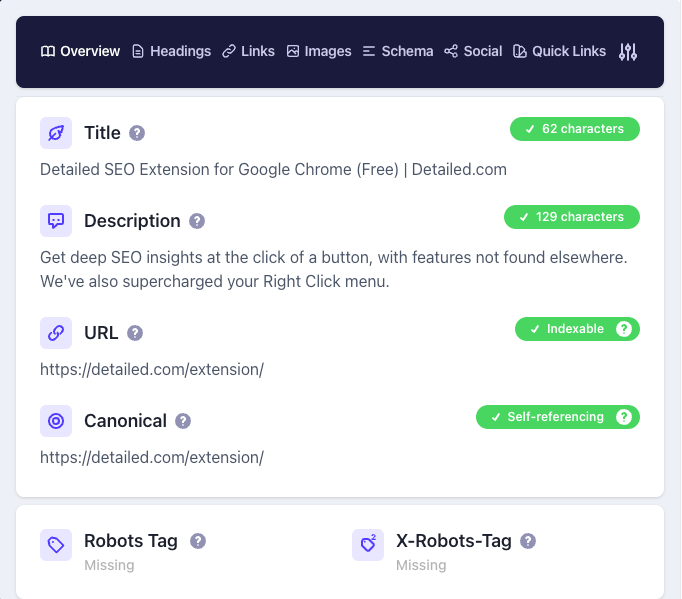 Detailed has a shortcut for each site robots.txt and XML sitemap. However, they attempt to guess where these files are located. But if these files don't exist, the shortcut will still be there and direct you to a broken link (i.e., a 404 page).
A funny example is that clicking on the sitemap shortcut for the extension's creators returns a 404 page.
The other Detailed SEO Extension features include:
Page's headings hierarchy.
Export links on a page.
Download the page's images.
View structured data (schema markup) on the page.
Open Graph for social media
SEO Minion
SEO Minion is a browser extension with many capabilities, including a SERP preview function. This lets you know how title and meta description changes will look in the SERP.
This can help prevent you from following an SEO tool's character recommendations that actually cut off your titles and meta descriptions.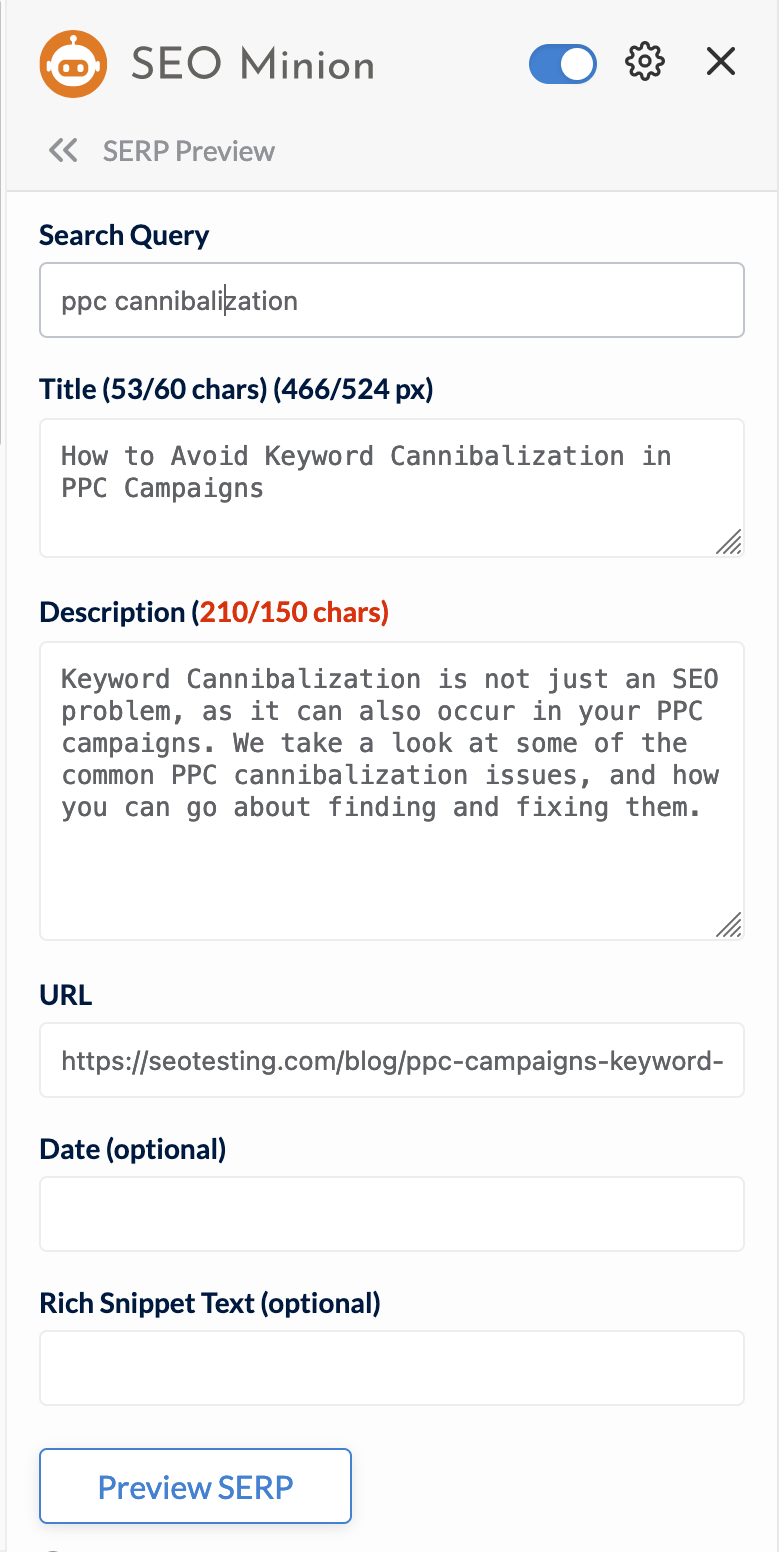 SEO Minion is useful for everyday tasks like finding broken links, the page HTTP status code, internal links, and if the page is indexable.
It can also help you find the following on-page elements:
Word count.
Title and meta description - the extension will show a warning if they are too long.
Canonical URL and meta robots tag detection.
Page Headings.
The number of images and how many don't have ALT text.
Open Graph metadata.
The SEO Minion extension also includes a widget for the SERP.
This widget will show how many results are on the page, including Ads and organic results, but also rich results like product listings or FAQ data.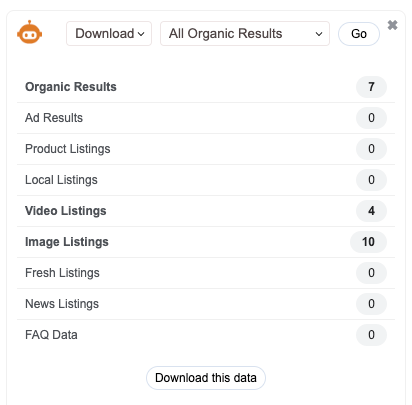 One last cool thing about SEO Minion is the possibility to download People Also Ask (PAA) questions and answers for research into a CSV file.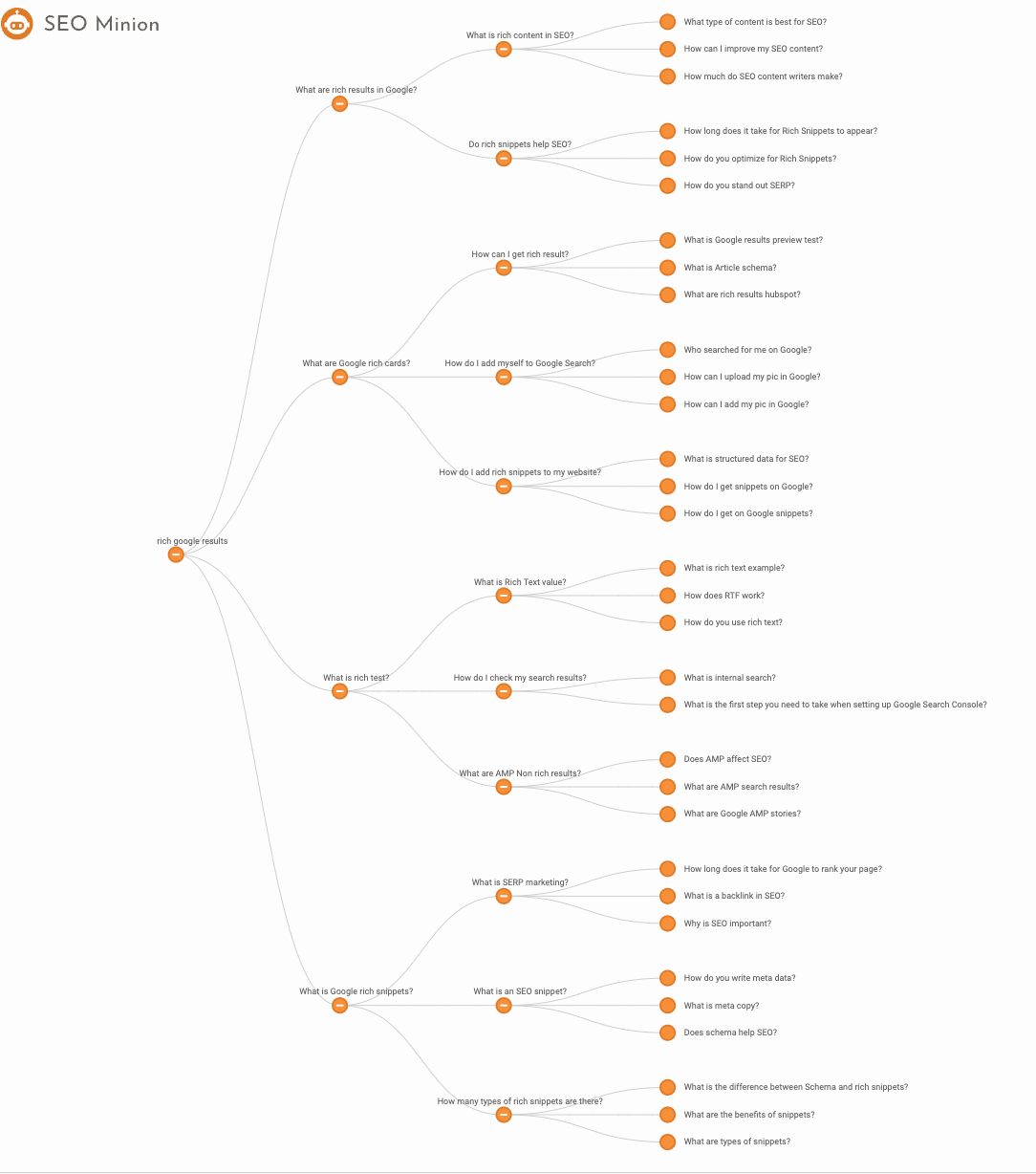 MozBar
MozBar is a popular tool for Chrome with many capabilities for free that can analyze a page's load time, canonicals, status code, and markup.

When you're on the SERP, this extension shows Moz's most popular metrics: Domain Authority (DA) and Page Authority (PA).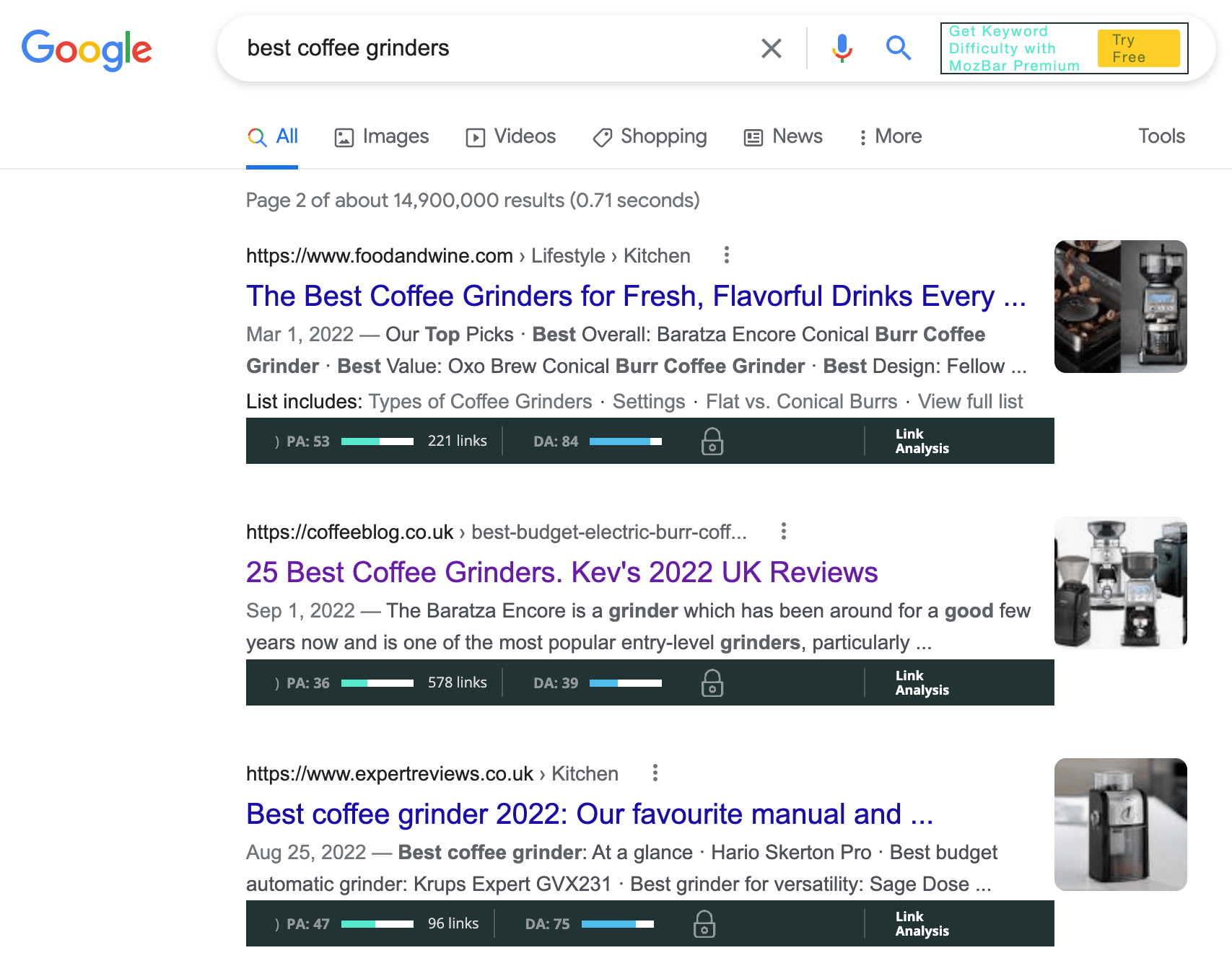 MozBar free plan also includes access to link metrics from 3 places:
Page analysis by clicking on the extension icon.
Exporting search results into a CSV file.
Clicking on the "Link Analysis" text on the SERP info box.
A common use case for MozBar is when you're working on a link-building campaign and want to see which top results in the SERP have the highest authority.
Buzzmarker
Buzzmarker from BuzzStream is an extension to help with prospecting and outreach campaigns.
This extension has a lot of advanced features that you can use while browsing, including:
Finding new contact information from the BuzzStream database (email or phone).
Add a name for future research.
Assign a relationship status.
Tag the project.
Create notes.
Send an email to prospects directly from the extension.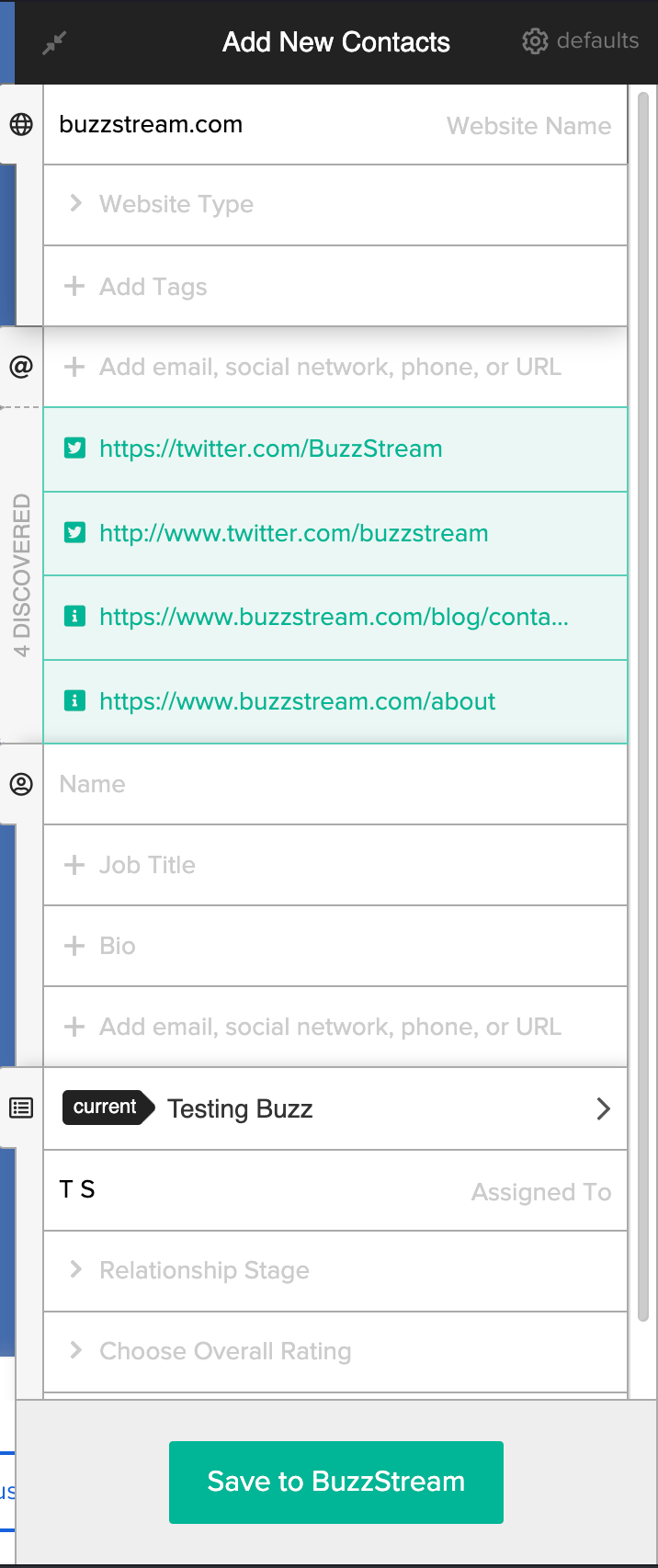 When you're on the SERP, Buzzmarker can quickly analyze the results and show a prospect list that you can add to the project or review individually.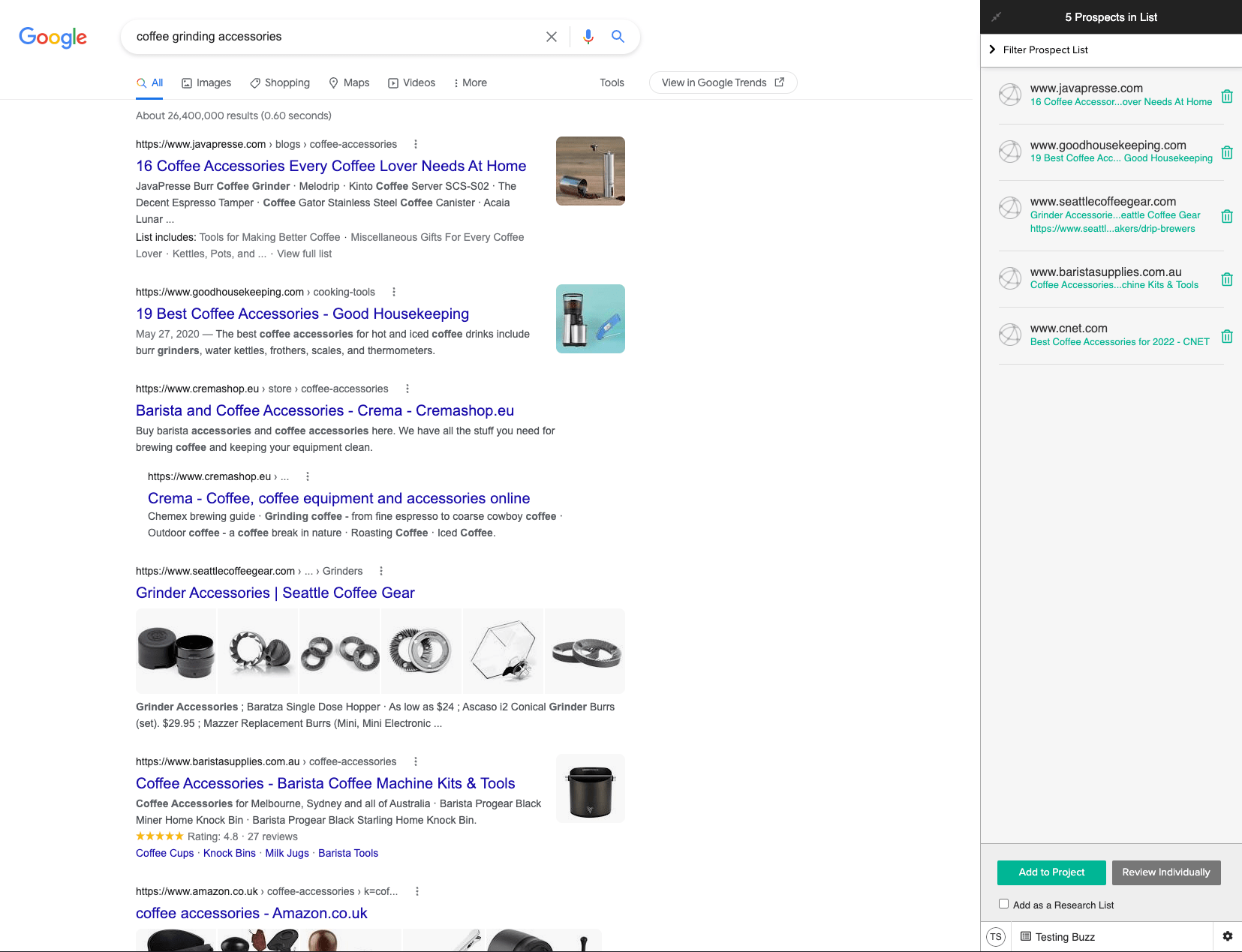 Although not completely free, it offers a 14-day free trial, so you can figure out if this is the tool for you.
Link Grabber
Link Grabber is a free SEO extension that collects all the links from an HTML page with a click of a button and displays them in a list.
This is a great tool if you don't have Screaming Frog available or just want to do a quick check. Then you can copy these links into a spreadsheet to proceed with the analysis.
You can also group links by domain, hide duplicates, or block domains to remove them from the list.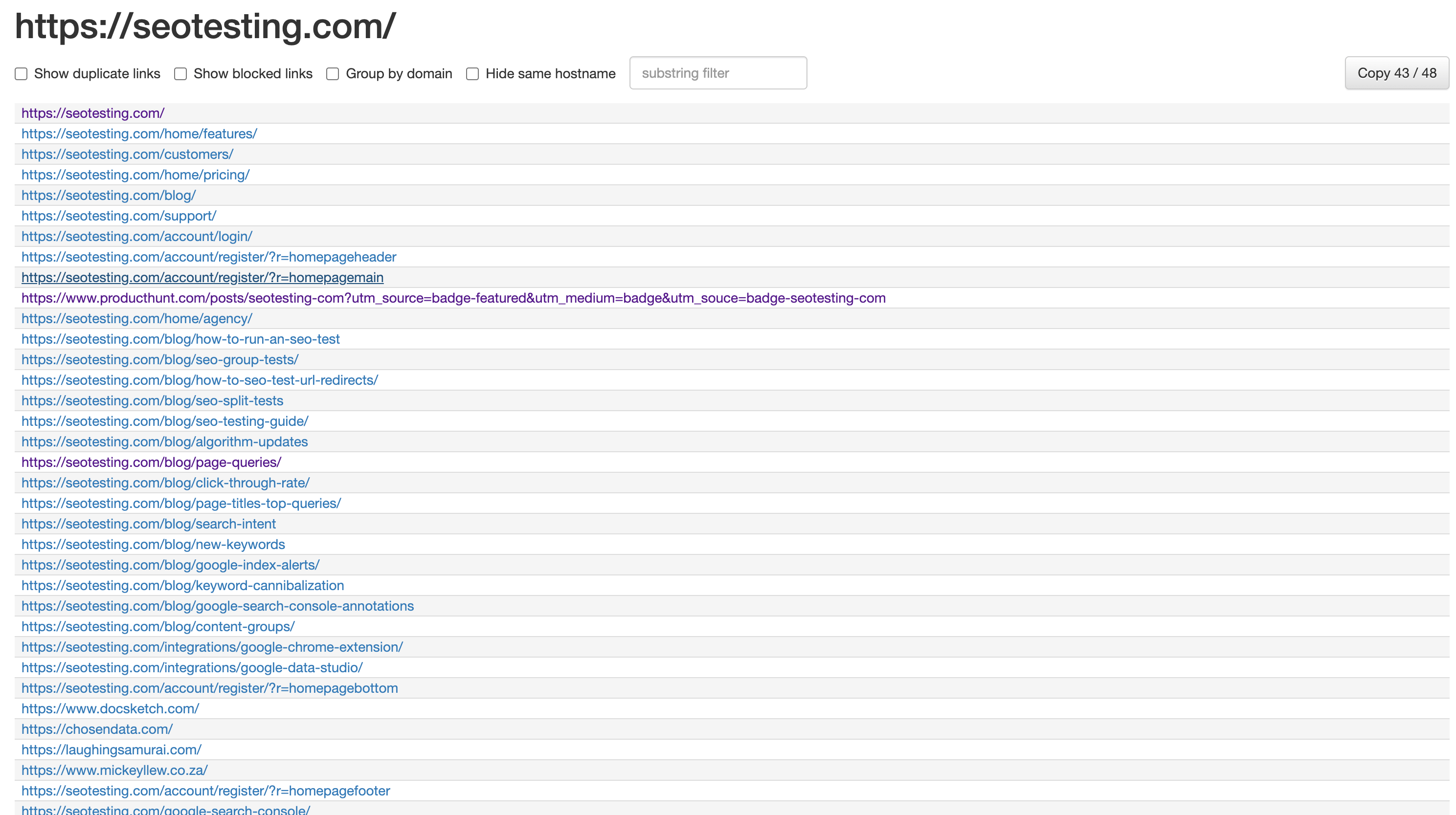 Hunter
Hunter's browser extension makes it easy to find email addresses on the web.
Their free plan includes 25 searches per month which are enough for occasional use. It is worth noting that if you are researching lots of emails for ongoing link-building work, you will need to upgrade to one of their paid plans.
When Hunter finds an email address from the site you're visiting, it will light up (turn orange) or stay gray when it doesn't. This means the extension works in the background and gives you cues while you perform other tasks.
Clicking on the extension icon shows a pop-up window with the known email addresses and URL sources where they were found.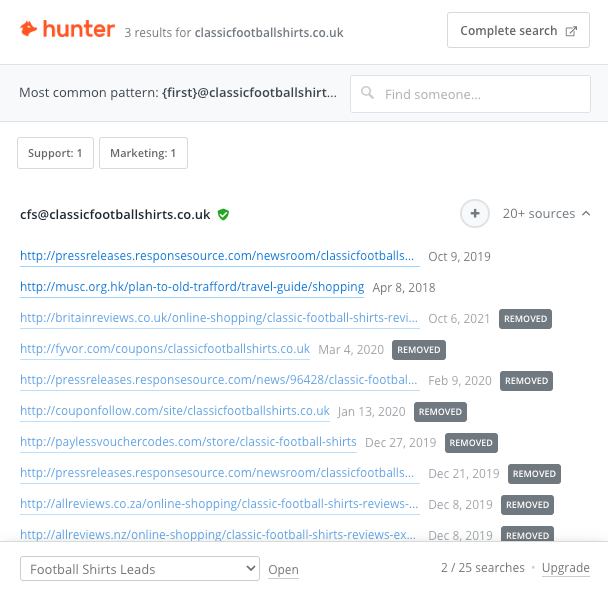 Siteimprove Accessibility Checker
Turn into the Siteimprove Accessibility Checker extension to find useful insights into your website's accessibility.
This tool lists all the accessibility issues and how often they happen on the page. Heck, it will even point to the element responsible for the warning!
This accessibility checker comes in handy when advising a potential client on the necessity of accessibility compliance, and you want to show examples as to how they can improve.
Overall, it's a straightforward extension to improve the web experience for users with disabilities.
SEOQuake
SEOQuake is a popular SEO extension capable of a wide range of tasks that you can use for free or with a paid Semrush account.
The latter option provides advanced backlink reports and traffic data, using the extension's full potential.
You can use SEOQuake analytics to quickly make a page diagnosis. Here's a summary of what you can find:
The number of links (internal, external, and nofollow).
Canonical tag.
Images without ALT text.
Robots.txt and XML sitemap detection.
Most used words or phrases (aka. long-tail keywords) and their density.
On Google, SEOQuake shows an info box below each result containing the number of pages indexed for the domain and the number of backlinks. There's also an export button on the left side of the SERP.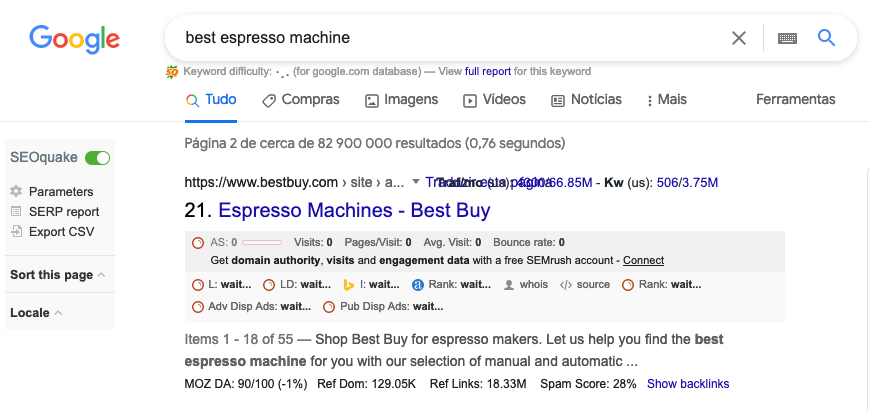 They also have an 'SEO bar' for when you're using the browser with domain metrics (similar to the one on Google SERP).

Lighthouse
Lighthouse is a Google tool to measure performance, accessibility, best practices, SEO, and correctness of progressive web apps (PWA).
Visit a page you're interested in analyzing and press the extension icon to get a report.
They'll rate each category from 0 to 100, alongside the passed audits and opportunities for improvement.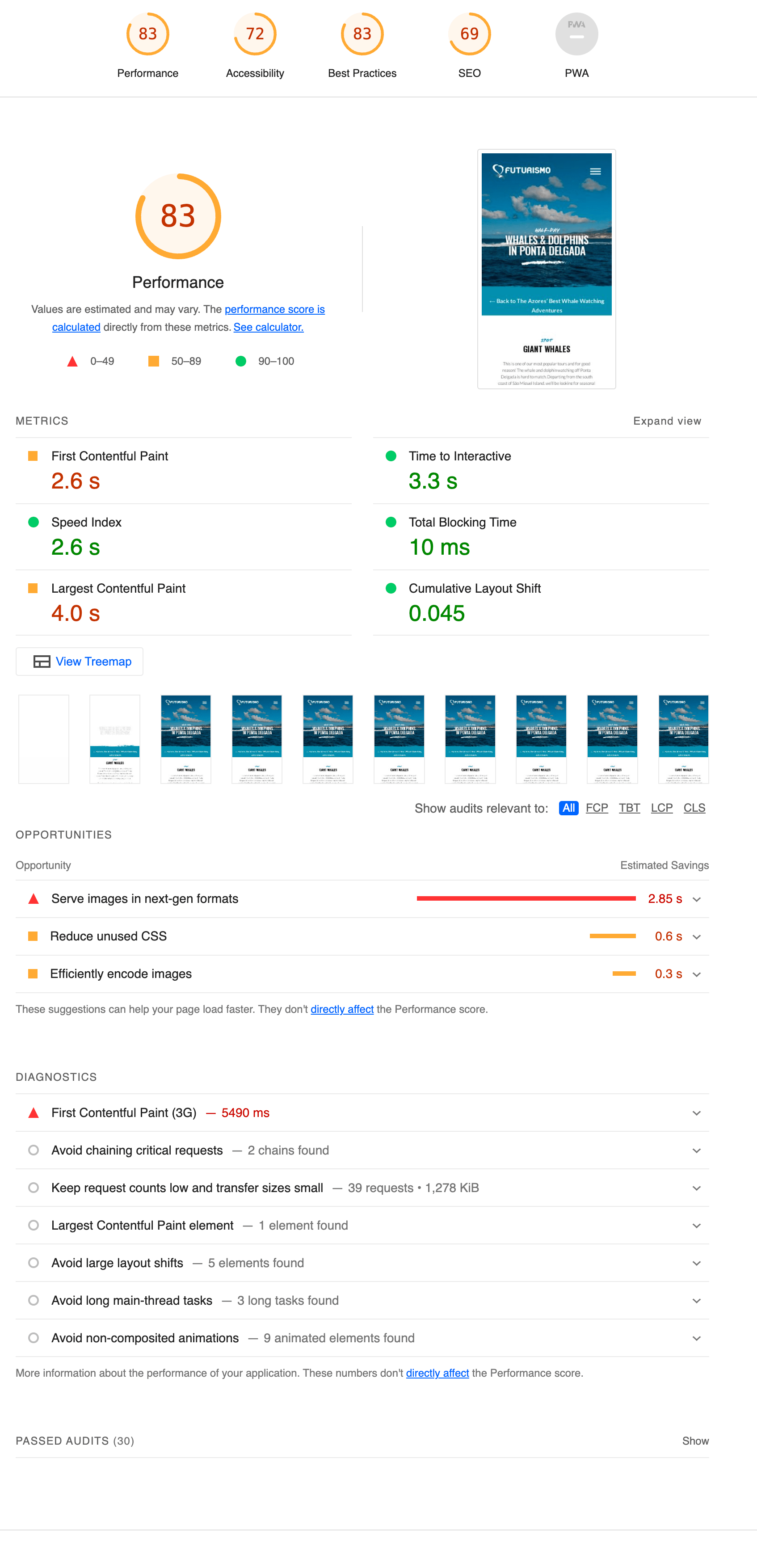 Performance is a popular section amongst SEOs since this focuses on Core Web Vitals (CWV) metrics. The "SEO" score is also another popular metric that SEO professionals will use as it will help them catch errors on their site.
Web Vitals
Web Vitals is an open-source extension created by the Google Chrome team to measure a site's performance on the current browser.
This tool looks at the following metrics that are part of the Web Vitals:
Largest Contentful Paint.
Cumulative Layout Shift.
First Input Delay.
Interaction To Next Paint.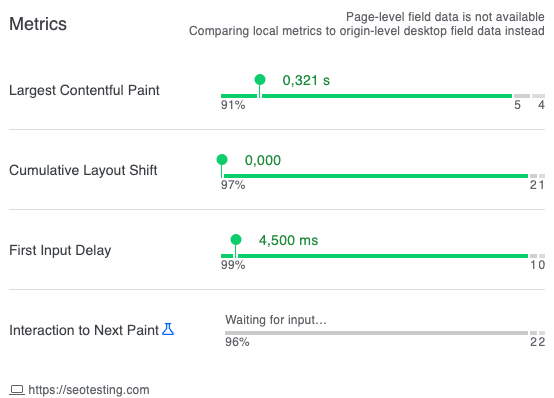 The Web Vitals extension gives instant feedback about the site's health, and this data tends to be in line with other Google reports about Core Web Vitals like Google Search Console or Page Speed Insights.